One plugin, many use cases
While being lightweight and easy to use, HivePress is the all-in-one solution for creating:
Directories
Classifieds
Marketplaces
Job boards
…and more!
Monetization made easy
Even with the free version of HivePress, you can monetize your website in a few ways, by:
Charging users for adding listings
Making listings featured for an extra fee
Charging users for claiming listings
Using dozens of payment options thanks to WooCommerce
Inspired by real-world platforms
You don't have to reinvent the wheel since there are websites with proven business models, and HivePress allows you to create a similar one.
Ready, set, customize
HivePress puts you in the driving seat of your website, so you can easily customize its functionality without writing a single line of code.
Custom Fields
Add custom fields to any of the front-end listing forms or reorder them as needed.
Search Filters
Create custom search filters that are tailored to your website niche and requirements.
Unlimited Categories
Keep your website organized by adding as many listing categories as you need.
User Profiles
Add custom fields to user profiles to collect specific details depending on the type of your website.
Gutenberg Integration
HivePress is integrated with the WP block editor, so you can create stunning layouts without messing with shortcodes.
Translation Ready
Translate any static text within HivePress into your language without the code changes.
Free & premium themes
Easily switch the design of your website without any data loss using these handcrafted themes made specifically for HivePress.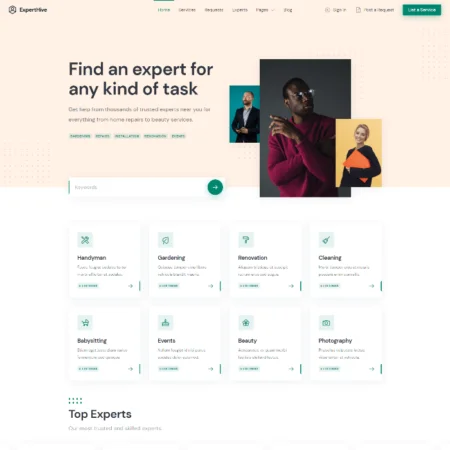 Service marketplace WordPress theme.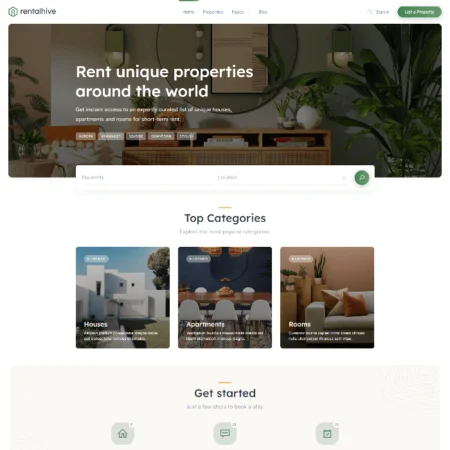 Rental marketplace WordPress theme.
Extensible by design
With HivePress, you are not limited to its core functionality and can easily enhance your website with 18 free & premium add-ons.
Top-notch support
HivePress is directly supported by its developers, people who know their product inside and out.
24-hour turnaround time
Comprehensive documentation
Video tutorials & screencasts
Active community
Become a part of a growing HivePress community, where along with other website owners, you can:
Ask questions
Report bugs
Suggest new features
Vote for the features
Share your experience
Built with developers in mind
A simple and lightweight, yet the most customizable and extensible framework for directory and marketplace websites.
Structured Code
We follow the MVC pattern and WP coding standards, so the codebase is well-structured and readable.
Easy Theming
Easily customize HivePress styles via the intuitive CSS classes or by overriding the HTML template parts.
Hooks API
A collection of actions and filters that allows you to customize or extend the HivePress core functionality.
Docs & Tutorials
Check the always up-to-date hook and code references, or view our video tutorials for developers.
Trusted by 10,000+ websites
Since HivePress is listed on WordPress.org, you can check all the reviews people left about our software over the years.
Killer plugin
Do exactly what it says. Awesome plugin with lots of functionalities and especially the support provided by the author.
Happy I found it!
It seems new and very promising directory/classifieds plugin, easy to set up, clean, with all needed free features.
6 stars
5 stars is not enough for this plugin. Fantastic design. Congratulations to the dev.
Best directory plugin
HivePress is an exceptional plugin. Tons of customization options and very easy to use. Support is great too.
Amazing plugin!
Professional, structured feature, and open source at the same time. Truly amazing!
Side-by-side comparison
Check how the free version of HivePress compares to other popular classified ads and directory WordPress plugins.
HivePress
Business Directory
Plugin
GeoDirectory
Directorist
Classified Listing
Plugin
Custom Listing Fields
Listing Search Filters
Custom User Fields
User Search Filters
Listing Categories
Listing Bookmarks
Ratings & Reviews
Geolocation Features
Radius Search
Private Messages
Paid Listings
Featured Listings
Claim Listings
reCAPTCHA
HivePress
Business Directory
Plugin
GeoDirectory
Directorist
Classified Listing
Plugin
Please let us know if any of the above details are outdated.
Get started in minutes
Install HivePress with 1 click and start building your website.