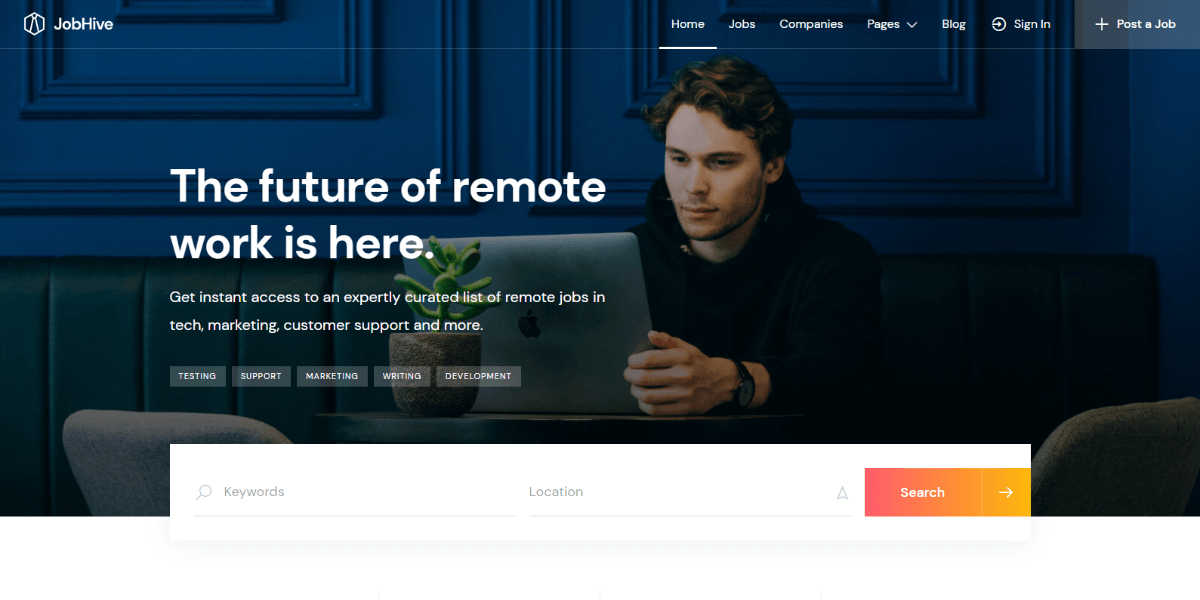 The online job market is growing. And fast. In the last 10 years, the internet has changed the way we do so many things, and searching for jobs is not an exception.
Job portals have dramatically changed the way people find jobs to begin with, as well as the way employers look for new recruits. Employees are no longer tied to a desk, and companies are able to offer jobs to the most qualified individuals, wherever they are. Nowadays, employers use job board websites to advertise their job vacancies to job seekers and the last can use job boards to search for new job opportunities.
In the USA alone (as of 2020), more than 13 million people are unemployed. In other words, millions of people are actively searching for a new job. However, an online job market is not only an opportunity for companies and employees to find each other but it is also a great way for the owners of the job board websites to make money.
If you want to create a job portal website, one of the easiest ways to do so is by using WordPress, the most widely-used content management system on the web. However, it is important to choose the right theme and plugins to build a job listings website. You may want to check out JobHive, a lightweight yet functional WordPress theme for building job board websites.
JobHive Overview
JobHive is a lightweight, clean, and modern job board WordPress theme that allows you to create a job board website in next to no time. It is a highly customizable theme that is packed with all the required WordPress plugins and extensions for creating a job search website. JobHive allows any registered user to post jobs or apply for a job, while you can easily monetize your site by charging users for listing and promoting jobs, or selling access to the job and company details.
Main Features
JobHive includes everything you need to build a modern fully-featured job listings website. It is easy to install and update directly via the WordPress dashboard and with a one-click demo import feature your site will look exactly like the demo site within minutes, thus you can start customizing your site right away. Moreover, a fully responsive layout allows you to change it in the most preferable way without a single line of coding. There are many other features to extend the functionality of your website.
For example, you can allow your users to sign in via third-party services like Facebook or Google to eliminate the need for your users to remember another password by using existing social media accounts.
With JobHive it is possible to search for job listings by their location to narrow down the search and get only the results in your area. Or you can allow users to set listing tags and make them searchable. Then, if enabled on your site, they can mark a job listing as a favorite.
Finally, users are able to communicate with each other, so that employees and employers can exchange private messages.
Bundled Extensions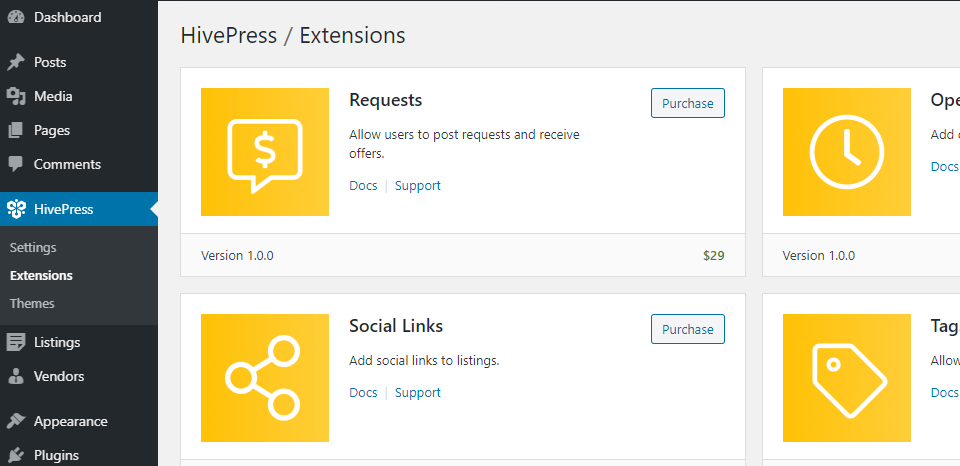 This theme is really easy to extend. At the moment, there are 15 free and premium extensions that can be installed with 1 click directly via the WordPress dashboard.
JobHive is already packed with 7 free and 3 premium extensions required for creating a fully-featured job board website. It includes Paid Listings, Memberships, Tags, and any of the free extensions listed here.
So you can use any of the bundled extensions for free, install and keep only the functionality you need just for your site, without bloating and slowing it down.
Monetization Options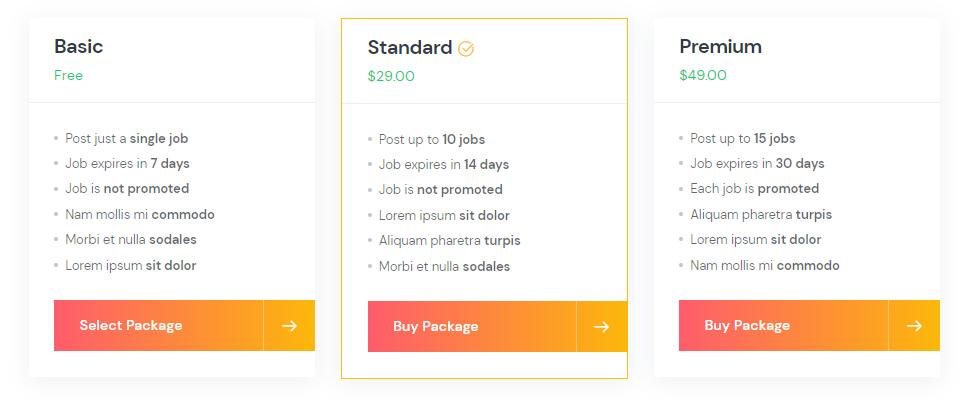 If you want to get revenue from your job board website, with JobHive, there are at least 2 different ways to do so.
You can charge companies for adding job listings or making them featured. Featured listings are highlighted with a "featured" badge and displayed at the top of the search and category pages.
Also, you can charge users for viewing the company or certain job details (e.g. phone number or email address) via Memberships.
You can choose any way of monetization according to a business model and the type of job board you're creating or use all of them together to increase your revenue.
This theme is integrated with WooCommerce, the most popular e-commerce plugin. So you can use any of the dozens of payment gateways available for WooCommerce to monetize your site.
Customizing Job Board WordPress Theme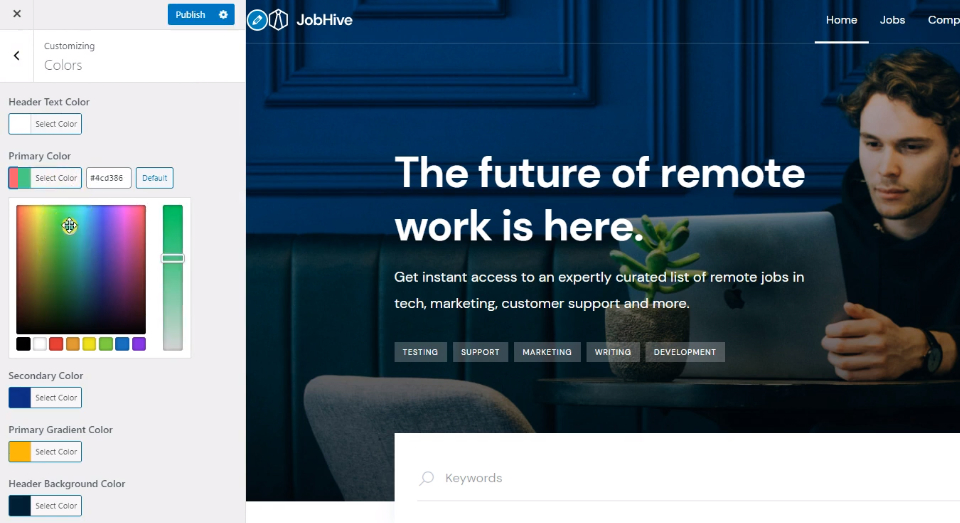 JobHive is a highly customizable theme that is integrated with WordPress Customizer, it means that you easily change the site logo and icon, primary and secondary colors, heading and body fonts.
The theme is also integrated with Gutenberg, the native WordPress block editor that implements content blocks and page builder-like functionality. In other words, it allows you to create any layout using blocks, without messing with custom HTML or shortcodes, and it will look the same on the front-end.
And if you need to translate your site, you can do this directly via the WordPress dashboard using the Loco Translate plugin that is seamlessly integrated with the theme.
Support & Community
JobHive is powered by HivePress, a WordPress directory plugin that allows you to build any type of directory and listing websites. It is already used by 8,000+ active websites, and there's a growing community of website owners sharing tips and showcasing what they've built.
Apart from the community support, JobHive is also supported directly by its developers, so any issues are resolved in the fastest and the best way possible, by people who know their product inside and out.
Final Thoughts
To sum up, JobHive is a clean and modern job board WordPress theme that is lightweight and easy-to-use yet functional and extensible. It is easy to customize, directly supported by its developers and has a growing community of users. So it's a perfect choice if you are looking to create and monetize a job portal website with WordPress.
Related Articles
Most popular free WordPress listing themes to launch a directory website.
Check the collection of the most popular free classified ads WordPress themes.
A list of the best service finder WordPress themes for launching an on-demand services marketplace like Thumbtack or Taskrabbit.