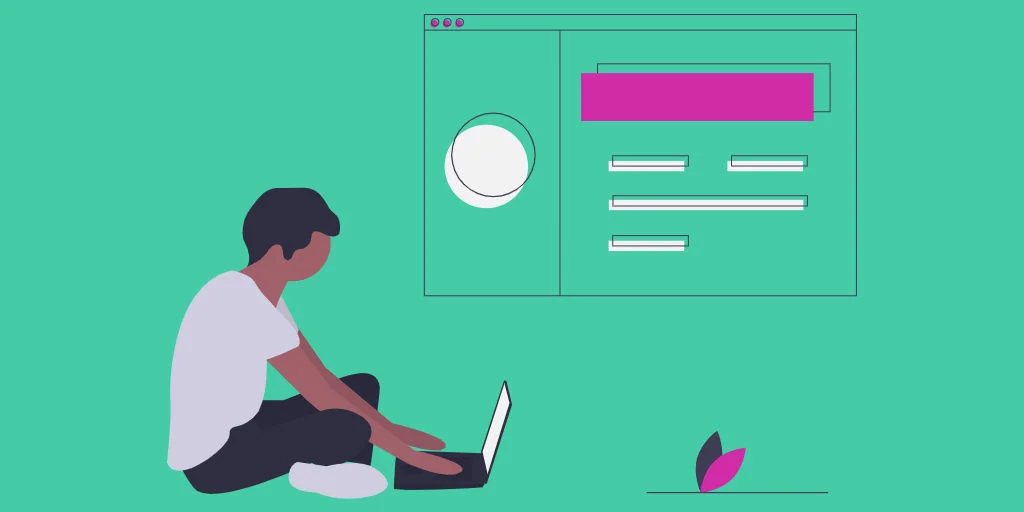 These days there is increasing popularity of directory websites mostly due to the rapid growth of the peer-to-peer economy. Moreover, it's not rocket science to create a niche directory website and start making money, so even a rookie can do it.
In this overview, we'll show you some of the most popular niches for WordPress directory websites. Also, after each niche, you can find a link to a step-by-step tutorial showing how to launch that kind of website without any coding skills.
Also, feel free to check our overviews of:
Without further ado, let's get started!
Table of Contents
Business Directory
We'd like to start our list with a business directory website. Basically, it's a searchable online catalog of businesses, which provides users with different details about specific businesses. Usually, the information includes address, opening hours, contact details, photos, a link to the official website, and so on.
Some directories list different companies on their own, while others (popular ones) receive listing submissions from business owners who want to have their companies listed on such websites.
For businesses owners, there are a few benefits of being mentioned in popular directories:
Increasing brand awareness
Attracting new customers
Increasing visibility
Improving website SEO
A good example of a business directory is Yelp. It includes thousands of businesses all around the globe. There are dozens of listing categories, and you can find various services there. Whether it's a plumber to fix a leaking faucet or a dog walker for your four-legged friend, Yelp has got you covered.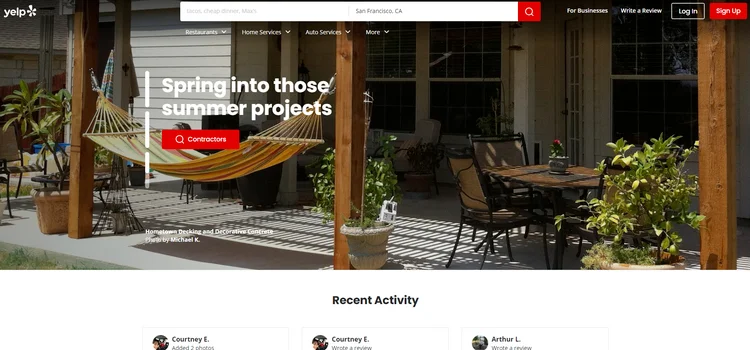 Member Directory
The next type is a member directory website. It's a directory that showcases members of a certain organization or a company with detailed profiles that often include contact information, a member photo, profession, etc.
Member directory websites allow anyone (if it's a public directory) to check all the members, find out their contact details and get in touch with them if necessary. It not only builds a community around a certain company but also demonstrates credibility.
Most often, member directory websites are created for:
Companies
Church Communities
Schools & Universities
Non-profit organizations
Generally, there are two types of member directories. Private directories, where only members can search within a directory (e.g., Harvard Alumni directory) and public ones, where anyone can browse a website (e.g., University of Winchester staff directory).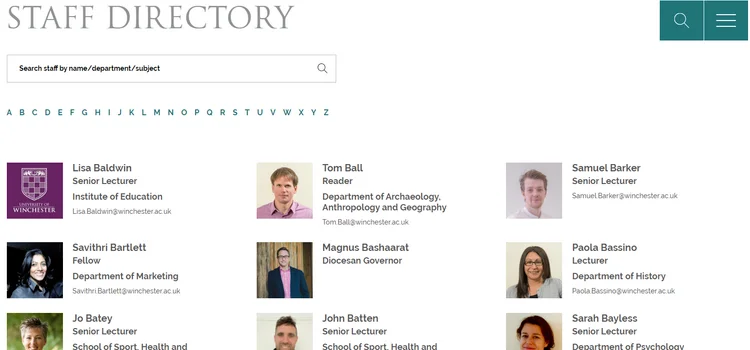 Car Directory
Another type of directory website is a car directory or a car dealer website. Such directories are popular among many motorheads and people who love anything related to cars because they can usually find various vehicles for sale, tons of helpful blog topics, and community forums in one place.
On car directory websites only site owners are allowed to add new car listings, while regular users don't have an option to list their vehicles. For that reason, car directories are primarily used as:
Local websites – It may be a car-selling website for a small town or region that is run by one or several motorheads;
Vehicle manufacturer websites – Usually, such directories showcase cars of a single brand;
Car dealer sites – This website lists all the cars that the dealership is selling.
To get a better idea of what a car directory website is, you can pick any car manufacturer or car dealership and check out their websites (e.g., Mercedes-Benz).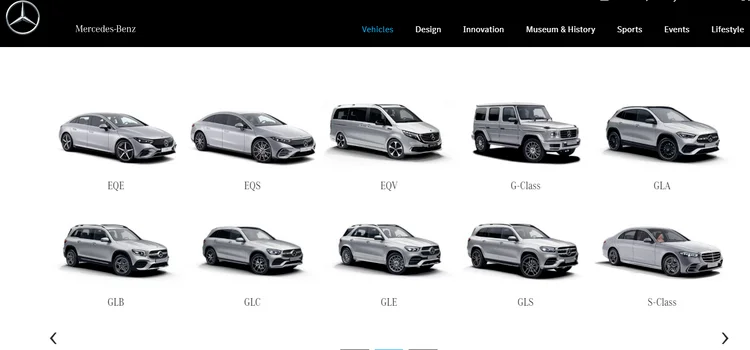 Coupons Directory
Almost everyone wants to save a little bit when shopping, and that's where coupon directories come in handy. On such websites, anyone can easily find discounts and promo codes for various goods and services. So it doesn't matter whether you are looking for cheap airline tickets or a discount to visit SPA, it can be found on a coupons directory website.
Any coupons directory works as simple as ABC. It collects the best deals from around the web and lists them within different niche categories to make it easier for users to find discounts.
A coupon website is not only a valuable place for shoppers, but it also may be a profitable business for its owners, who can make money with affiliate commissions. Every time a user makes a purchase using the promo code from an affiliate website, the website owners earn a small commission.
Additionally, any coupon website can be turned into a membership website where only members with active membership plans can view the discounts. It may be a case for sites that offer unique or rare deals that can be difficult to find elsewhere.
Probably, the most well-known coupon website is slickdeals.net. Feel free to check it out to find out how everything works.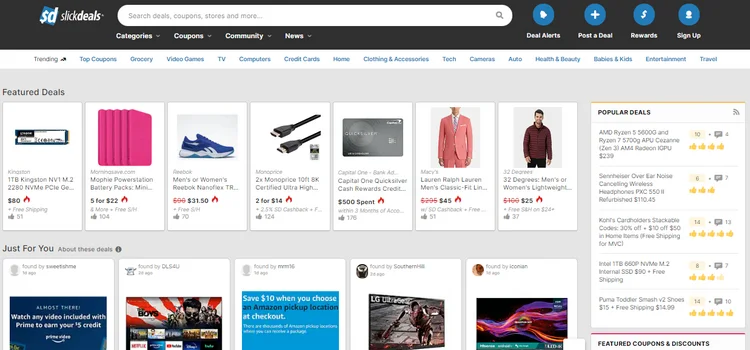 Product Catalog Website
A product catalog website is a site that lists various products with essential product information such as product dimensions, pricing, material and more. It's a great marketing and sales asset because it keeps all the product information in one place.
You may want to create a product catalog website if you are running a store with in-person sales, or maybe you're a manufacturer that doesn't sell products directly but still wants to use the Internet as one of your marketing channels.
Here are some benefits of creating a product catalog website for your business:
Showcase Your Products – by creating and promoting a product catalog website, there's a higher chance that potential customers will find out about you and your products. Eventually, it can increase your sales;
Provide Better Service – keeping all the product information in one place shortens the buyer's journey and improves the user experience;
Improve Branding – by promoting your product catalog website, you can quickly increase brand recognition.
So, if you are thinking about launching a product catalog website for your business, you can take a look at the Life Fitness catalog as an example.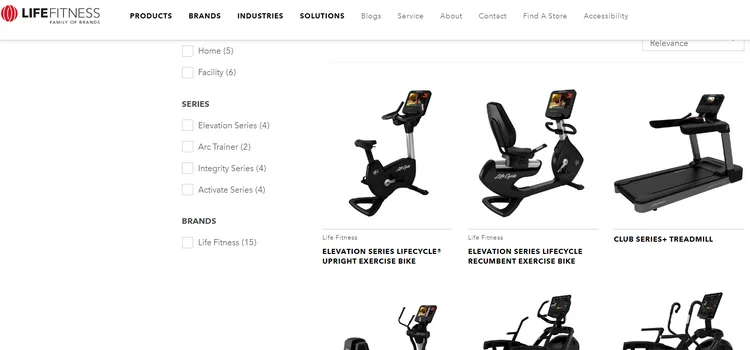 Travel Directory
In the recent few decades, traveling has become an essential part of the lifestyle of many people around the world. For a better understanding just stop for a second and think about this data – in 2019 the global revenue from the tourism industry was almost 1,5 trillion U.S. dollars according to the stats provided by Statista. Incredible, isn't it?
But before going on the trip and spending their money most travelers search the internet for additional information about their destination and especially they are looking for some info about the different kinds of entertainment available. That's exactly the moment when travel directories come into play since they can provide tourists with all the details about comfortable hotels, the best restaurants, fascinating museums, places with charming landscapes, traveler reviews, and so on.
In order to make it easier to understand how such websites work and make money let's take a look at Tripadvisor, one of the most popular travel directories with millions of users around the world. It provides users with all travel-related information and assists in choosing the best option depending on a traveler's destination, budget, preferences, etc.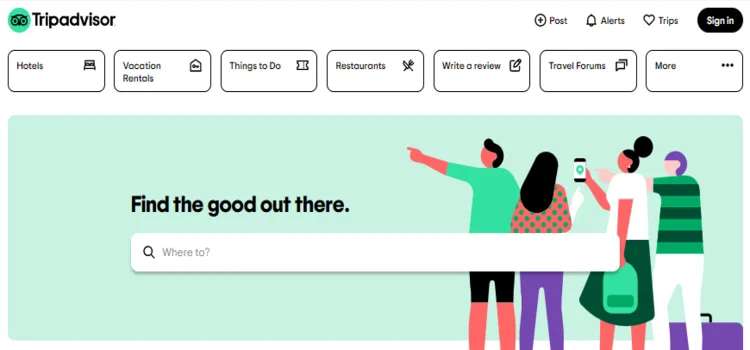 Real Estate Directory
The next example is a real estate website. It's another popular niche for a WordPress directory website because people mostly search for a perfect property via the internet. For visitors, it helps to gather information about properties in their neighborhood or elsewhere that are available for purchase or rent. At the same time, for vendors, it's an additional opportunity to sell their estate or rent it.
When creating a real estate website you should bear in mind the main features that such a website should include. Let's take a look at the most important ones.
First of all, the property should be divided into properties for sale and rent. Also, there should be a clear separation of different categories, such as rooms, apartments, houses, etc. Next, there has to be a map on a website and the ability to search by location. Also, it's necessary to let users have their own profile pages.
Besides an obvious ability to add listings, there should be some other important features for users, such as the ability to favorite some listings (to come back later); post comments; social links; a tool for communication between the property owners and customers, and so on.
You can visit Zillow, a highly popular real estate directory, to get a better sense of how such websites work.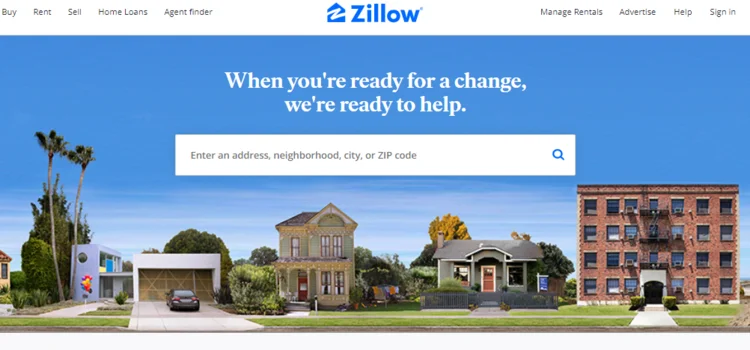 Restaurant Directory
It's a popular niche for a WordPress directory website since people are always looking for some good place to go out to eat. Restaurant directories are created to help even picky customers find a place where they will be satisfied with the service and most importantly will enjoy meals.
Most of the good restaurant directories have something in common. All of them can showcase a list of many different places with a variety of cuisines from around the world and offer different search filters in order to provide customers exactly with the options that will match all their preferences. Also, directories provide customers with the menu offered by each restaurant and the prices of meals so they can have a look at it and make a choice without leaving home.
Such directories are popular not only because they show a variety of places to eat but also because visitors can check whether a restaurant is trustworthy or not by taking a look at customer reviews and rates. It's truly important to know what other people think about a restaurant, what they recommend, and what is the reputation of a restaurant.
So, if you are a genuine food lover, you can create your own restaurant directory in order to help other people find the best places to enjoy a meal. Feel free to check Zomato, a prominent example of a restaurant directory with millions of monthly searches, to get a better understanding of how everything works.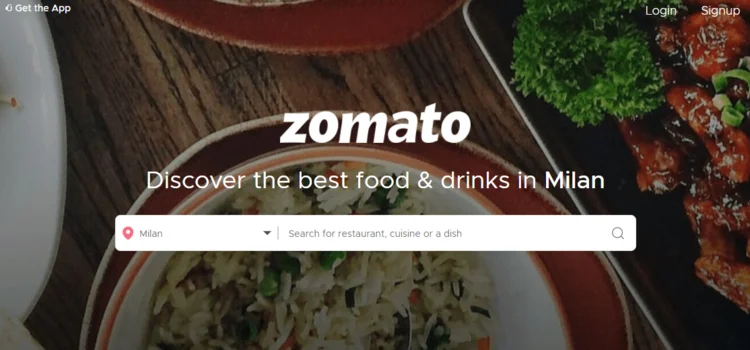 Event Directory
Another great example is an event directory. It's an excellent solution for people who always want to be aware of all the upcoming events, music concerts, parties, and so on. The event directories are popular because they are always about fun and relaxation, but let's take a look at the functionality of the event directory.
All the events can be divided by location, niche, category, or theme. As well on any event portal, there should be a calendar with information about the date, time, and place of the event. Also, as an essential part of any good directory, there should be a search feature with many different filters so that users could get the desired information within minutes. In addition, it's great for user experience if visitors would be able to contact event organizers directly through the website.
You can visit the Eventbrite website if you want to get a better sense of what a good event directory should look like and maybe if you are lucky you'll find some interesting events near you.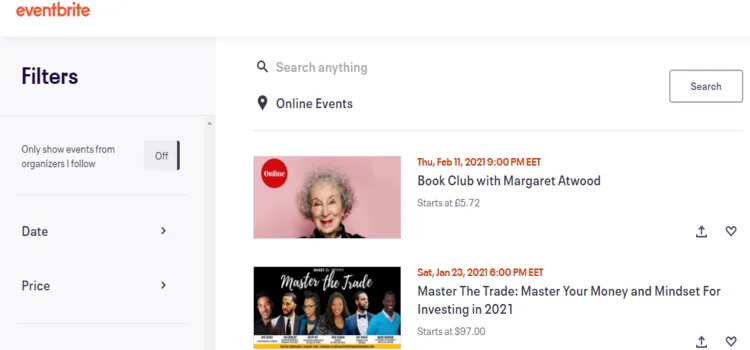 Classifieds Website
Now, let's talk about one of the most common directory types – classifieds. Such websites allow users to post their ads about the stuff they sell or the services they offer. In their turn, other visitors can find them and contact vendors.
The classifieds website should be divided into categories and subcategories with an advanced search. Also, it's important to provide users with many different optional features such as favorites and the option to share ads via social media. A great bonus to user experience is to allow users to sign in via third-party services.
If you are looking for a great example of a classifieds website you should definitely check Craigslist, founded in 1995 it is one of the oldest and most popular classifieds around the world.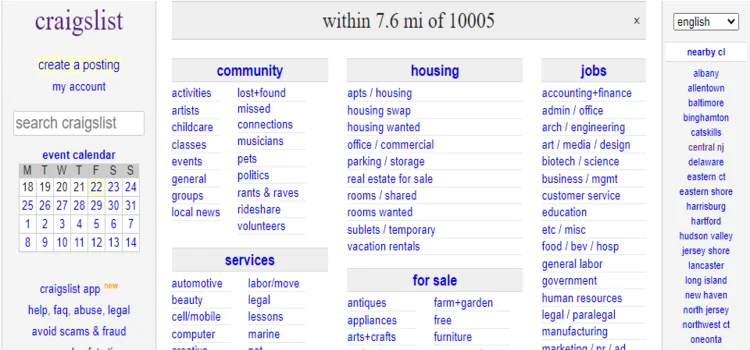 Job Board
Online job portals became another helpful service provided by the internet over the last few years. People don't need to wander between offices or look for job openings in daily newspapers anymore. Nowadays it's possible to apply for a new job and eventually get it without even leaving your home.
A job board website is a truly mutually beneficial platform for both job seekers and companies. Employers can post job openings with all their requirements and applicants can easily find them and contact a recruiter. In their turn, job seekers can post their resumes and wait while a certain employer will notice and contact them.
What is a real advantage of online job boards in comparison with the outdated ways of searching for jobs (such as visiting job centers or using newspapers) is that a location is no longer an obstacle. The companies can look for the best candidates in their own region as well as in any other place around the world. Moreover, with the growing popularity of remote work, it is also very useful to job seekers, as they can find a job in a different city or even country while staying in their hometown.
Indeed is a great example of the international job board website. The main advantage of Indeed is that it includes many different filters to narrow down the search so that employers and job-seekers can easily find each other.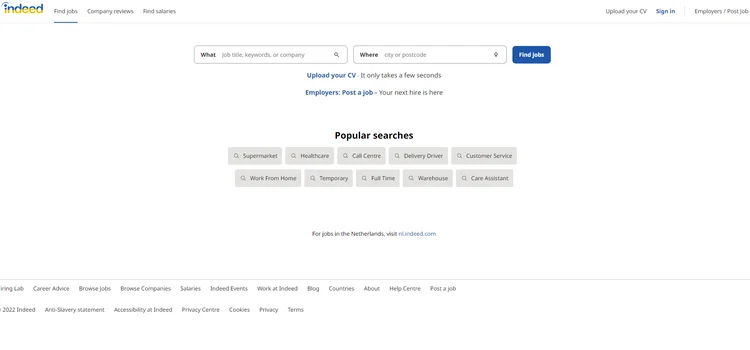 Digital Marketplace
Additionally, we decided to include digital marketplaces in this article.
What is exactly a digital marketplace? Simply saying it's a place that matches buyers of a product or service with providers. In recent years, digital marketplaces have been rapidly replacing traditional (offline) marketplaces. These days it becomes obvious that building your own online marketplace can be a profitable business on the condition that you choose the niche accurately.
But before moving to the explanation of how to create a digital marketplace with WordPress let's examine some of the must-have features of any online marketplace:
Advanced search with a bunch of filters;
A front-end submission that allows users to list their services or products;
Multiple payment methods with secure payment gateways.
In order to get a better understanding of how it works let's take a glance at Fiverr, one of the most well-known online marketplaces for freelance services.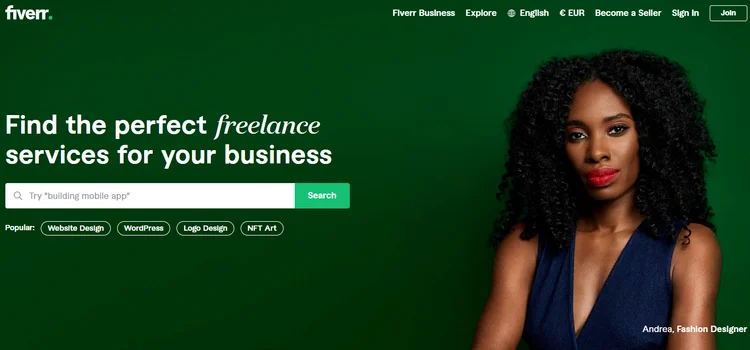 Wrapping Up
That's it! Now you know what types of WordPress directory websites are there, so you can start building your own one. Also, it's true that it could be a time-consuming process to bring traffic to your directory website, however that's worth its salt when considering the possible revenue from such a website.
If you're looking to build and monetize a directory website with WordPress, then you can try the HivePress plugin with its lightweight themes and functional extensions.
Additionally, you can check the following articles:
Related Articles
Most popular free WordPress listing themes to launch a directory website.
A lightweight, clean, and modern WordPress theme for directory websites.
A handpicked list of the top Airbnb-like WordPress themes for building a multi-vendor booking platform.