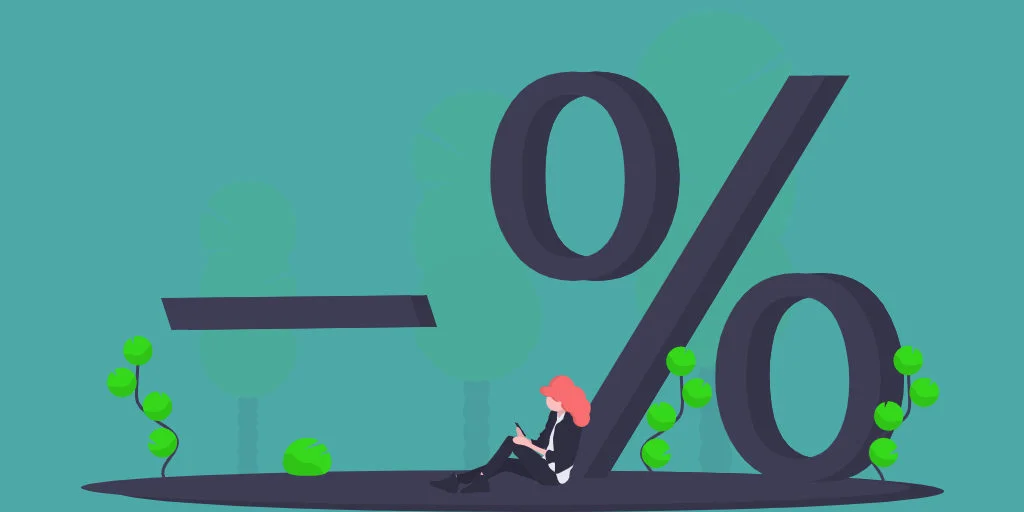 As e-commerce grows by leaps and bounds, the number of digital buyers keeps climbing every year. Moreover, everyone wants to save money while shopping, and you can turn this desire into a profitable business by launching your own coupon website and making money from affiliate partnerships.
In this article, we'll explain:
So, let's dive in!
What is a Coupon Website?
In a nutshell, a coupon website is a platform that lists promo codes, discounts and other saving offers which are freely accessible to the public. On such websites, you can find various coupons, starting from food delivery and SPAs and ending with discounts on airline tickets, so you can finally visit your Aunt Mary in Kerrville.
If you want to get a better idea of how a coupon website looks, you can check slickdeals.net, the most popular coupon site in the USA that gets millions of daily visits.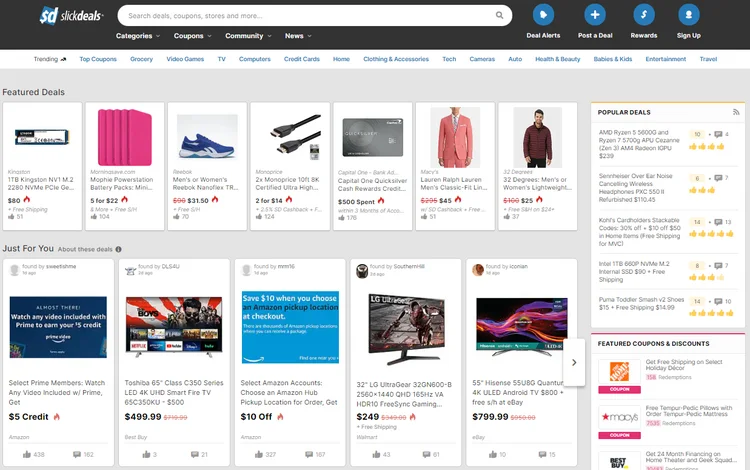 How Do Coupon Websites Work?
Generally, all coupon websites work in the same way. They collect all the possible coupons and discounts and list them in different categories. Also, new offers are emailed directly to subscribers in a daily newsletter that highlights one or more hot deals.
Keep in mind that there can be two types of coupon websites. The first is more suitable for small local or niche sites, where admins find and list discounts by themselves. The second model is used by large websites, where users are allowed to submit new offers. It is mutually beneficial since users can earn money by using a well-known platform, and the website, in its turn, always has various new offers.
Ways of Monetizing a Coupon Website
Coupon websites can be monetized in several different ways, and we'll briefly cover each of them.
Affiliate Partnership
All these websites are affiliate partners of the companies or brands they promote. This means that any coupon website earns a commission each time a user makes a purchase using their promo code. Moreover, if users simply follow a link to another website and buy something without even using discount codes, the coupon platform will get a commission.
Displaying Ads
Since popular coupon websites get a lot of traffic each month, they make money by displaying different advertisements like banners, text ads, Google AdSense, etc. It serves as an additional stream of income that may be pretty lucrative.
Selling Membership Plans
It's probably the least common monetization model for coupons websites and can be used only for some specific niches. For example, a website may offer limited deals in a particular niche, and for many people, it's cheaper to pay a small amount for a membership plan and always get hot deals than search for them on their own.
Why It's Worth Creating a Coupon Website?
It has already become a well-established business model that is gaining popularity as online shopping becomes more common. For example, as it stands in 2021, the number of digital buyers already exceeds 2 billion, and most of these shoppers are constantly looking for coupons that can cut the price – starting from penny-pinching moms and ending with students.
As a result of a growing number of online shoppers, the most popular coupon websites in the United States are getting millions of visits every month.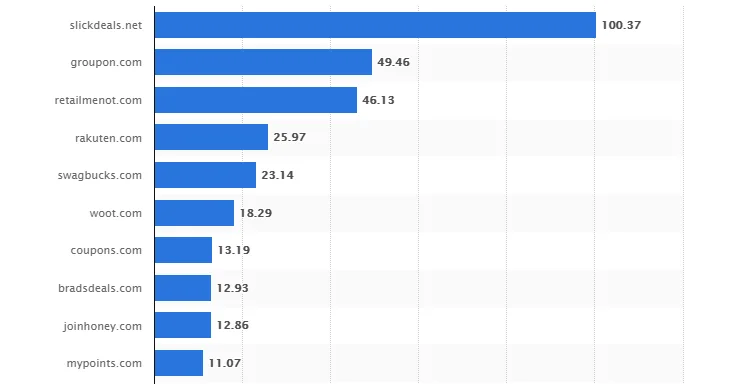 (The most well-known coupon websites in the US in June 2020, based on average monthly visits (in millions). Provided by Statista)
As you can see from the chart, in the US alone, there are millions of people who look for a hot deal every day. However, besides big coupon websites, there are many niche ones that operate pretty well and make profits to their owners. That's why it may be a great business idea to choose a specific niche (e.g., you can provide travel-only coupons or deals) and focus solely on it instead of trying to overcome the market leaders.
Just keep in mind that it's too difficult to become a leader in the common market, so it's better to pick a market you want to cater to and become the best.
How to Create a Coupon Website with WordPress
Thanks to the WordPress content management system, creating a well-functioning website became as easy as pie, even without any coding skills. However, before you can start building your WordPress coupon website, there are a few things to prepare.
Buy a Domain Name and Hosting
In order to create a coupon website with WordPress, you need a domain name and a hosting account.
A domain name is simply a web address used to access your website (e.g., example.com). It's better to choose a name that indicates the purpose of your website and is easy to remember. Buying a new domain name would typically cost you anywhere between $9 and $14.99 per year.
Also, you need hosting for your website. Web hosting is the place where all the files of your website are stored. It's necessary to purchase a hosting plan to make your coupon site accessible to users.
The price for reliable hosting ranges between $7 and $15 per month. If you haven't chosen a hosting provider yet, you can check the list of popular hosting providers to get a better idea of the best available options.
Install WordPress
Now you need to install WordPress, and there are two options of how to do it properly:
Automatically – Most hosting providers offer 1-click WordPress installation once you signed up with a hosting service;
Manually – If you are a more experienced user and want to do everything by yourself, you can follow the official instructions to install WordPress manually.
Select a WordPress Theme for Coupon Website
The final step before getting started with your site is to select a reliable WordPress theme for a coupon website. There are many themes you can try out, but for the sake of this tutorial, we are going to use the free ListingHive theme.
It's the most popular free WordPress directory theme that is suitable for building a directory or listing websites of any type. Since ListingHive is a lightweight and highly customizable theme that goes without any predefined fields and categories, it is a killer option if you are looking to create a WordPress coupon website.
Okay, let's move on and create a coupon website with WordPress!
Install ListingHive
You can easily find ListingHive in the WordPress repository by going to the WP Dashboard > Appearance > Themes > Add New section. Then use the search bar to find the theme and proceed by installing and activating it.
Please follow this step-by-step screencast if you have any issues with installing ListingHive.
Once you activate the theme, you'll receive a suggestion to install HivePress, a free WordPress directory plugin. It's crucial to install and activate it since it'll power most of your WordPress coupon website features. To install it, simply follow the recommended link and install HivePress.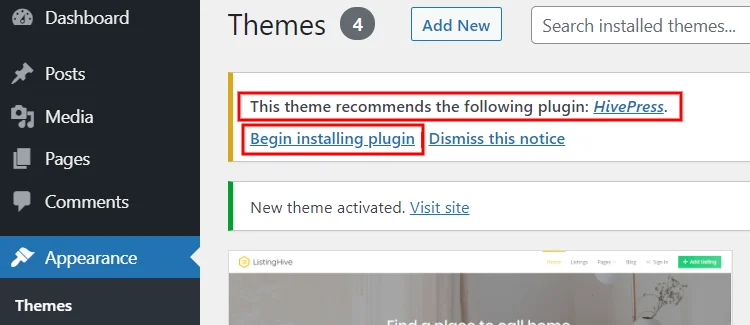 Install ListingHive Add-ons
Now you can add extra features to your coupon website by installing some of the ListingHive add-ons in the WP Dashboard > HivePress > Extensions section.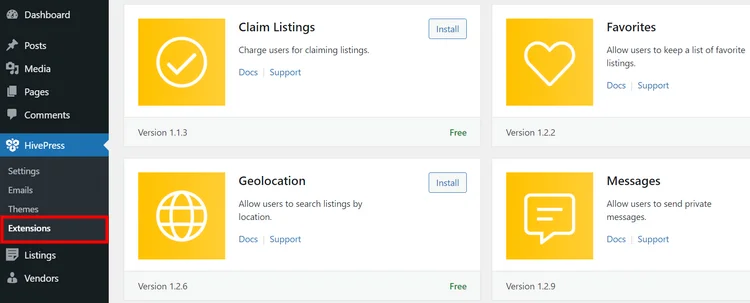 You can choose any of 15+ extensions and install them in just a few clicks. For example, you may add the following add-ons to your coupon website:
Favorites – to allow users to bookmark coupons on your website and get back to them later.
Messages – to allow users to communicate with each other in case if there's some issue with the listed coupon code.
Search Alerts – it's a handy feature that allows users to set search alerts. For example, if they are looking for some specific coupons and there are no options yet, they can set a search alert to get notified when new discounts become available.
Keep in mind that you can easily create a WordPress coupon website with a unique functionality by simply combining different ListingHive add-ons. All the extensions are fully optimized to work hand in hand with the theme, so no compatibility issues occur.
Add Listing Categories
Next, it's necessary to split your coupon website into different categories to make it easier for users to navigate it. You can add listing categories in the WP Dashboard > Listings > Categories section. You may customize a new category by filling out the following fields:
Name. Here you have to enter the category name (e.g., "Food & Drink");
Hierarchy. Use this field if you want to turn your category into a subcategory;
Description. Here you may add a category description if necessary;
Category image. Finally, you have an option to upload the category image.
When finished, click on the Add Category button.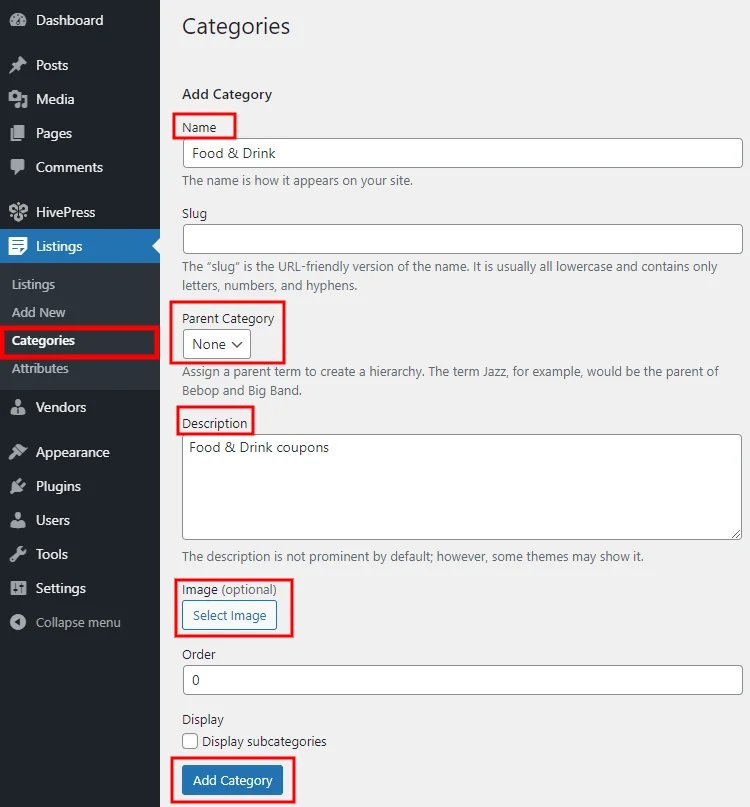 Similarly, you can add more listing categories for different niches of your coupon website. For example, "Beauty & Spas" and "Health & Fitness". There are no limits, so feel free to add as many as you need.
Once you are done with categories, it's time to add some fields specific to coupon listings.
Add Listing Fields
Navigate to the WP Dashboard > Listings > Attributes > Add New section to add a new custom listing field or search filter. Firstly, let's create a "Promo Code" field that will store the coupon code. To do this, set the field name, allow its front-end editing and select the attribute type (we'll use the "Text" type for this one).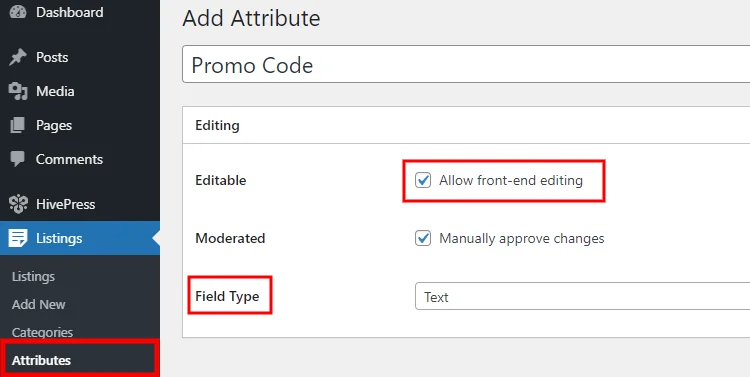 Next, you can define how this custom field will appear on the listing pages. Simply assign it to some template areas and set display format (we'll use this one %label%: %value%). When finished, click on the Publish button.

Now let's add one more field that will display the discount percentage. You can do this by following the same steps, simply click on the Add New button, name the field, allow its front-end editing and select the type (for this one, we'll use the "Number" type).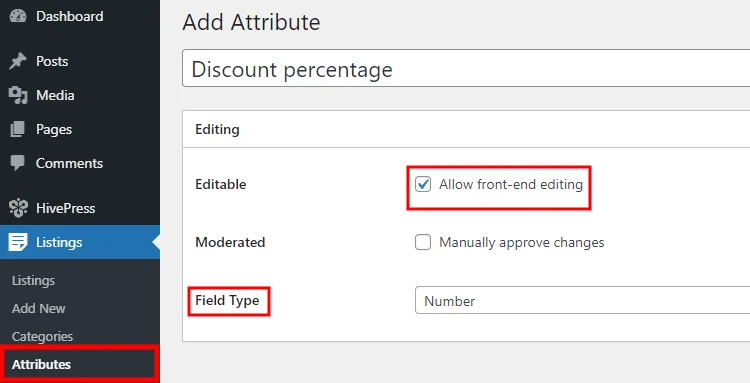 Then mark it as filterable and sortable to allow website visitors to filter and sort coupons. Use the "Number Range" search field type to filter all coupons by a discount range instead of some specific value.

Finally, select template areas where you want to display the attribute and set the display format (we'll use %value%% in this case). Once you are done, click on the Publish button.
That's it! In the same way, you can add an unlimited number of custom fields to your WordPress coupon website.
Add Coupons
Alright, now it's time to add a new coupon. As we mentioned before, usually on small coupon websites, admins do everything from the back-end, but the ListingHive theme also allows you to accept coupons submitted by website users. So let's check how to add new coupons both from the front-end as regular users and from the back-end as an admin.
Adding Coupons via the Front-end
To submit a new coupon from the front-end, go to your website and click on the Add Listing button. Then select any of your categories (in our example, we'll choose "Food & Drink"). Once you pick a category, you'll be taken to the listing submission form, where you can upload the listing image and enter the coupon title (e.g., "Domino's Pizza"). Then you'll have to fill in the custom fields that you've added previously, fill in the description and click on the Publish button.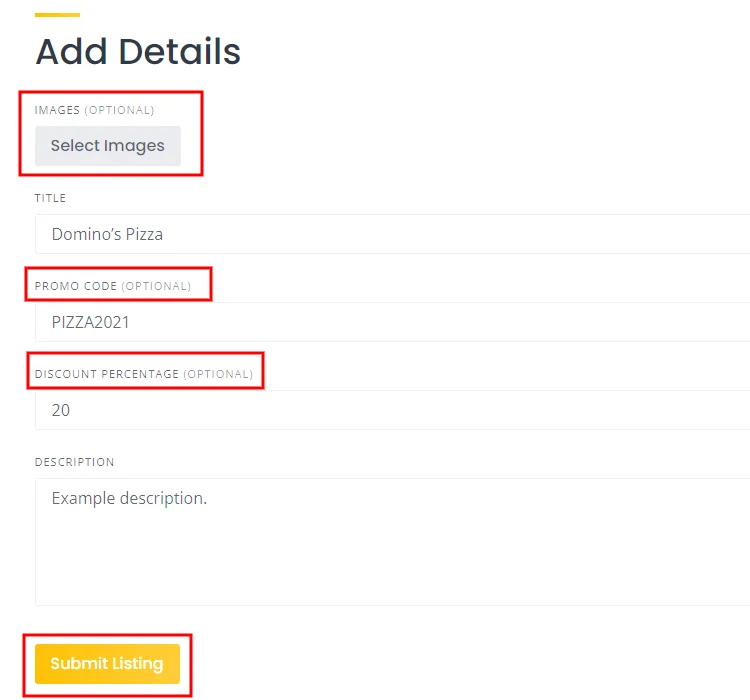 The website admin should approve all new coupons that users submit before they appear on the website. As an admin, you can approve new listings in the WP Dashboard > Listings section.

Keep in mind that you can disable the moderation if you don't want to approve each new coupon manually in the WP Dashboard > HivePress > Settings > Listings section. Also, within this section, you can disable the "Listing Submission" feature, so users won't be able to list new deals on your website.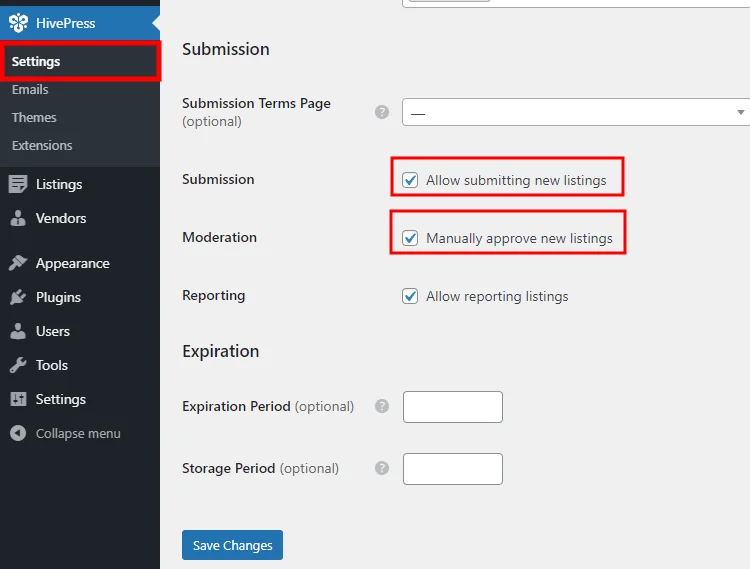 Adding Coupons via the Back-end
You can add new deals to your coupon website directly from the WP admin panel. To do this, go to the WP Dashboard > Listings section, fill in all the necessary details and click on the Publish button.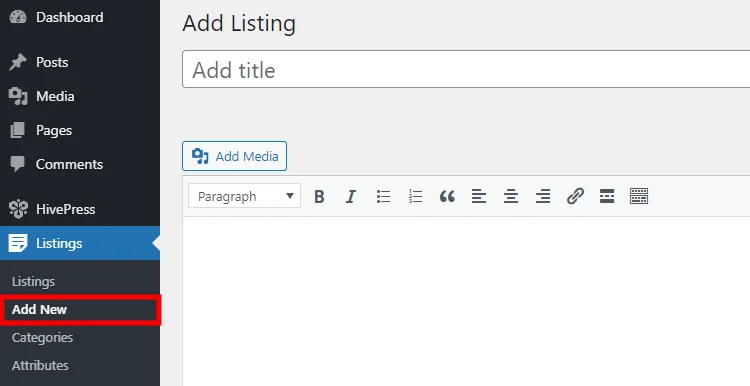 That's it! Once you click on the Publish button, a new coupon will appear on the front-end, and website visitors will be able to use it.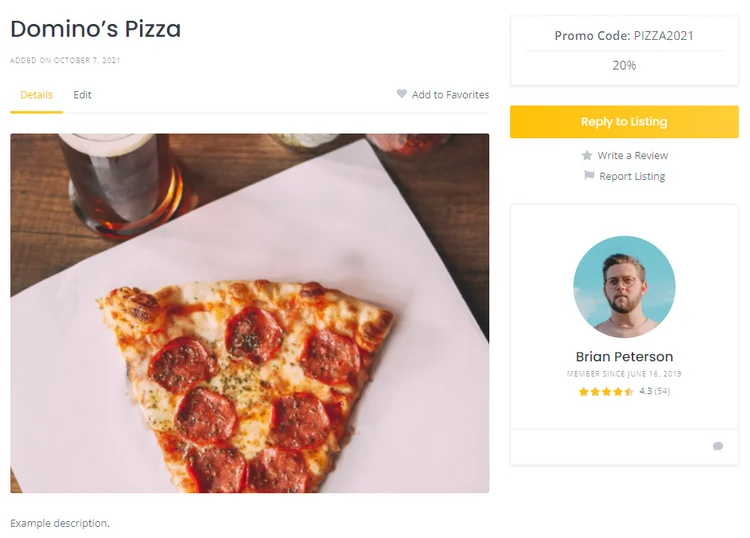 Wrapping Up
As you can see, creating a WordPress coupon website might be easier than you imagine. We hope this article was helpful, and now you can create a coupon website with WordPress easily. However, building a coupon website is just a start, and you'll need to promote it actively via social platforms, emails, friends, etc., to make it successful.
In any case, please note that you can launch a highly customizable and easy-to-use coupon website with the ListingHive theme. It's a free, lightweight theme that is already packed with all the necessary features for getting your WordPress coupon website up and running.
Additionally, you can take a look at our overview of the best directory plugins in the WordPress repository to get a better idea of the available options on the market.
Related Articles
A walkthrough on how to create a peer-to-peer service marketplace similar to Thumbtack or TaskRabbit.
A quick guide on how to create a tour booking website using RentalHive theme.
Skyrocket your WordPress website performance in a breeze.