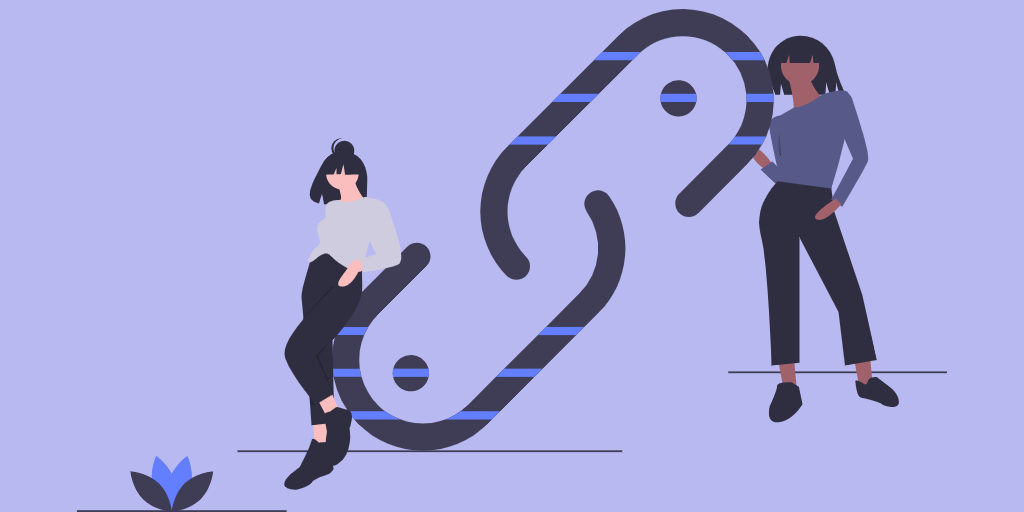 Most companies worldwide use affiliate marketing as one of the main channels of attracting new customers. So if you have your own product or service listing website, it may become a great source of passive income once it's linked with some affiliate program.
In this article, we'll explain what an affiliate marketing website is, how it works, where to look for affiliate programs and how to create an affiliate website with WordPress for free.
About Affiliate Marketing
Affiliate marketing is an advertising model where you promote another company's product or service in return for a commission on the sales you generate. It's a popular marketing strategy used by businesses of all sizes, starting from Amazon or AliExpress and ending with a small niche website that sells auto parts.
Let's take a look at some facts about affiliate marketing:
The size of the affiliate marketing industry is growing and in 2020 its worth was estimated at 15 billion dollars globally;
More than 80% of brands out there are using affiliate marketing as a part of their strategy;
74% of U.S. online shoppers check several affiliate websites before making a purchase.
But don't take our word for it. Just take a look at the stats below that shows the affiliate marketing spending in the United States. The U.S. affiliate marketing spending increased by 5 times in the last 10 years, from 1.6 billion dollars to 7.4 billion.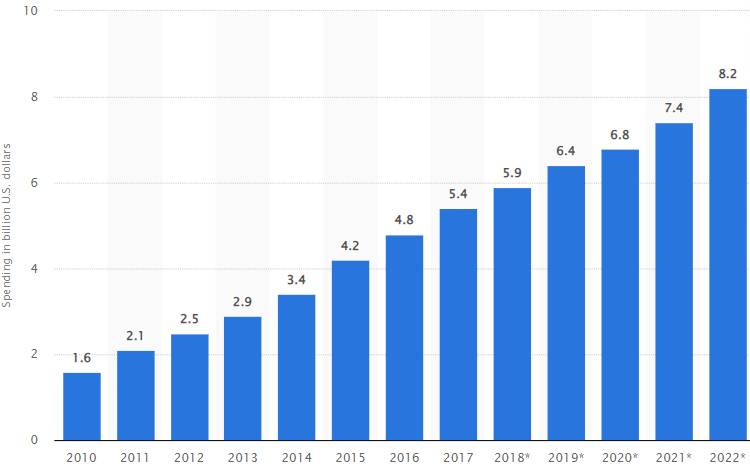 (Source – Statista)
Usually, affiliate programs are free to join, so you don't have to worry about high startup costs. Moreover, if everything is done well, making money from affiliate partnerships can go from a side hustle to a profitable online business.
How do Affiliate Websites Work?
Affiliate marketing lets you make money by promoting products or services, so you should have a place where you can promote all these products. That's exactly where affiliate marketing websites come into play. An affiliate website is a platform that connects all parties:
Affiliate Merchant – a business that sells the product or service;
Affiliate Partner – a person who promotes products and makes money from commissions (i.e., you);
Customers – people who are looking for some products or services via your website.
So the main purpose of any affiliate website is to list some services or products and attract new customers to their website by creating content, making reviews or comparisons, etc. As an affiliate partner, you can earn a commission when someone goes from your website and makes a purchase via the referral link.
Once you register for the affiliate program, you'll get a unique link and other assets for promoting different services or products. That link will track when one of your website visitors makes a purchase, and you'll earn a commission depending on the affiliate program terms. For example, on Amazon, commissions are typically from 1% to 5% of the purchase price, depending on the category of products.
What Types of Affiliate Websites Exist?
There are many different types of affiliate websites that you can create. Everything depends on your niche and the type of products or services you are going to promote, but generally, there are three main types of affiliate sites:
Shopping Directory
If you ever tried to find a specific product on Amazon, you are probably aware that sometimes it may be time-consuming since there are hundreds of offers from different vendors and the Amazon interface is not really user-friendly.
However, imagine for a moment that there's a niche website that lists Amazon products you are looking for in a more intuitive way, with better search filters and more profound descriptions. Such websites are called shopping directories.
A shopping directory is a type of website that lists handpicked products or companies from a particular niche. For example, it may be a website that lists the best brands and products of hiking equipment. There may be various search filters specific to this product niche, reviews from other customers, ratings and so on.
Simply saying, shopping directories help customers to find certain products or services and redirect their traffic to the merchant's website.
A good example of a shopping directory is PCPartPicker. Many people want to build their own PC, but the process isn't that straightforward, particularly for newbies. That's where PCPartPicker comes into play by providing compatibility guidance and up-to-date prices from different websites.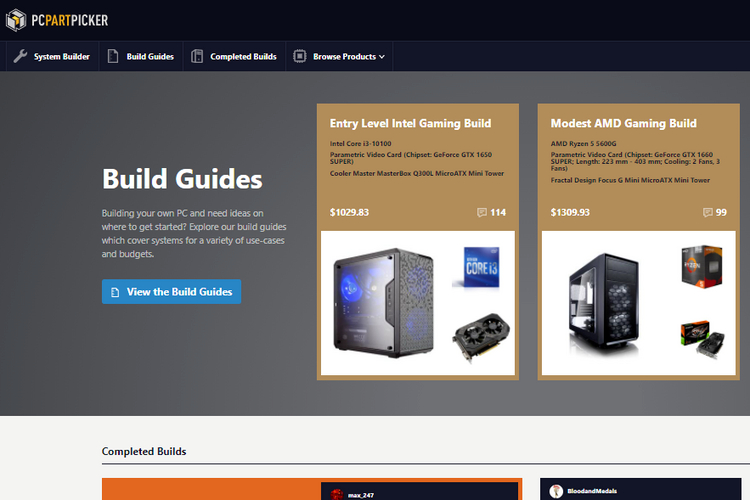 Review & Comparison Sites
The main idea behind review and comparison affiliate sites is to publish honest and detailed reviews or comparisons of different products (usually within a particular niche). As a website owner, you can review products of your choice and promote them to potential consumers (you may also include third-party reviews on your site for a better result).
To get a better understanding of this affiliate site type, you can check Wirecutter, founded by Brian Lam in 2011 and purchased by The New York Times Company in 2016 for about $30 million. On this site, experts help people find the best product in almost every consumer category.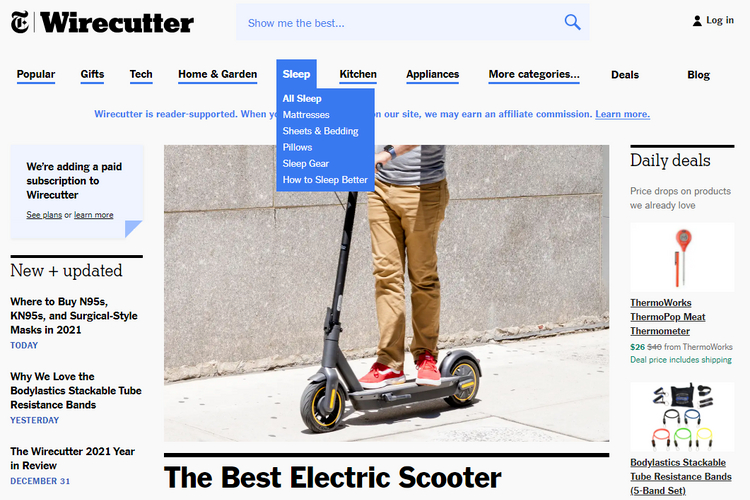 Content-based Websites
It's one of the most common types of affiliate websites. As a site owner, you need to create high-quality content (write a blog or make videos) that helps people find products or make the right choice of products, and of course, you also need to include the affiliate links to the products you showcase or review via your content.
For example, MoneySavingExpert.com helps ordinary people make better financial decisions by providing accurate and updated financial information. This website was started by Martin Lewis, a financial journalist with a simple goal – educate people. However, it turned into a profitable business thanks to the affiliate links and now MoneySavingExpert.com, worth about $100 million.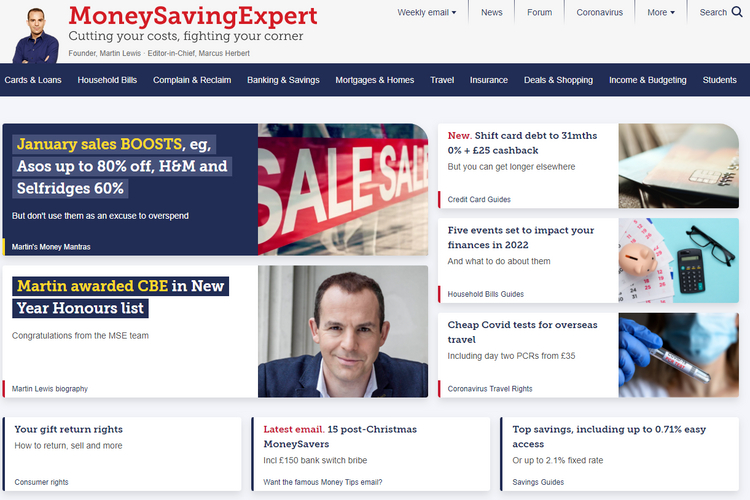 We have mentioned only 3 possible types of affiliate websites, but there are dozens of them, and everything depends on your interests and preferred niche.
Where to Look for Affiliate Programs?
When searching for affiliate programs, there are two main options to choose from: affiliate networks and independent companies' programs. Let's briefly cover each of them.
Affiliate Networks
An affiliate network connects content creators, like blog owners or influencers, with companies looking to promote their products or services. Simply saying, an affiliate network is a marketplace of affiliate programs. Content creators can sign up and choose the products or services they want to promote, while merchants (i.e., store owners) can list their affiliate programs.
There are several well-established affiliate networks that connect merchants with possible affiliates like:
Pros and Cons of Affiliate Networks
The main disadvantage of affiliate networks is small commission rates. Usually, about 1-5% commission rates. So if you want your website to be profitable, you have to bring a lot of customers or promote high-ticket products only.
Standalone Programs
Another option is to look for companies that offer their own affiliate programs. For example, you can check Amazon's affiliate marketing program, called Amazon Associates, which is one of the largest in the world, comprising over 900,000 affiliates worldwide — content creators, bloggers, and publishers (however, Amazon also offers small commission rates).
Pros and Cons of Standalone Affiliate Programs
It may be a better idea to sign up for affiliate programs directly for two reasons:
Most companies offer higher commission rates (15-40%);
You can choose a niche that you are passionate about.
For example, if you have some expertise in the hosting niche, you can simply search something like "Hosting providers + affiliate program" in Google and find dozens of the available affiliate programs offered directly by the hosting providers.
A Few Words about Challenges of Running an Affiliate Site
Since launching an online business is not all about rainbows and unicorns, let's briefly cover some challenges that you may face when running an affiliate website:
Conversions & Traffic – Your income depends on the number of conversions that you make for your merchant. As a rule of thumb, only 3-5% of potential customers make a purchase, meaning that you'll have to bring at least 20-30 interested customers (traffic) to get one purchase.
Content – In order to have decent traffic on your website, you have to rank well on Google by creating a lot of high-quality and SEO-optimized content.
Competitors – Keep in mind that there are hundreds of competitors around there, so your website has to be unique and bring some value to the customers (e.g., try focusing on one particular niche and provide the best service).
Nevertheless, if you put a bit of time and effort into your affiliate website, you can succeed and make a pretty penny from commissions.
How to Launch an Affiliate Site Using WordPress?
Before diving into the tutorial part of this article, we'd like to briefly explain why WordPress is the best solution for your affiliate website and cover some prerequisites needed for launching a website.
Why WordPress?
WordPress is the most popular content management system in the world, powering more than 40% of websites. There are several reasons for such popularity:
Easy to Use – WordPress has a highly intuitive interface, so even a rookie can handle it;
Free to Use – You can use WordPress absolutely for free, without wasting money on custom development;
Active Community – WordPress has a large community of website creators and developers. That means if you ever have a question on any aspect of using WordPress, you'll have plenty of people you can turn to for answers;
Versatility – You can build almost any type of website using WordPress;
SEO-friendly – WordPress can be easily optimized for search engines.
So, as you can see, there are plenty of reasons to use WordPress if you want to create an affiliate website.
Prerequisites to Build an Affiliate Website with WordPress
Now let's take a look at some prerequisites you need to create an affiliate website with WordPress:
Domain Name – You need to come up with a unique domain name for your affiliate site. You can check out this post and get some tips on how to choose a domain name;
Hosting Plan – You have to purchase a hosting plan for your affiliate site. We recommend choosing one of the hosting providers mentioned in this overview;
WordPress Installation – Next, you need to install WordPress. You can do it either manually or use a one-click installer that comes with most of the hosting plans;
WordPress Theme – Finally, you need to install a free WordPress theme suitable for building an affiliate website. In the case at hand, we are going to use ListingHive, a free WordPress directory theme that goes with all the necessary features for launching an affiliate website using WordPress.
Okay, with these few simple pieces in place, you're ready to start building an affiliate marketing website with WordPress.
You can create an affiliate website of any type, but for the sake of this tutorial, we'll show you how to create an Amazon affiliate website with WordPress (i.e., shopping directory). So let's start with the theme installation.
Install ListingHive
First of all, you need to install the ListingHive theme by going to the WP Dashboard > Appearance > Themes > Add New section. Then find ListingHive via the search box and proceed by installing and activating the theme.
Once you activate the theme, there will be a suggestion to install HivePress, a free WordPress directory plugin. It is crucial to install and activate the plugin in order to create an affiliate website with WordPress. Simply follow the recommended plugin's link and install HivePress.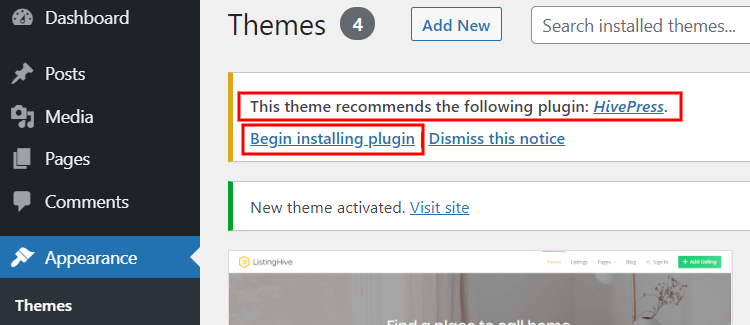 Add Listing Categories
The next step is to split your affiliate website into categories, so it's easier for users to navigate it. For example, let's imagine that you want to build a niche website for camping gear, so you can add the "Tents", "Trekking Poles " and "Backpacks" categories.
You can create an unlimited number of listing categories in the WP Dashboard > Categories section.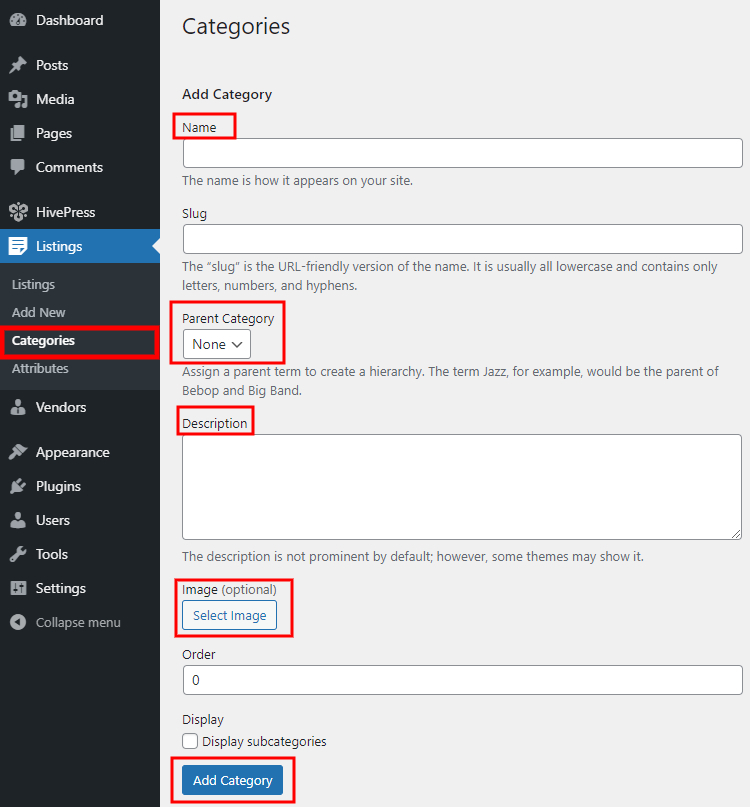 When adding a new listing category, you can name it, add a description and upload a category image if necessary. Additionally, you can split any category into subcategories by selecting a "Parent Category".
Keep in mind that there are no limits, so you can create as many listing categories as required for your website niche.
Add Custom Listing Fields
Once you are done with listing categories, it's time to add some listing fields specific to shopping directories. For example, you can add "Price", "Model", "Material" or any other custom field, depending on your niche.
To add a new custom field, navigate to the WP Dashboard > Listings > Attributes > Add New section. After adding a title, you'll be able to set up your custom field in three different contexts:
Editing – Here, you can define the field type of your attribute (i.e., custom field). It may be a Radio Button, Number, Select, Checkbox and so on;
Search – Here, you can mark your custom field as sortable, searchable and indexable if you want to use it as a search filter;
Display – Finally, here, you can set up a display format for your custom field and assign it to particular template areas.
When you finish setting up your custom field, simply click on the Publish button. In the same way, you can add various custom fields that are necessary for your affiliate website.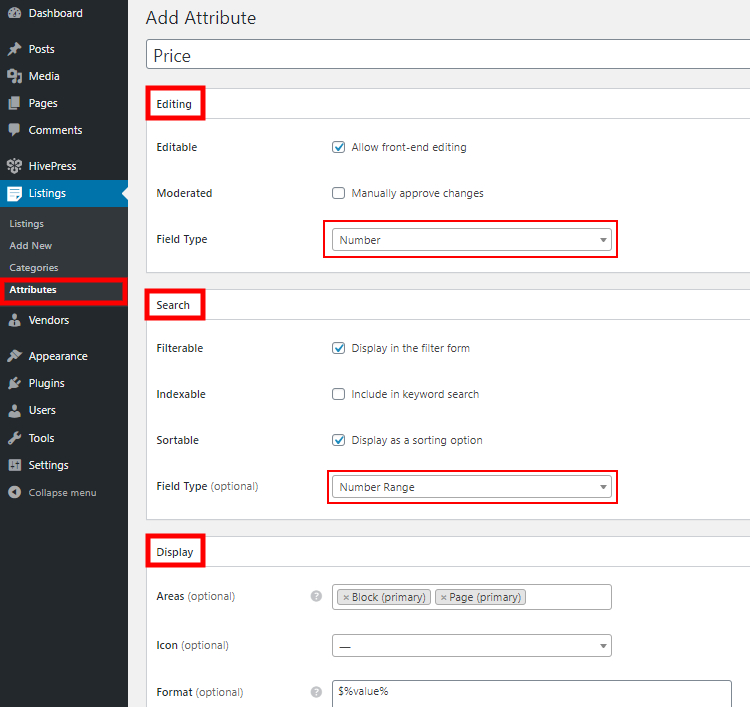 Add Listings
Now you can add the first listing to your affiliate marketing website. You can add a new listing in the WP Dashboard > Listings > Add New section. Keep in mind that the listing submission form is fully customizable, and you can add, change or remove any fields (you can add or remove listing fields in the WP Dashboard > Listings > Attributes section).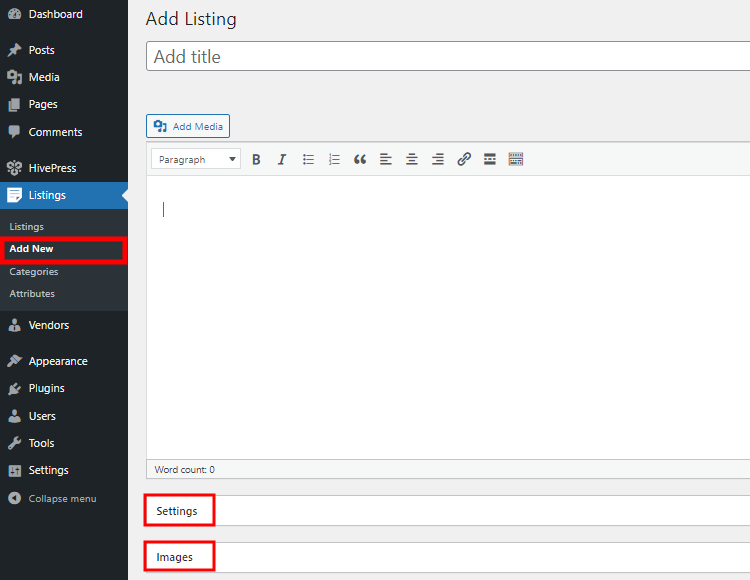 Also, you can add new listings via the front-end by going to your homepage and clicking on the Add Listing button (you can disable the front-end listing submission in the WP Dashboard > HivePress > Settings > Listings section).
Extend Your Website Functionality
At this point, we'd like to show you how to extend your affiliate website functionality. Since the ListingHive theme is powered by HivePress, you can use any HivePress add-on. For example, you can add the Reviews extension to allow website visitors to leave comments and rate listings. Also, you can install the Favorites add-on to allow customers to keep a list of favorite listings or the Tags extension so you can set listing tags.
There are 15+ free and premium add-ons that you can use to enhance your affiliate website. You can check the whole list of HivePress extensions in the WP Dashboard > HivePress > Extensions section.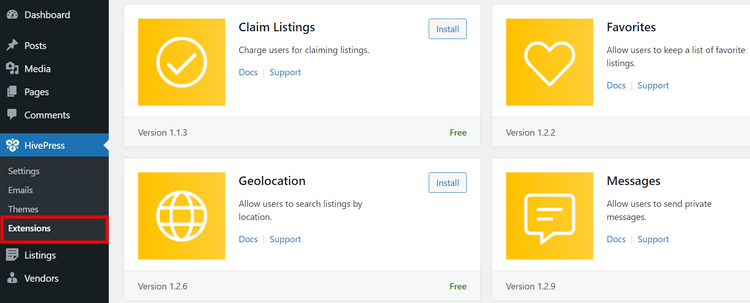 Final Words
That wraps up our tutorial on how to create an affiliate website with WordPress for free. We hope it was helpful to you, and now you have a better idea of how to start your own online business.
Bear in mind that building a profitable WordPress affiliate site takes time and effort. However, if done right, it may become a reliable source of income.
So if you are about to launch an affiliate marketing website with WordPress for free, the easiest way to do it is by using the ListingHive theme along with the HivePress plugin. They are both free, easy-to-use and highly customizable, so you'll be able to set up your website in the way you like.
Additionally, you may want to check our tutorial on how to create a listing website with WordPress for free.
Related Articles
Create and monetize a real estate directory website in 6 steps.
Skyrocket your WordPress website performance in a breeze.
A quick guide on how to launch an employee directory website.