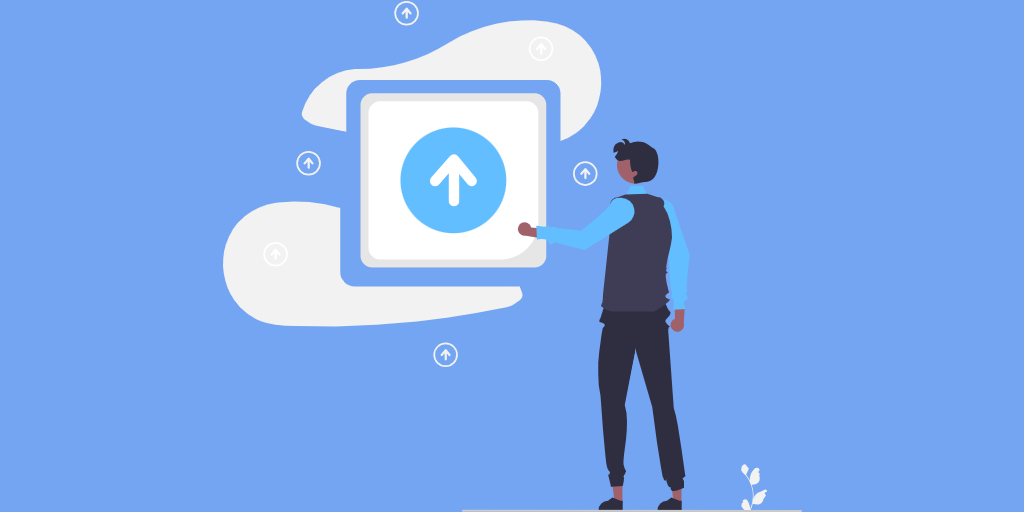 Reliable web hosting is one of the key components of every successful website, helping to ensure your site remains live and performs well for users.
However, choosing the right hosting provider for your website may be difficult, especially if you're new to the industry. That's why we created this overview of the popular WordPress hosting providers to have the best options in one place and make everything easier for you.
Please note that this article is not about rating, but it's more like an overview of the available options since each website is unique and may require different hosting features, so read the article and choose according to your site needs and requirements.
Let's dive in!
Importance of a Reliable WordPress Hosting
Before moving to the list of providers, we'd like to briefly explain why choosing a reliable WordPress hosting is crucial for your website:
It ensures that your website remains live and accessible to visitors around the clock;
Good hosting can make your website really fast, and as we know, the website's speed matters;
Security is also crucial when choosing a hosting provider to safeguard your website and data from potential cyber threats and breaches;
Lastly, a reliable hosting provider typically offers scalable solutions to handle your website's growth over time.
In a nutshell, a reliable WordPress hosting provider plays a vital role in the success of your website by ensuring uptime, speed, security, support, and scalability. So, you can't put a price tag on hosting if you want to have a successful website and provide an excellent user experience to your visitors.
Things to Сonsider When Choosing a WordPress Hosting
Now, let's discuss already mentioned aspects in more detail so you can better understand how to choose a hosting plan for your future website.
Speed and Performance
Speed is an essential factor in the success of your website. A fast-loading website can better attract new users and keep them engaged, while slow-loading sites typically lead to higher bounce rates. Moreover, search engines like Google use page loading speed as a ranking factor, meaning better-performing websites often have a better place on SERP (search engine results pages).
Look for WordPress hosting providers that offer:
Solid server performance;
Caching solutions;
Content Delivery Networks (CDNs) to ensure optimal site loading times.
Additionally, consider the hosting plans that include SSD storage, as it can significantly improve your website's performance compared to traditional HDD storage.
Security
Your website's security should be a top priority to maintain your reputation and ensure the privacy of your users (e.g., customer information, financial records, or confidential business data). First of all, search for WordPress hosting providers that offer essential security features such as:
Malware scanning
DDoS protection
SSL certificates
Regular backups
Scalability
As your website attracts more visitors and traffic increases, your hosting service should be able to handle this without any performance issues, ensuring that your website remains functional and well-performing under changing demands.
It's particularly crucial when running a WordPress directory website or a service marketplace, as the number of listings will naturally grow over time, and it will be necessary to scale accordingly.
Moreover, if your WordPress hosting provider has good scalability options, your website can handle sudden traffic spikes, for example, during marketing campaigns or product launches, without having downtime or performance issues.
Customer Support
The next crucial point you should keep in mind when choosing a hosting provider is customer support. A helpful and knowledgeable support team can make all the difference when you are facing technical issues or needing assistance.
Fortunately, most WordPress hosting providers offer excellent support and are always ready to give you a hand. But in any case, it's better to check whether your provider:
Offers 24/7 support through multiple channels, such as live chat, email, or phone;
Specializes in WordPress to assist you with any WordPress-specific issues that may arise;
Has an extensive knowledge base, so you can use it at any time.
Top-notch customer service and technical assistance can save you time and effort in resolving any issues. It's especially important when something happens with your website, and visitors cannot access it, so you have to act quickly.
Tips on How to Assess a WordPress Hosting Provider
Once you find a good hosting provider for your WordPress website, you have to assess it. Here are a few tips on how to do that, especially if you don't have a solid tech background:
Website – check all the above-mentioned features on the official hosting provider's website (e.g., check all their plans, support policy, offered features, etc.);
Pre-sale Questions – contact the chosen provider and ask questions about features that we discussed earlier;
Reddit & Forums – ask people on forums and subreddits about your provider to get some real feedback from users;
Reviews – check several reviews about hosting providers to analyze different opinions.
By following these tips, you'll collect a lot of information about potential hosting providers and will be able to make a data-driven decision.
Now let's move forward and we'll show you some of the most popular WordPress hosting providers.
Top Leading WordPress Hosting Providers
Here are some of the most popular WordPress hosting companies. Please note that this list is only an overview and not a rating of providers.
Also, keep in mind that in this overview, we are discussing only managed WordPress hosting plans. If you want to use other types of hosting (like VPS), please check the official websites of each provider.
Hostinger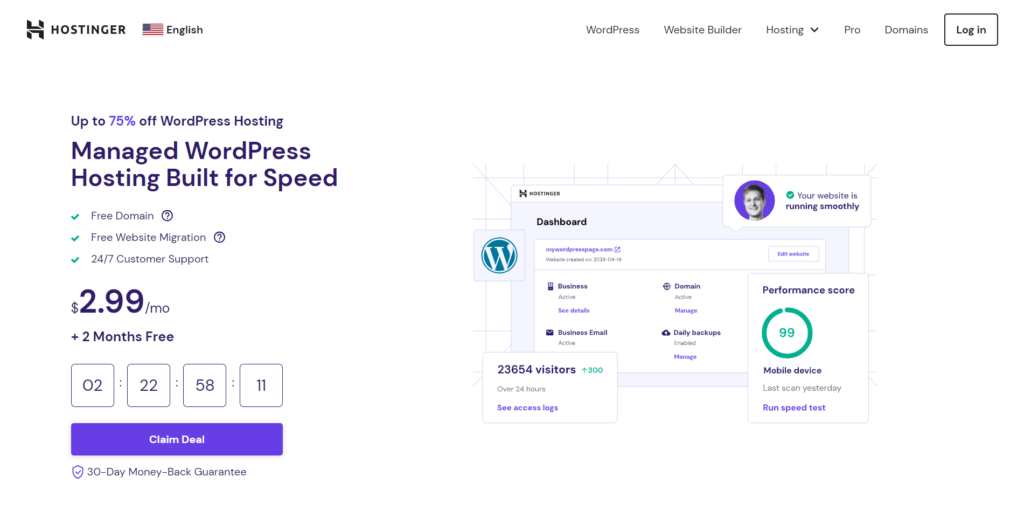 We'll start our list with Hostinger. It is a web hosting provider that offers affordable and feature-packed plans for individuals and businesses. It has a team of over 1,000 people worldwide and focuses on in-house design and cloud hosting services. At the time of writing, Hostinger is one of the fastest-growing web hosting companies in the world.
Hostinger Security
On the official website, it's mentioned that Hostinger follows the latest security industry standards and best security practices to protect the servers and ensure information security. Some of them include:
Firewall protection – it helps to keep out unauthorized traffic and potential threats;
Anti-malware protection on endpoints and servers – it defends individual devices and central systems against harmful software (e.g., viruses);
Regular data backups.
Feel free to check all Hostinger's security measures on their website.
Hostinger Scalability
With Hostinger, it's possible to scale your website hassle-free by upgrading your plan as your website grows and traffic increases.
Thanks to the many data centers located in 8 countries (France, the Netherlands, Lithuania, the United Kingdom, Singapore, India, the USA, and Brazil), the provider can scale resources more effectively by distributing the load across data centers, which ensures fast loading speed and scalability.
Hostinger Hosting Plans
There are three managed WordPress hosting plans that you can choose from. Some of the features include:
Premium ($3/month) – includes 100 websites, 100 GB SSD storage, weekly backups and standard performance;
Business ($4/month) – this package offers increased (up to 5x) performance, 100 websites, 200 GB NVMe storage, and daily backups;
Cloud Startup ($9/month) – includes (up to 10x) performance, 300 websites, 200 GB NVMe storage, and daily backups.
Please note that the price for each plan doubles when you renew.
Hostinger Key Takeaways
Monthly Price*
(increases after renewal)
$2,99 – $8,99
Free domain name
✔️
Free SSL
✔️
Uptime
99,9%
Storage
100 GB SSD – 200 GB NVMe
Bandwidth
Unlimited
Support type
Email, Live chat
Cloudways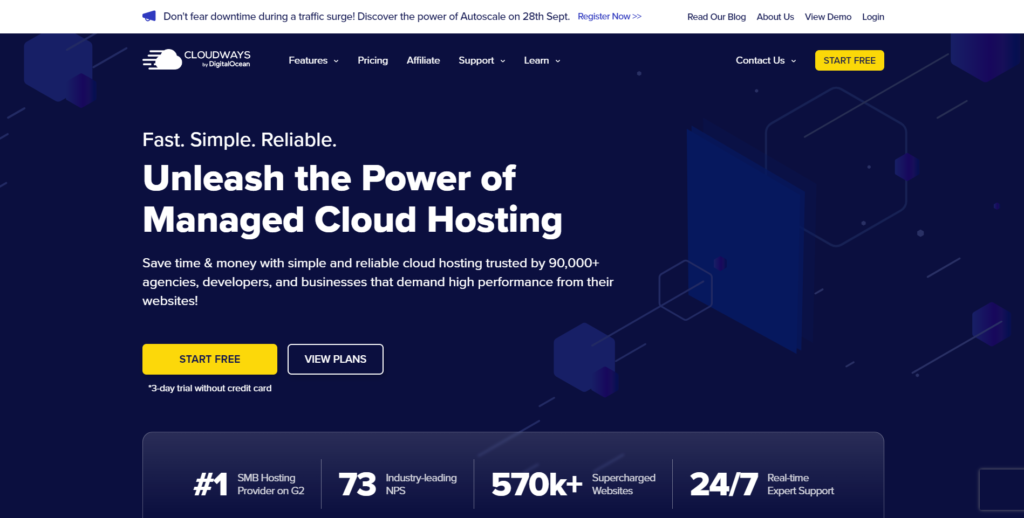 Up next is Cloudways. It is a managed cloud hosting service that offers a simple and intuitive platform for hosting your WordPress website.
With Cloudways, you can choose from the leading cloud servers, including Amazon Web Services, Google Cloud, and DigitalOcean, and make your website "live" with just a few clicks. Another cool feature about Cloudways is that you can choose a plan that allows you to pay only for the server resources you use without any additional costs.
Cloudways Security
When it comes to security, Cloudways offers a variety of security features to keep your WordPress website safe and protected from potential threats, including:
Firewall – this feature only lets through the internet "traffic" necessary for your website to work, keeping everything safe from unwanted visitors;
Bot Protection – protects your WordPress websites from traffic jams caused by malicious bots, repeated login attempts and DoS attacks;
Suspicious Device Login Control – the provider checks all devices that attempt to access your account and notifies you if there's something suspicious.
To check all Cloudways' security measures, please visit the official website to get more information.
Cloudways Scalability
If you are lucky and your WordPress website starts gaining a lot of traffic, you'll need to scale your website to cope with the increased traffic.
The hosting provider mentioned that upgrading your server at Cloudways is not a problem. The infrastructure is built to offer greater flexibility to scale up any server vertically. Simply saying, you can easily request adding more computing power (CPU, Memory, and Storage) to your existing server.
Also, Cloudways offers a choice of over 65 worldwide data centers in locations across Europe, the Americas, Asia and Australia.
Cloudways Hosting Plans
Here are a few WordPress hosting plans offered by Cloudways:
$11/month – this plan includes 1GB RAM, 1 Core processor, 25GB storage, 1TB bandwidth;
$24/month – this package offers 2GB RAM, 1 Core processor, 50GB storage, and 2TB bandwidth;
$46/month – this plan provides 4GB RAM, 2 Core processor, 80GB storage, and 4TB bandwidth;
$88/month – this package includes 8GB RAM, 4 Core processor, 160GB storage, and 5TB bandwidth.
You can check all the features of each plan by visiting the official website. Please note that we only mentioned plans for the DigitalOcean centers and there are also different plans for AWS and Google Cloud data centers.
Cloudways Key Takeaways
| | |
| --- | --- |
| Monthly Price | $11 – $88 |
| Free domain name | ❌ |
| Free SSL | ✔️ |
| Uptime | 99,9% |
| Storage | 25GB – 160GB |
| Bandwidth | 1TB – 5TB |
| Support type | Live chat, Ticket system, Phone |
SiteGround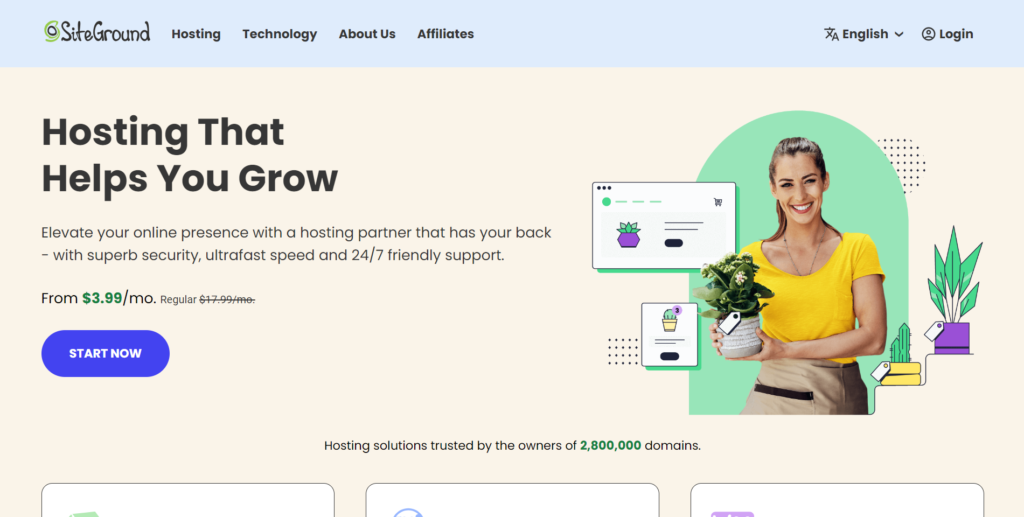 SiteGround is another widely known WordPress hosting provider that's got great feedback from users. They offer reliable and secure hosting with a focus on speed and excellent customer support. Also, this provider is known for its user-friendly interface and easy-to-use tools, making it a good option for beginners.
At the time of writing, SiteGround hosts over 2 million domains worldwide. Moreover, it used to be one of the top choices recommended by WordPress, which speaks for itself.
SiteGround Scalability
SiteGround offers scalable hosting plans that allow users to easily upgrade or downgrade their plans based on their website needs. Additionally, you can enable handy features like automatic scaling, which ensures that websites can handle increased traffic without any downtime.
Currently, SiteGround has data centers in the following locations: US, UK, Spain, Netherlands, Germany, France, Australia, and Singapore.
SiteGround Security
Any SiteGround hosting plan comes with a bunch of security features to make sure your WordPress website is safe, like daily backups and WAF (web application firewall).
Additionally, there's a free security plugin that allows you to prevent different threats such as brute-forcing, compromised login, code vulnerability attacks, data theft and leaks, etc. Feel free to learn more about the SiteGround security plugin.
SiteGround Hosting Plans
There are three hosting plans for their WordPress-managed hosting:
StartUp ($4/month) – 1 website, 10 GB web space, ~10,000 monthly visits, unmetered traffic;
GrowBig ($7/month) – unlimited websites, 20 GB web space, ~100,000 monthly visits, unmetered traffic, on-demand backup copies, staging;
GoGeek ($11/month) – unlimited websites, 40 GB web space, ~400,000 monthly visits, unmetered traffic, on-demand backup copies, staging + git, free private DNS, priority support.
Please note that the price increases several times after renewal. To learn more about hosting plans, please visit the official website.
SiteGround Key Takeaways
Monthly Price*
(increases after renewal)
$4 – $11
Free domain name
❌
Free SSL
✔️
Uptime
99,9%
Storage
10 GB – 40 GB
Bandwidth
Unmetered
Support type
Live chat, Ticket system, Phone
WP Engine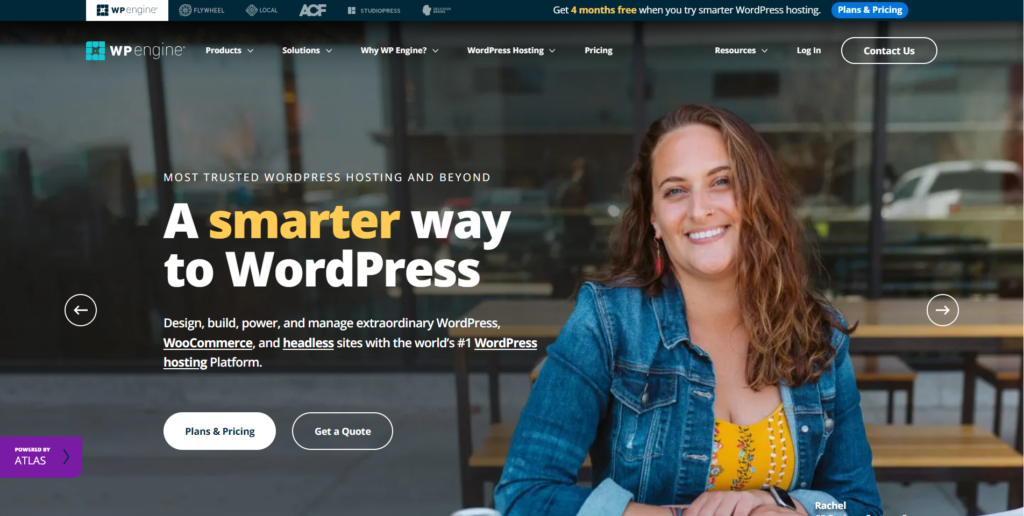 Now let's take a look at WP Engine, a WordPress-specific managed hosting company. Since it's a WordPress-only host, WP Engine has been mastering the WordPress space for years to offer good performance and ensure WP-built websites run trouble-free.
WP Engine is one of the most popular WordPress hosting solutions (that has more than 1.5 million clients) because it's already pre-configured and optimized for WP websites.
WP Engine Scalability
Similarly to Cloudways that we mentioned earlier, WP Engine has cloud hosting through Amazon Web Services and Google Cloud. Thanks to these partnerships, scaling your website should not be a problem.
You can simply upgrade or downgrade your hosting plan, depending on your website needs and requirements, to handle traffic spikes.
WP Engine Security
WP Engine applies different security measures to protect your WordPress website and here are a few of them:
Disk write protection – limits the processes that can write to disk;
Disallowed plugins – system scanner searches for suspicious plugins and automatically disables them;
Proprietary firewall -automatically detects good, bad, and malicious traffic;
User enumeration – blocks requests when bots scrape posts for author ID information.
Learn more about WP Engine's security environment.
WP Engine Hosting Plans
Here's a list of the available hosting plans:
Startup ($20/month) – 1 site, 25,000 visits/month, 10 GB storage, 50 GB bandwidth/month;
Professional ($40/month) – 3 sites, 75,000 visits/month, 15 GB storage, 125 GB bandwidth/month;
Growth ($77/month) – 10 sites, 100,000 visits/month, 20 GB storage, 200 GB bandwidth/month;
Scale ($194/month) – 30+ sites, 400,000 visits/month, 50 GB storage, 500 GB bandwidth/month.
Feel free to learn more about the features of each pricing plan.
WP Engine Key Takeaways
| | |
| --- | --- |
| Monthly Price | $20 – $194 |
| Free domain name | ❌ |
| Free SSL | ✔️ |
| Uptime | 99,9% |
| Storage | 10 GB – 50 GB |
| Bandwidth | 50 GB – 500 GB |
| Support type | Live chat, Ticket system, Phone |
Bluehost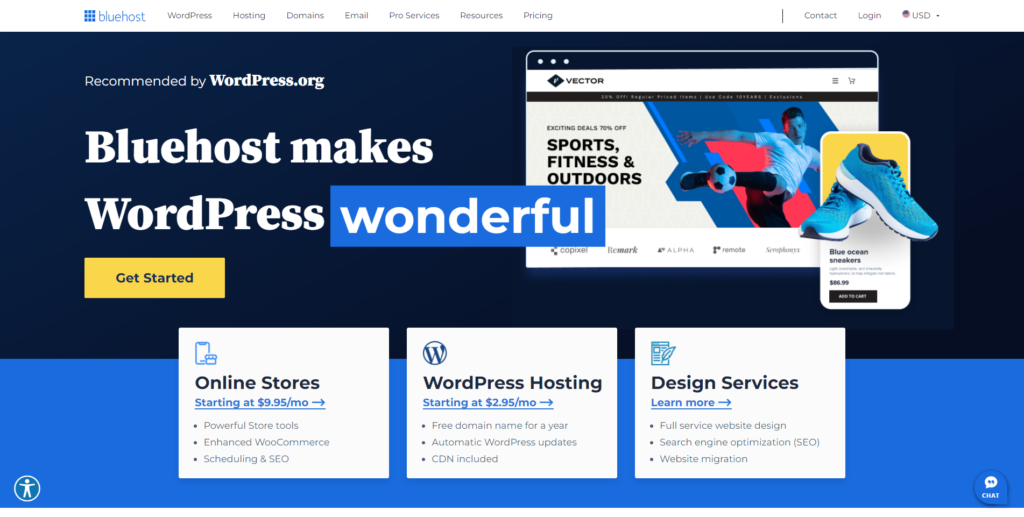 Bluehost is a popular web hosting provider that offers a range of hosting solutions, including shared hosting, WordPress hosting, VPS hosting, and dedicated hosting. At the time of writing, over 2 million websites are hosted by Bluehost.
Also, it's worth mentioning that Bluehost is one of the 3 hosting providers officially recommended by WordPress. It doesn't necessarily mean this hosting provider should be your top choice since it still lacks some features. It only means that the WP community approved Bluehost.
Bluehost Security
Compared to the other hosting providers mentioned in this list, Bluehost falls behind slightly in terms of security features. It offers:
Free SSL
Daily website backups
Domain Privacy
Malware scanning
To make your website more secure, you can get SiteLock for an additional price. It is an add-on service for monitoring, identifying, and preventing potential threats to your websites.
Bluehost Scalability
The official website lacks detailed information about Bluehost data centers, but they say that there are 6 of them in different parts of the world.
Unfortunately, compared to the other providers, the scalability options are also a bit limited with Bluehost, so keep that in mind.
Bluehost Hosting Plans
On the official website, there are 4 packages available for WordPress hosting:
Basic ($5/month) – includes 10 GB SSD storage and allows you to host 1 website;
Choice Plus ($8/month) – offers you 40 GB SSD storage, free CDN, free domain, security pack (free SSL, daily backups, Domain Privacy, malware scanning), allows you to host up to 3 websites;
Online Store ($13/month) – provides 40 GB SSD storage, free CDN, free domain, security pack, up to 3 websites and premium e-commerce plugins included;
Pro ($18/month) – includes 100 GB SSD storage, free CDN, free domain, security pack, and hosting of up to 5 websites.
Please note that pricing doubles after renewal, so we recommend checking the official Bluehost website to learn more about each hosting plan.
Bluehost Key Takeaways
Monthly Price*
(increases after renewal)
$5 – $18
Free domain name*(for the 1st year)
✔️
Free SSL
✔️
Uptime
99,9%
Storage
10 GB SSD – 50 GB SSD
Bandwidth
Unmetered
Support type
Email, Live chat, Phone
Final Words
That wraps up our overview of the best WordPress hosting providers. We hope this article was useful to you and now you have a better idea of the available options on the market.
By the way, if you haven't decided yet which plugin to use to power your directory or marketplace website, you may want to read our article about the best directory WordPress plugins.
Related Articles
Create a service marketplace similar to TaskRabbit or Thumbtack using WordPress.
A handpicked list of the best WordPress themes for selling digital products.
Check out the most popular free classified ads WordPress plugins.