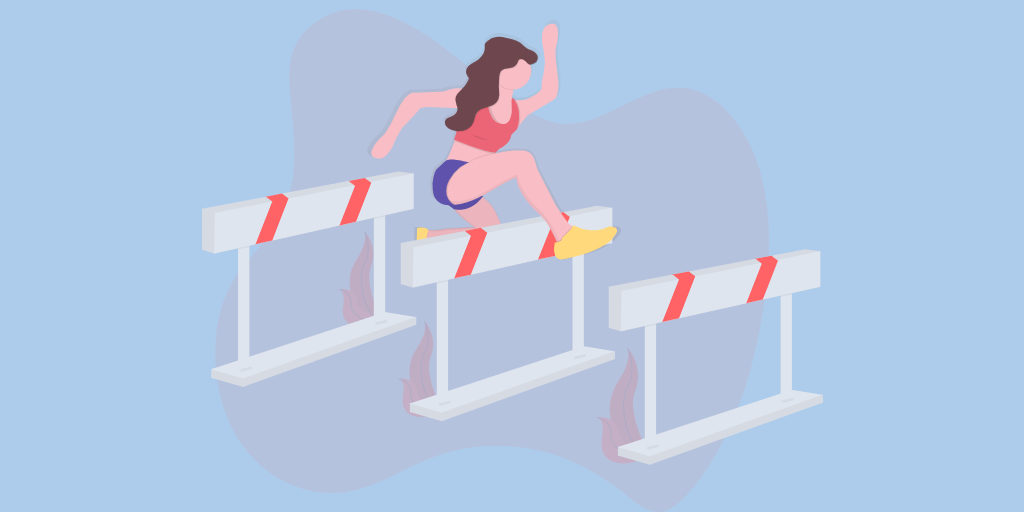 When starting your own website, the last thing you want is to make costly mistakes right from the beginning, especially if you could easily avoid them.
However, when building a WordPress listing website, there is so much to think about, and certain important aspects can get overlooked. That's why we prepared this post on the most common mistakes that people make when getting started with their own directory websites.
Also, you'll find some tips on how to avoid those mistakes, so let's dive in without wasting time!
#1 Starting Without a Business Plan & Marketing Strategy
Did you know that the companies with a business plan grow 30% faster than companies without one?
In a nutshell, a business plan is a written document that describes your business objectives and steps that you should take to achieve them.
Think of it as a roadmap for your future business because that's actually what it is. While some people jump directly into "doing business" without planning it and trying to figure everything out on the go, you should remember that a business plan can make or break your project.
You might think: "I have a small project, so I don't need a business plan for it", or "It sounds like a lot of work, and I like figuring things out as I go" and so on.
However, as Benjamin Franklin said, "If you fail to plan, you are planning to fail". Moreover, you don't need to look for an expert or get buried in paper to write a plan.
Tips on Creating a Business Plan
As a starting point for your business plan, it's enough to choose a niche, identify the problem you are going to solve and think about how you can make money from it. So let's briefly cover each point.
Choose a Niche for Your Business
When starting a new business, the main rule is to be specific, not generic. Here are some advantages of choosing your niche:
Focus – when you offer something to everyone, you'll sell to nobody. Keep in mind that at the beginning, it's better to focus on a smaller audience and provide exceptional customer service than trying to please everyone;
Less Competition – it's much easier to take over the market within a particular niche since there are fewer competitors providing the same offering;
Lower Marketing Costs – usually, marketing for a specific niche is highly targeted and cost-effective.
If you're struggling to find your niche and it seems complicated for you, try following these 3 simple steps to choose a business niche.
Find a niche that resonates with your passions and interests or one that requires your expertise. Working with a project that is interesting for you prevents burnout;
Identify the people's pain points that you can solve. In every industry, there are some processes that can be improved, and your task is to find them and offer better solutions;
Research on your competitors. When starting a new business, most probably, there are already some competitors. You have to look at them and think about how you can do better (maybe provide better customer service or offer a more comprehensive product range, etc.).
Once you figure out what your niche is and the problems you can solve, congrats – you already made a great step towards building a successful online business. The next step is to find out what's the best monetization model for your business.
Choose the Monetization Model
Depending on the type of WordPress listing website you are about to build, there are several different monetization models that you can use.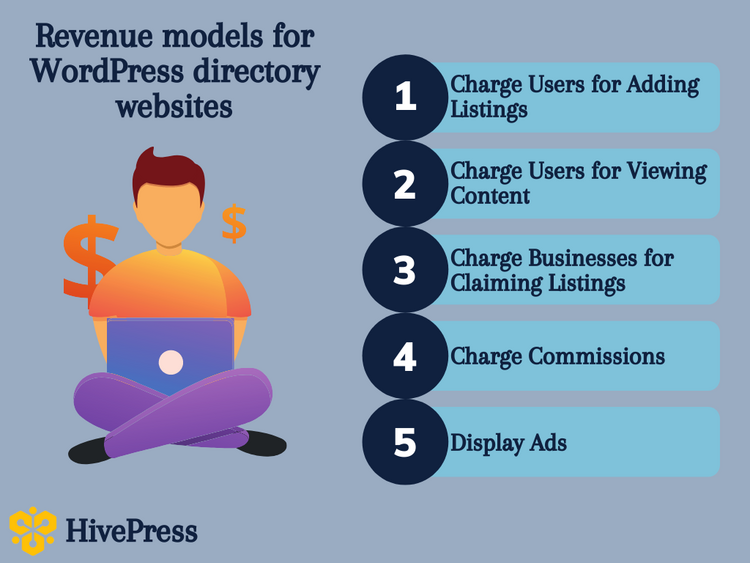 Charging Users for Adding Listings
Charging users for adding new listings is probably the most common way of making money when you are running a WordPress listing website.
Let's imagine that you want to create a real estate directory site where users can list their properties. Then, you can create different listing packages (e.g., standard and premium), so users will have to pay each time they want to list their property on your site.
This monetization model is used by Craigslist, the most popular classified ads website. It charges users for adding new ads in certain categories like real estate or job openings.
Charging Businesses for Claiming Listings
If you want to launch something like Yelp and list information about different businesses in your area, then you can charge business owners for claiming their business pages on your website.
It's a mutually beneficial monetization model since business owners get access to their pages and can keep everything up to date, and you can make a pretty penny.
To get a better idea of this monetization model, check out what Yelp says about it.
Charging a Commission on Sales
If you decide to turn your directory site into a multi-vendor marketplace, then the best business model for you is charging commissions. This way, your website serves as a mediator between sellers (service providers) and customers.
The idea is to facilitate the transaction between both parties and take a small commission from each successful sale.
The most prominent example of a company that uses this business model is Fiverr. It takes a 20% commission from each transaction made through the platform.
Advertisement
Additionally, you can allow users to use your website free of charge but make money from ads. There are many different types of ads like banners, texts, images or you may even integrate your website with Google AdSense and make money each time someone clicks on ads.
Charging Users for Viewing Content
The second option is to create a memberships directory website. It may be a solid business model if you want to list some unique or hard-to-find information on your website, so users will be willing to pay to access it.
As a site owner, you can sell different membership plans, so only users with an active plan will be able to navigate all the pages on your website.
So, we mentioned the most popular monetization models that you can use for your WordPress listing website. It's up to you whether to choose one or combine some of them. Everything depends on your website niche and requirements.
Now let's move on and find out how to create a simple yet effective marketing strategy for your business.
Create a Marketing Strategy
Marketing strategy is a must-have component of any successful business. Simply saying, it's your own game plan of how you gonna convert leads into customers.
The good news is that you don't have to be a marketing guru to come up with a simple marketing strategy. No doubt that you'll be changing your strategy while doing business, but there are some fundamentals you should know from the beginning:
Find out who is your buyer persona (i.e., "ideal client");
Think about a message to your buyer persona that will resonate with their needs (avoid using buzz phrases like "we are the best", and long lists of features);
Decide how you are going to promote your product. For example, are you going to use Google Ads or targeted advertisements like Facebook Ads, or maybe the best solution for you is influencer marketing.
It's crucial to know all these components at the initial stages of your business for two reasons. Firstly, you'll have a clear understanding of your potential clients' needs. Secondly, it will save you tons of money on advertisement since you'll know your target audience.
Now let's have a quick recap of the most important questions you should ask yourself when creating a directory website with WordPress.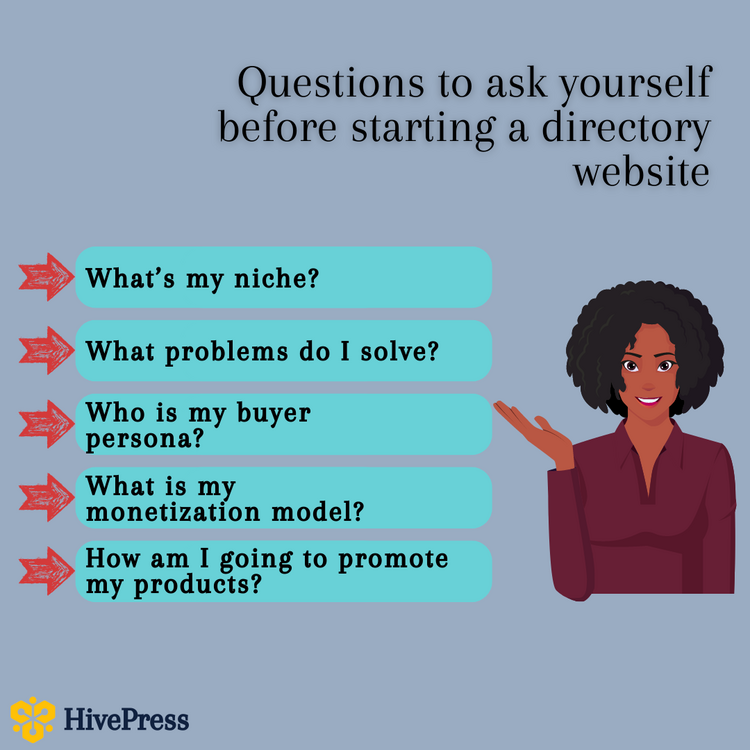 #2 Choosing an Unreliable Hosting Provider
Another common mistake among website owners is choosing a poor-quality hosting service for their website.
Hosting gives your website a spot on the internet so people can actually visit it anytime and where you host your directory website really matters since hosting affects your website's:
Speed
Security
SEO (i.e., how your website ranks on the search engine results page)
Since hosting plays such an essential role in your website performance, it's better to take this matter seriously.
Tips on Choosing a Hosting Provider
Here's a piece of advice on choosing a hosting provider when creating a listing website with WordPress.
Choose a VPS Hosting
Generally, there are three most common types of hosting:
Free
Shared
VPS (Virtual Private Server)
It can be tempting to grab a free hosting deal or a shared one to save a few bucks. However, you should keep in mind that the hosting service for your website is not an area to cheap out on.
That's why we recommend using VPS hosting to ensure that your website is secure and blazing fast. Unlike shared hosting, where your site lives on a server along with many other websites that can affect your site's performance and speed, with VPS, you get a separate virtual server specially for your WordPress listing website.
If you want to create a directory website with WordPress but struggle to choose a hosting provider, you can check out our overview of the popular WordPress hosts and choose one of them.
Prepare for Scaling
When looking for a hosting provider, think about what your website is now and what you want it to be five years from now. When your website starts getting a lot of traffic, there may be a need to scale your hosting plan to process all the traffic without any technical issues.
So choose a hosting provider which can provide you with the resources you may need in the future without compromising on site speed and quality. The best way is to ask the hosting company about scalability options before purchasing a plan.

#3 Poor Choice of WordPress Themes & Plugins
Plugins are one of the main WordPress advantages. They are like the building blocks of your WordPress site, allowing you to extend its functionality with just a few clicks.
One of the biggest mistakes you can make when launching a WordPress listing website is being careless about plugins and a theme you install on your site.
As the saying goes – you reap what you sow. If you choose a poor theme for your website and complement it with one or several unreliable plugins, you can't expect your site to work correctly in the future. There may be tons of issues, starting from compatibility and ending with the inability to customize your website in the way you like.
So, I'll try to briefly explain what to pay attention to when choosing a WordPress plugin and theme.
Tips on Choosing Directory Themes & Plugins
Here are some general recommendations on how to choose a WordPress directory plugin for your project that won't let you down and a suitable theme for it.
Choosing a WordPress Directory Plugin
When you are looking for a plugin for your WordPress listing website, you should pay attention to the following things:
Active Installations – It's better to use plugins that have at least several thousand active installations in the WordPress repository. It means that the plugin is quite reliable since it is already trusted by thousands of website owners;
Rating & Reviews – Always check what other people say about the plugin you are going to use for your project;
Customizability – You have to look for a directory plugin that is not hard-coded and can be easily customized, so it won't be an issue for you to tailor it to your needs;
Monetization Options – Also, it's better to check whether your plugin allows you to monetize your website in the way you need;
Dedicated Support – Finally, check out the support policy of your plugin to ensure that you won't be left alone with technical issues if such occur.
If you are struggling with finding a reliable directory plugin for your project, you can check our overview of the best WordPress listing plugins to get a better understanding of the available options.
Choosing a WordPress Directory Theme
Picking the right plugin for your project is crucial, but it's also important to find a theme that will provide your website with a minimalist yet functional design. Here are some tips on choosing a theme for your WordPress listing website:
Responsive Design – Your theme should have a responsive design to make your website pages render well on all devices. It's crucial since, in 2021, mobile devices generated almost 55 percent of global website traffic;
Versatility – There are many niche-specific directory themes out there, and often, that's exactly what you need. However, always check whether the theme has a versatile framework to make maintenance easy;
Lightweight – Avoid bloated themes when looking for a directory theme for your website. A theme is a huge part of your site's foundation, and it's going to have a big effect on your site's performance and page load speed (you can test the theme's performance with GTmetrix);
Support – As well as your directory plugin, the theme that you are going to use should be supported by its developers.
If you haven't decided yet which directory theme to use for your website, you can check out ListingHive. At the time of writing, it's the most popular free WordPress directory theme that allows you to create any type of directory and listings sites.
So, here's a quick summary of our recommendations for choosing a WordPress directory theme & plugin.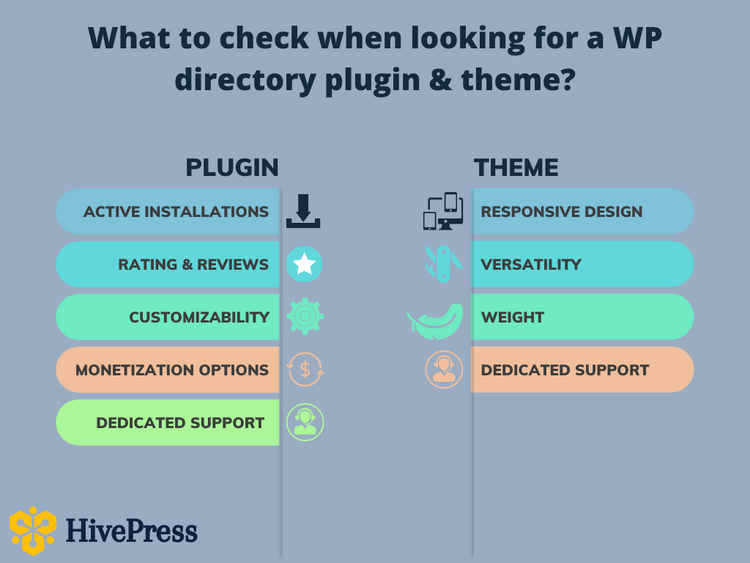 #4 Not Taking Care of Performance
Did you know that more than 53 % of all website traffic comes from organic search?
Once you create your listing website with WordPress, it's essential to take care of your website performance from the beginning.
There's one mistake among website owners that we notice pretty often – launching and running a website without any SEO knowledge.
However, SEO is a cornerstone of any successful online business since it affects whether your website is visible to search engines. Moreover, SEO-optimized websites have many advantages like:
Tons of website traffic
Low page loading time
Lower customer acquisition costs compared to paid ads
High user engagement rates
Better brand awareness
Also, you should keep in mind that if your website is not on page one, you are not winning the click since only 0.78% of Google searchers click on something from the second page of Google search results.
So if you want to have your WordPress listing website on the first page to be easily found by potential customers, you need to optimize it for SEO.
Tips on Optimizing a WordPress Directory Website
Here are some key points of how to optimize your website for search engines:
Speed up your website. You can check our tutorial on how to skyrocket a website performance by optimizing cache, media, fonts and pages on your directory website;
Keep your blog related. From the beginning, keep content on your blog niche-specific using keywords that are relevant to your niche;
Install an SEO WordPress plugin (e.g., Rank Math or Yoast SEO). Such plugins can identify most of the issues on your website, like broken links, long title tags, missing alt texts, etc., so you can easily find and fix them.
You can drastically improve your website ranking by following the recommendations above. Moreover, an SEO-optimized website will not only bring additional traffic but it will also save you tons of money since you'll have to spend less on ads when your site starts to appear on the first page of Google search.
Also, there's one more thing that we'd like to warn you about. When you are starting your listing website, there is often a temptation to install dozens of different plugins.
While there are many decent plugins out there, it's important not to bloat your website with extra plugins because it may result in:
Slowing down your website
Security issues. Especially if you are using not popular plugins (according to data from WPScan, about 90% of vulnerabilities in their database are plugins)
So, install only those plugins that are absolutely necessary for your website and always check whether they are popular and regularly updated.
#5 Not Measuring Analytics
"A person who won't read has no advantage over one who can't read" by Mark Twain.
The same applies to collecting data from your website. If you ignore the importance of setting up analytics on your website with all the vital metrics of your business, you have no advantage over your competitors that have no access to your site's analytics.
In most cases, when running an online business, your main goal should be increasing conversion rates by optimizing your website content based on users' interests. The proven way to find out the interests and behavior of your website visitors is by integrating your website with Google Analytics, which can provide you with tons of insights on a daily basis.
So, if you are still not measuring analytics from your website, check out some of the advantages of doing it.
Advantages of Collecting Data
There's an old business adage that "whatever is worth doing is worth measuring", and with Google Analytics, you can have all the data at your fingertips. Here are some benefits of integrating your website with Google Analytics that allow you to:
Get to know your site visitors. When you know who visits your listing website (location, language, age, etc.), you can improve the user experience;
Define your traffic channels. Do you know how customers find you? Are they coming from Google search or YouTube or maybe from ads? When you know these numbers, you can optimize your marketing strategy appropriately (e.g., invest more in ads or collaborate with YouTube influencers);
Understand customer behavior. You can find out what pages are most visited by your customers, what they read, at which point they are leaving your site and so on. This allows you to optimize your directory website for key conversion metrics;
Prevent negative SEO. Sometimes your competitors may use dirty tactics to outrank you, including negative SEO. However, if you keep an eye on your metrics, you'll be able to take appropriate actions immediately.
You should keep in mind that every successful business is based on its ability to understand and utilize the data provided by its customers, competitors, and partners. So, try to collect as much data as possible and use these metrics to make data-driven decisions for your online business.
#6 Not Taking Care of Content & UX
Finally, I'd like to talk about some common mistakes that many website owners make when it comes to website content and UX (user experience).
Here are a few issues with the design and website content that we notice really often when working with clients here at HivePress:
Cluttered website. Simply saying, a cluttered site is one with too many pages and overly-busy design elements;
Issues with colors. Often people use too many bright colors on their website pages or colors that do not match;
Walls of text. A wall of text it's a large block of writing (e.g., a post) with few or no paragraph breaks, which can often be so long that some don't read it;
Lack of keyword research & keyword stuffing. Many people write blog posts and set up their landing pages without proper keyword research, or they overdo it and start stuffing their websites with keywords.
We've mentioned 5 of the most frequent mistakes that we notice on various websites. Now we'll explain how to avoid each of the mentioned mistakes when creating a directory website with WordPress.
Tips on Optimizing Content & UX
Let's briefly cover each tip.
Don't Clutter Your Website
Cluttered websites often have distracting images or too many ads, making it hard for users to know where to look or what to interact with. Try to keep your website simple and not prioritize aesthetics over functionality and usability.
For example, take a look at the landing page of a website for selling t-shirt designs before and after its optimization.

As you can see, before the site's optimization, there were a lot of graphic elements, redundant images and a small call-to-action button.
However, after optimization, there is a clear message to users and a visible call-to-action button, making it much easier for website visitors to understand how the website works and what to do next.
Use Matching Colors
When creating new pages on your listing website, always pay attention to the colors that you are using. Avoid using too bright colors or those that are not matching with each other.
We recommend using ColorSpace every time you have to work with colors. ColorSpace is a free online tool that creates dozens of color palettes. It's an excellent solution for anyone who struggles with finding perfectly matching colors.
Avoid Walls of Text
When writing something on your directory website (e.g., blog post, announcement, product description, etc.), always try to break up your copy into smaller pieces. It will make reading your copy much easier and more engaging. For example, you can use:
Subheadings
Paragraphs
Bullet lists
Links to extra sources
Highlighters
Infographics & pictures
Videos
With these few simple pieces in place, your copy will be more enjoyable to read. For example, just compare the two texts below. In both cases, it's the same content, but formatting makes the difference.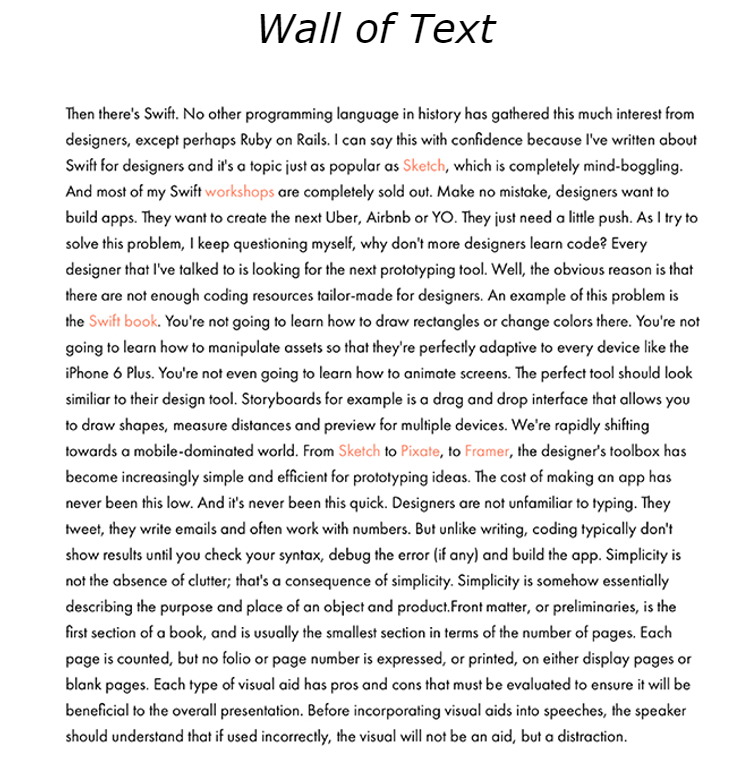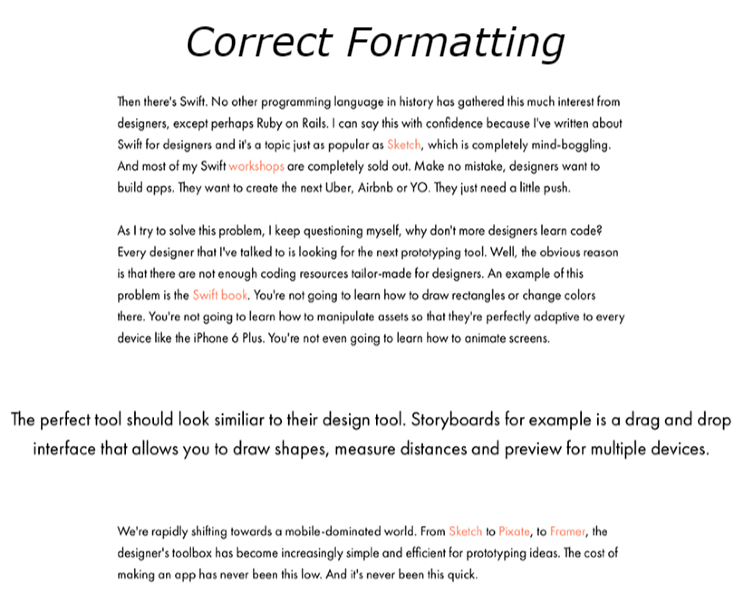 Use Keywords Properly
Keywords play a crucial role in SEO optimization, but there are two things you have to bear in mind when it comes to using keywords.
1. Proper Keyword Research
When making content for your WordPress listing website, always start with keyword research to find out which topics are interesting for users and how they are searching for them.
You can use the following tools to find new keywords:
Each of these tools has its pros and cons, so it's better to use all of them at once to find the best keywords for your content.
2. Avoid Keyword Stuffing
Sometimes, you can find all the great keywords for your content and start doing all the typical SEO good stuff, but then you jack it up too far.
In the old days, it was common among website owners to put as many keywords in the content as possible to appear higher in search results, and for some time, it worked. However, after Google's Hummingbird update, keyword stuffing is no longer effective and can ruin your website's ability to rank.
There is no perfect number of keywords per copy, so we recommend using the Rank Math or Yoast plugins which can suggest to you whether you have enough keywords within your copy or not.
The last piece of advice for today – try to be natural when writing your content and don't write it for search engines but for people, and Google will reward you.
Wrapping Up
These were the 6 most common mistakes people make when creating a WordPress listing website.
We hope this article was helpful to you and you learned something valuable. Here is a quick recap of the main ideas in case you missed something:
Create a business plan & marketing strategy
Choose a reliable hosting provider
Choose a well-coded WordPress directory theme & plugin
Optimize your website for SEO
Integrate Google Analytics with your directory website
Take care of content & UX on your website
By the way, if you are only thinking about launching your own directory or listing website with WordPress, you can try out the HivePress plugin. It's a free and highly customizable plugin with tons of features that allow you to create any type of directory website without any coding knowledge.
Additionally, you can check our article about tips on running a business directory site.
Related Articles
Check out 6 helpful tips on how to choose a niche for your website.
A quick guide on how to make money with your WordPress peer-to-peer marketplace.
A few tips on how to choose a niche for your future micro-jobs website.