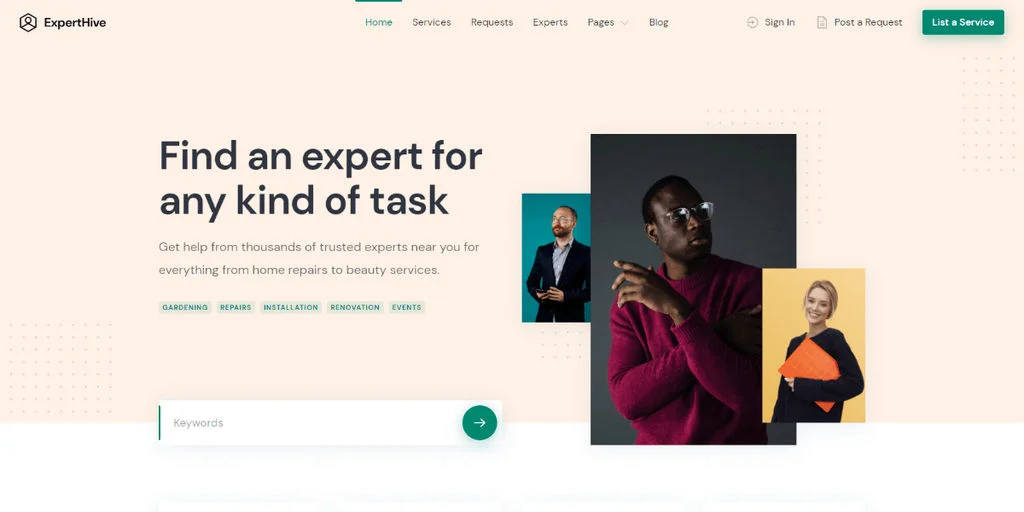 The gig economy's era heralds an absolutely different approach to working, and it is here to stay. The new economy model brings a lot of benefits for both customers and workers, enabling almost anyone to find a job and be productive.
You might have heard of some of the most popular freelance marketplaces. TaskRabbit, Airtasker and Thumbtack are just some of the many websites which match customers with local professionals. Whether it's handyman work, photography, writing, house cleaning or market research, you don't have to tackle it alone and can use on-demand service platforms to get things done.
At the same time, the freelance services marketplace is a great source of income for its owner. There are at least two different ways to monetize your marketplace website, which we'll also discuss in this article.
Also, nowadays, coding skills are not required to build a peer-to-peer service marketplace since content management systems and site builders have made it possible for almost anyone to set up and run their own website.
If you are looking to build a marketplace of services that matches freelance labor with local demand, then you may consider creating it with WordPress, the most popular website building platform, and ExpertHive – a lightweight yet functional freelance marketplace WordPress theme that turns any website into a fully-featured service provider directory.
ExpertHive Overview
ExpertHive is a clean, modern and easy-to-use theme that allows you to create an on-demand services marketplace similar to TaskRabbit or Airtasker. It's already packed with all the features required for building a freelance services marketplace, the same as you see on the demo site, so you don't have to purchase anything extra to get your site up and running.
This theme is based on HivePress, a multipurpose marketplace plugin. Thus you will not get stuck with a theme-specific framework and will not lose your data if you ever decide to switch the theme. Moreover, HivePress is already used by 10,000+ active websites, and there's a growing community of website owners sharing their ideas, tips, and suggestions.
Key Features
Right after the installation and a quick setup, ExpertHive turns any WordPress-based website into a peer-to-peer marketplace of services. Here are some of its most notable features:
Requests & Offers. Any website built with ExpertHive is actually a two-way marketplace. On the one hand, customers can post requests for services they are looking for and setting their budget so that interested taskers can make offers. In their turn, all experts get their own dashboard and may list services they provide, so users can easily find and purchase them.
Commissions & Payouts. You'll be able to set a default commission rate, like on TaskRabbit, or charge a custom service fee for each expert. Also, taskers will be able to request payouts of their earnings. The site owner can allow requests at any point or set a minimum amount that experts have to reach before requesting a payout.
Messages & Reviews. All customers can rate and review taskers along with an option of sending them private messages before purchasing their services. Also, users can keep a list of favorite services and sort or search them via different custom filters.
Custom Fields & Categories. ExpertHive has no predefined service categories, fields or search filters, so you can use it for service marketplaces for any niche and set it up the way you like.
WooCommerce integration. Thanks to the integration with WooCommerce, the most widely-used eCommerce plugin for WordPress, there are dozens of available payment gateways to choose from. You can rely on WooCommerce's proven track record for processing payments and use its payment features to monetize your marketplace.
However, these are only some of the core features available in ExpertHive. Let's move on and take a look at its extensibility options.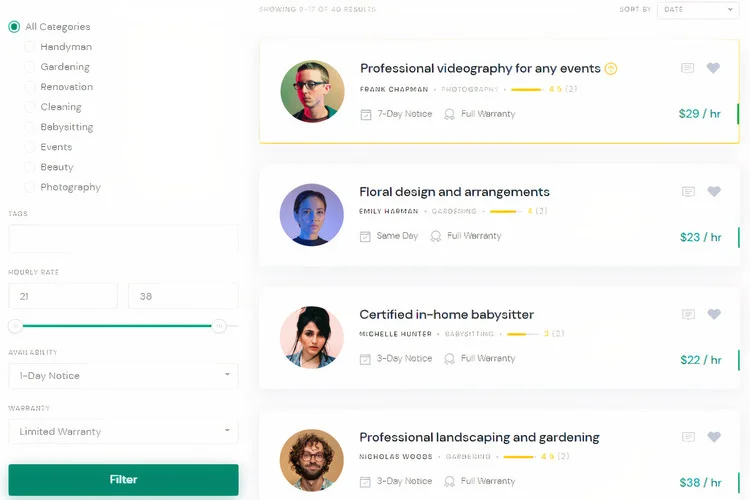 ExpertHive Extensions
Since ExpertHive is powered by HivePress plugin, you can use any of the free or premium add-ons available for HivePress to extend your marketplace's functionality.
For example, one of the essential parts of a good marketplace of services is a location-based search. It's a crucial feature for both experts and customers who want to get their things done since most of the services require taskers' physical presence. It's easy to enable Google Maps on your website using the free Geolocation extension, and if you have any trouble setting it up, you can check our step-by-step guide on integrating Google Maps with your site.
Another awesome feature that can improve the usability of your website is the Social Login extension. Once it's installed, users will be able to sign in via third-party services like Facebook or Google. You can add this simple yet helpful function in the WordPress dashboard in just a few clicks.
You may also find the Statistics extension useful since it allows experts to view their service listing statistics. This way, taskers can monitor their listing stats on the monthly, weekly and a daily number of unique visitors and views of their listings for up to 30 days back.
As you can see, there's always room for improvement, and you don't have to limit your marketplace functionality to the core features. Keep in mind that you can easily create a niche marketplace with unique functionality by combining different extensions.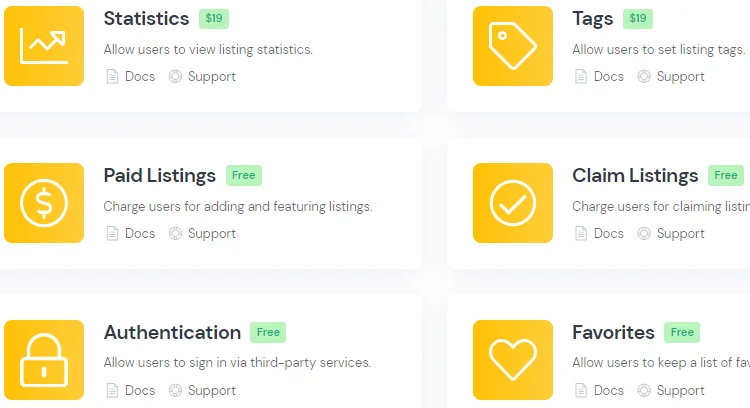 Monetization Options
With ExpertHive, there are at least 2 ways to make money with your service provider platform, and both monetization models are available out of the box.
Charge a Commission Fee on Sales
The most common way to monetize a marketplace of services is by charging a commission fee for each transaction between customers and taskers. It's a pretty simple revenue model that is used by most of the freelance services marketplace, including TaskRabbit. If you choose this model, your experts will be able to list services for free but will have to pay a commission when the work is done, and they get paid.
Charge Taskers for Listing Services
Another way is to charge taskers for listing and promoting their services in the search results. This model also allows you to deal with spam listings, so it is often used by large marketplaces. Using the Paid Listings extension, you can create and sell several listing packages with different restrictions so service providers can choose the best option for them. You may want to view our screencast about monetizing a website by charging users for adding listings to see how it works.
You can also make money by selling advertising space, or you may want to combine several monetization models. But keep in mind that you can monetize your website only when it gains decent traffic, so we recommend taking care of it first.
Customization Options
ExpertHive is integrated with WordPress Customizer, so you'll be able to change the site logo, switch up colors, fonts, etc., in order to give your site a unique look and feel.
Also, it's fully integrated with Gutenberg, the built-in block editor that allows you to easily create page layouts with blocks. This means that you don't have to mess with HTML and shortcodes, and when you create a layout with blocks, it looks exactly the same in the editor as on the website's front-end.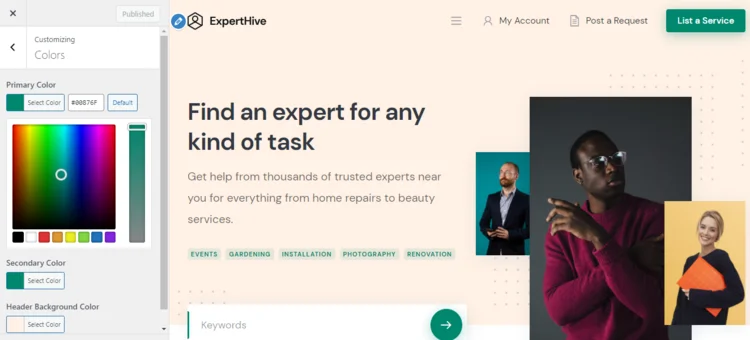 Community & Support
Since the plugin that powers ExpertHive is open-source, it has a friendly community of website owners sharing their experience and showcasing what they built with HivePress themes and extensions.
Moreover, with ExpertHive, you get one year of top-notch support directly from its developers, people who know their product inside and out and can resolve any issues in the fastest and best way possible. Support is provided directly via email or the community forum, where you can also get help from other marketplace owners.
Wrapping Up
So, if you're looking to create an on-demand services website like TaskRabbit or Thumbtack, you may consider building it with ExpertHive. It's a lightweight, clean and modern freelance marketplace WordPress theme with bulletproof code and tons of different features that allow you to launch a freelance services marketplace without writing a single line of code. Moreover, ExpertHive settings are pretty intuitive, so even a WordPress beginner will be able to set it up.
You may want to check the ExpertHive live demo and sign in with the demo account to test all the front-end features to get a better sense of how everything works. Also, feel free to contact its developers to ask any pre-purchase questions or check other themes powered by HivePress.
Additionally, you can check out our post on the best service finder WordPress themes.
Related Articles
Best free WordPress directory plugins to organize your listings.
A complete comparison of HivePress and GeoDirectory plugins.
Create a freelancing platform like Fiverr or Upwork in a snap using WordPress.