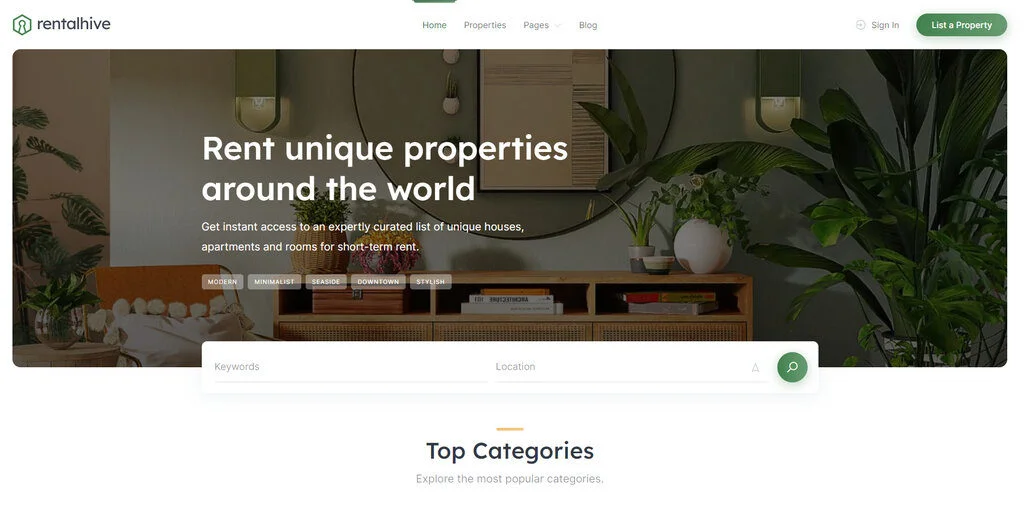 Airbnb has changed the way we travel forever. Today, thanks to rental marketplaces,  people can find accommodation worldwide with just in a few clicks.
The Airbnb story started with a single email. Have you ever dreamed of creating your own startup story and building a profitable online business?
Regardless of market giants like Airbnb or Booking.com, launching a niche rental platform and connecting hosts with travelers can still be a solid business idea. Even with such tough competition, you can make money by running a lodging platform since niche marketplaces allow you to target your service offerings to a small but the right audience.
As you probably know, the easiest way to build your own website is by using WordPress. It allows you to test your startup idea quickly and without wasting thousands on development. The only thing you need is to select the right WordPress theme and plugins for your project that implement the required website functionality.
In this short review, we'd like to introduce RentalHive, a modern and clean multi-vendor booking marketplace WordPress theme that allows you to create a booking marketplace like Airbnb with WordPress. We'll go through the key features of the theme, its monetization models, customization options and briefly cover its extensibility.
So let's get to a point!
RentalHive Overview
RentalHive is a complete solution for building rental marketplaces such as Airbnb with WordPress. It has a clean and modern design, a versatile booking system, and the essential marketplace features required for building and launching a rental booking platform.
The theme is powered by an open-source WordPress directory plugin – HivePress. It's basically a swiss knife for building any type of directory and listing websites that is already trusted by 10,000+ website owners around the globe, which speaks volumes about its ease of use and quality.
Key Features
Thanks to a set of extensions already included with the theme, you won't have to buy any third-party plugins or mess with coding to launch your own booking platform. Let's take a look at some of the most notable RentalHive features:
Booking System
The theme has a built-in booking system and comes with the following booking features right out of the box:
Booking Offset – Allows hosts to define the number of days that are required before the booking date.
Booking Window – Hosts can set how many days in advance a booking can be made.
Booking Duration – Allows hosts to set the minimum and the maximum length of stay if you want to prevent one-night or long-term bookings.
Booking Requests – Hosts can accept each booking request manually instead of instant bookings by enabling this option.
Calendar – Allows hosts to have all the data at their fingertips. For example, they can view all the bookings or check available and unavailable dates. Also, there's an option of blocking certain dates, so nobody can book them.
Additionally, RentalHive has the Time Slots feature that can be checked if you want to enable time-based instead of day-based bookings. For example, this option allows hosts to set the time slot duration and interval (in minutes) as well as the earliest and the latest availability time.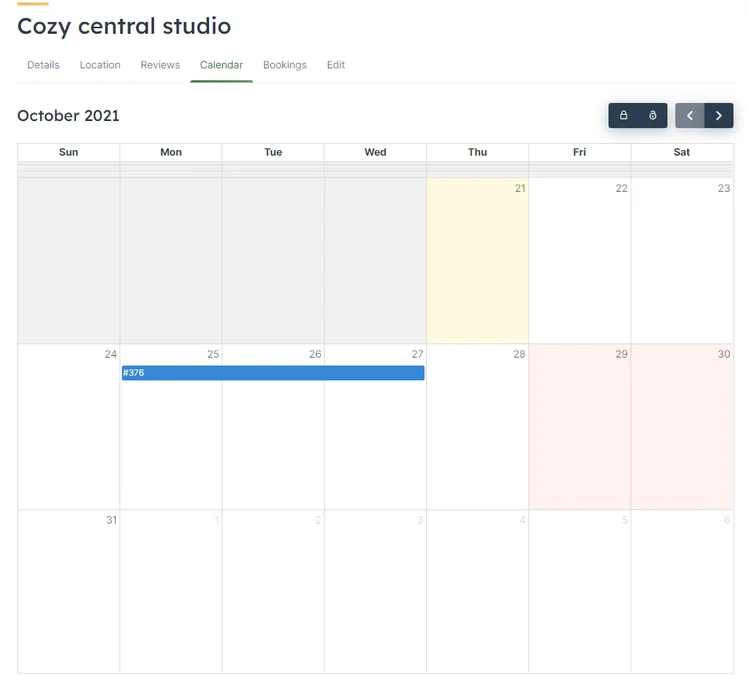 Marketplace Functionality
You can easily build a multi-vendor booking platform similar to Airbnb since RentalHive is already packed with all the essential marketplace features, such as:
User Dashboards
You can allow user registration on your website, so anybody can visit your platform and register there. Each user will have their own page with all the basic information (like name, email address, photo, favorite listings, etc.).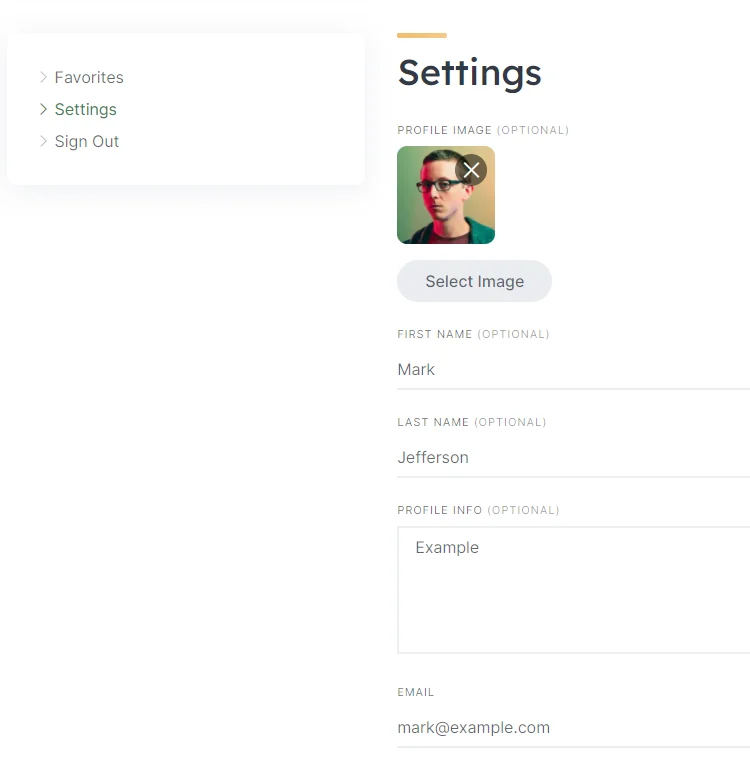 Front-end Submission
You can enable the Listing Submission option and allow any registered user to add new listings. Once the submitted listing is approved, anyone will be able to book it directly via your platform. Also, each host has its own booking calendar and dashboard with a list of its property listings, a payout feature, etc.
Bear in mind that as a website owner, you can easily customize the listing submission form by adding or removing custom fields, making them required, searchable or sortable. Also, you can approve each listing manually before it appears on the front-end.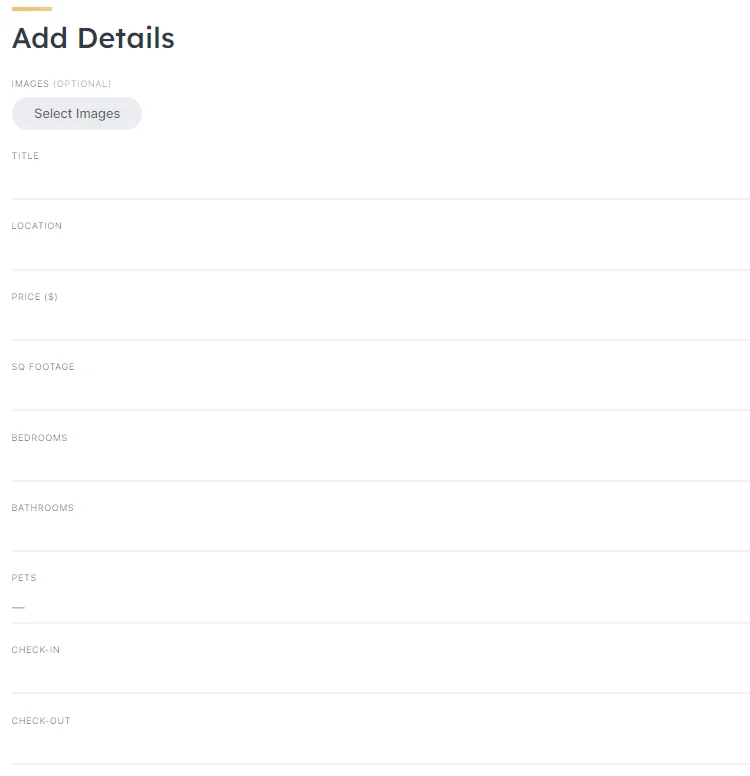 Commissions & Payouts
With RentalHive, you can set the commission rates like on Airbnb. For example, you can set a percentage commission rate for all hosts and earn from each successful transaction between guests and hosts (e.g., Airbnb charges a 10% fee). Also, you can set a custom commission rate for each host separately.
If there's a non-zero balance, a host can request a payout of their earnings. As a platform owner, you can allow them to request any amount of money or set a specific minimum they have to reach before requesting a payout.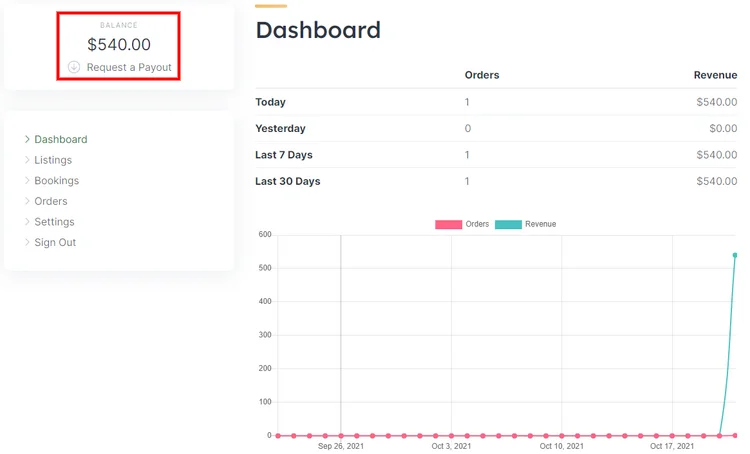 Location Search
RentalHive comes with powerful search capabilities, including location-based search, which is crucial for rental marketplaces like Airbnb. Once you link your website with Google Maps API, users will be able to search properties by a specific location.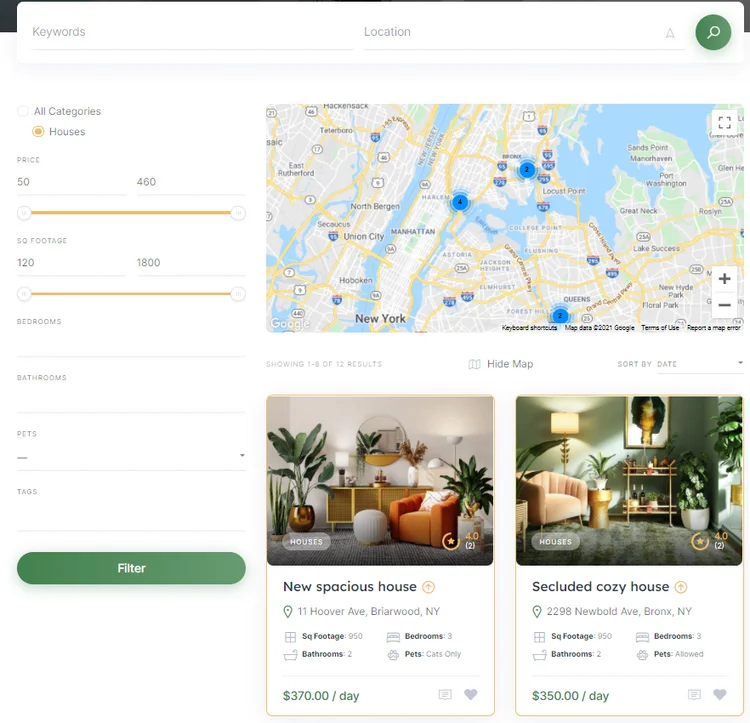 Ratings & Reviews
The review system is already packed with the theme, so travelers can leave reviews about the place they visited as well as rate it.

Messages & Favorites
Users can send private messages to hosts at any time (e.g., to clarify some details before booking a place). Also, they can create lists of their favorite places to book them later on.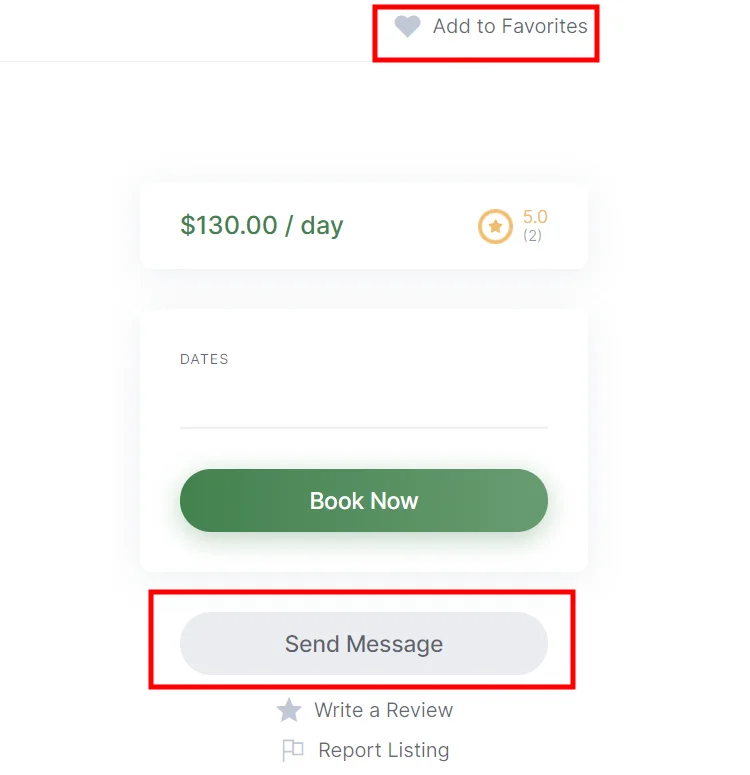 Okay, we've briefly described some of the key features included with the RentalHive theme, but now let's move on and take a look at RentalHive add-ons.
RentalHive Extensibility
Since this theme is based on the HivePress plugin, you can use any of the extensions available for HivePress to enhance your rental marketplace functionality. Keep in mind that the following premium add-ons are already packed with the theme, so you don't have to purchase them separately:
Marketplace – Enables marketplace features.
Bookings – Enables booking functionality on your website.
Tags – Allows hosts to set listing tags.
Additionally, you may consider adding the Statistics extension, which provides hosts with insights about the monthly, weekly and daily number of unique visitors and views of their listings.
One more handy feature that can improve user experience on your website is the Search Alerts add-on that allows users to set search alerts so they get notified when there are new listings that meet their search criteria.
At the time of writing, there are 15+ HivePress extensions, and you can use any of them with RentalHive without the risk of compatibility issues.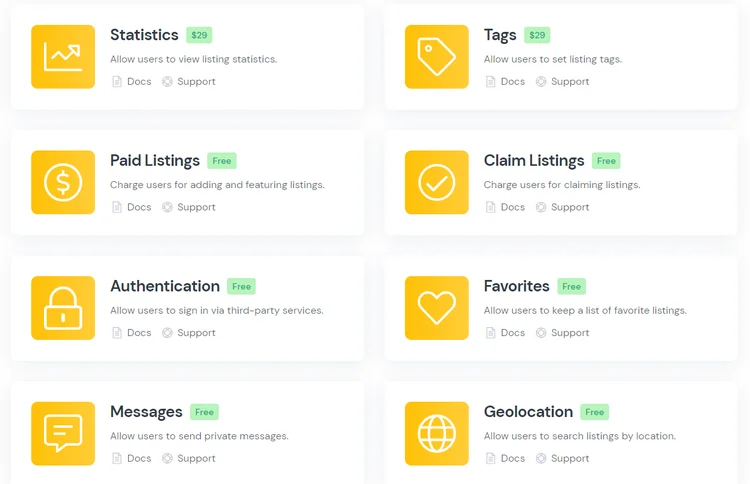 RentalHive Monetization Options
RentalHive offers you several options for making money with your rental marketplace. Moreover, you don't have to worry about payments on your website since the theme is fully integrated with WooCommerce, which supports dozens of reliable payment gateways worldwide.
The following monetization models are available right out of the box:
Charging Commissions
You can follow the Airbnb monetization strategy and make money by taking a commission from hosts for every booking made through the platform. It's not only a highly lucrative business model, but it also resolves the chicken and egg problem since hosts pay for using your platform only when they earn something.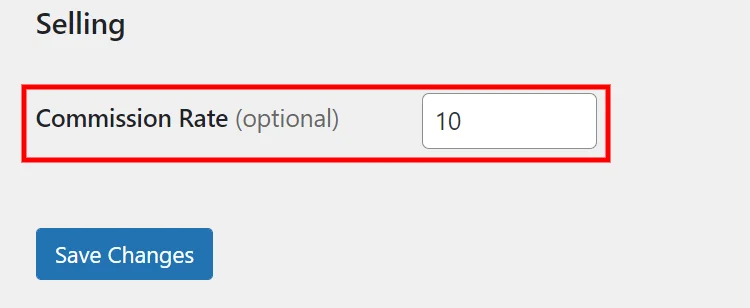 Charging Listing Fees
Another way of monetizing a rental marketplace is by collecting one-time payments from your hosts to let them list their properties on your site. You can create several listing packages with different options, so hosts will have to purchase a package if they want to list a property on your platform.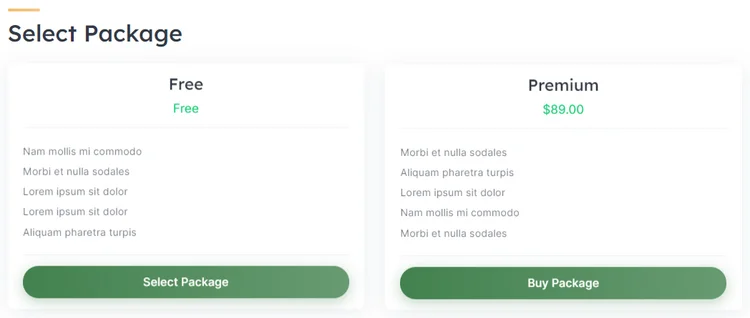 You can choose any of the above-mentioned business models or use both at the same time. Additionally, if your website gets some decent traffic, there's always an option to sell advertising space on your website as an additional stream of income.
RentalHive Customization
The RentalHive theme doesn't have any hard-coded fields, categories and search filters. It means that you are free to add, change or remove any listing fields without the code changes. There are no limits, so you can set up the theme according to your website niche and requirements.
If you want to start with pre-made layouts, you can import RentalHive demo content in a few clicks. Also, keep in mind that you can create stunning layouts by inserting and re-ordering blocks with the drag-and-drop feature since the theme is integrated with the Gutenberg block editor.
Finally, RentalHive is compatible with WordPress Customizer, which allows you to change the look and feel of your website by altering colors, fonts, backgrounds, and much more.

RentalHive Support
Each RentalHive license comes with 6 months of premium support, so if you have any questions along the way, a reliable support team is just a click away on the support forum. Also, if you need help with setting up the theme or implementing custom features, you can always send a customization request to the theme's developers.
Wrapping Up
People always have to travel for work, for fun, to study or visit a family and every time they are looking for a place to stay. You can take advantage of this opportunity by creating your own niche booking marketplace to help hosts and travelers find one another.
So if you are about to create a vacation rental website like Vrbo or Airbnb with WordPress, you can give RentalHive a shot. It's a clean and reliable WordPress theme that is already loaded with all the essential features for launching a rental marketplace, so you can get your website up and running without any coding skills.
Feel free to check our overviews of:
Related Articles
Launch your own Fiverr-like website using one of these micro job WordPress themes.
A complete comparison of HivePress and GeoDirectory plugins.
A list of the best service finder WordPress themes for launching an on-demand services marketplace like Thumbtack or Taskrabbit.