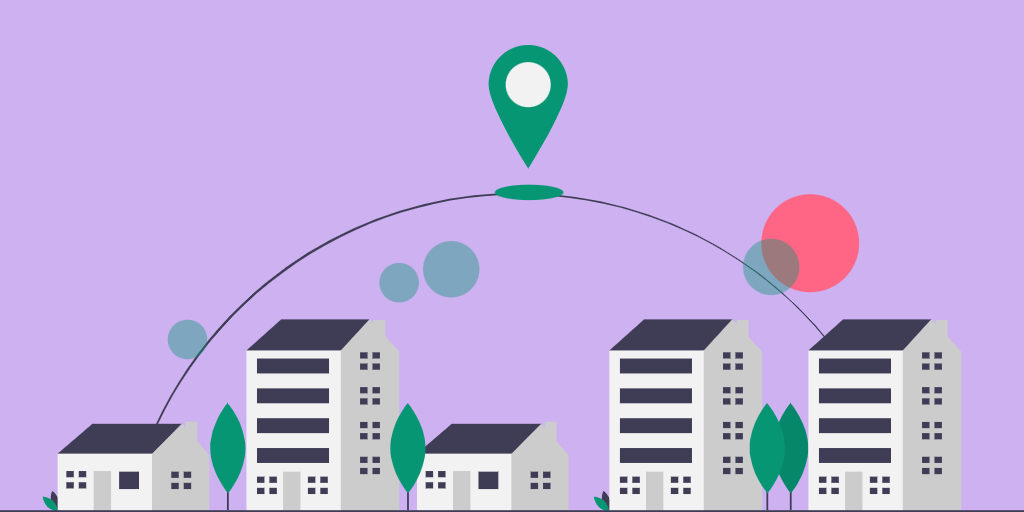 Airbnb is an online platform that lets property owners rent out their spaces to travelers looking for a place to stay. However, besides that, it's a highly profitable online business that generates billions in revenue and you can try building your own niche rental marketplace and start making money from connecting travelers with hosts.
In order to create a website like Airbnb with WordPress, you need a well-coded WP theme and several plugins with the necessary booking functionality. You can find many different themes marketed as a "vacation rental WordPress theme" or "Airbnb clone WordPress theme", etc. However, only a few have all the essential multi-vendor features and a clean code, so choosing the perfect Airbnb-like WordPress theme may be a tough deal.
For that reason, we prepared this hand-picked list of top-quality Airbnb WordPress themes so you don't have to search for the right theme on your own and can easily choose the best option for your future rental platform.
Additionally, we recommend checking out our step-by-step tutorial on how to create a multi-vendor rental platform like Airbnb with WordPress. It's a detailed guide explaining how to launch and monetize your booking platform without any coding knowledge.
Okay, now let's go ahead and take a look at some of the best Airbnb-like themes!
Best Airbnb Clone WordPress Themes
#1 RentalHive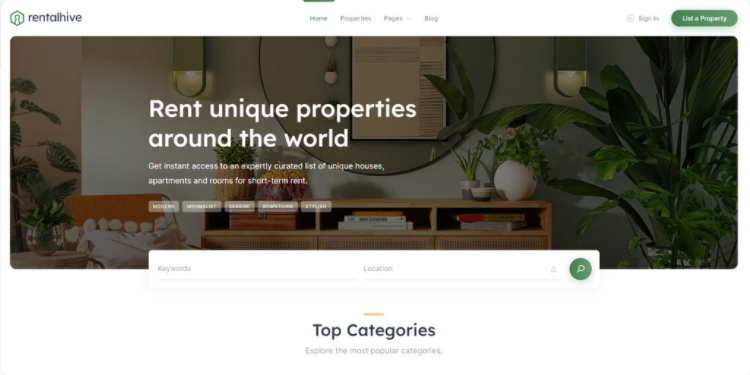 RentalHive is a highly functional Airbnb WordPress theme that allows you to create a multi-vendor rental marketplace as soon as tomorrow. It goes with a modern design and has been crafted specifically for building P2P booking platforms. RentalHive has tons of functionality, and some of the noteworthy features include:
Complete Booking System – Hosts can set up bookings, accept booking requests, manage a calendar, block and unblock dates, etc. Also, a website owner can enable the "Time Slots" feature to allow time-based bookings.
Marketplace Functionality – With RentalHive, you can allow users to list their properties on your rental platform and charge a commission on every payment.
Search Filters – Create custom search filters, depending on your platform's niche.
Monetization Tools – The theme allows you to use several different monetization models.
Review System – Users can leave reviews about the property they visited.
Messages – Guests and hosts can communicate and send attachments via private messages.
Keep in mind that it's a crazy customizable Airbnb WordPress theme since it goes without any predetermined fields, categories and search filters. As a website owner, you are granted full control and can add, change or remove any fields or listing categories without code changes by simply using your WP dashboard.
RentalHive offers at least three monetization models right out of the box. First of all, you can charge hosts with a commission on every successful reservation made on your platform. Also, you can charge hosts for listing their properties on your website. Finally, you can promote certain properties for an extra fee. By the way, thanks to the WooCommerce integration, you can use any of the available payment gateways worldwide.
You can easily import the RentalHive demo content and kickstart your booking marketplace with ready-made layouts or create everything from scratch using the Gutenberg block editor and its drag-and-drop feature.
RentalHive Extensibility
RentalHive is based on the open-source WordPress directory plugin – HivePress, which powers most of the theme's marketplace and booking features. That's why RentalHive is not limited to its core functionality, and you can enhance your multi-vendor rental marketplace with different HivePress add-ons.
Developers offer 15+ handy extensions that can be installed directly from the WordPress dashboard. For example, you can take a look at the following extensions:
Search Alerts – Allows website visitors to set search alerts and get notified when new property listings that meet their search criteria are added.
Geolocation – Add Google Maps to your booking platform and enable the location-based search.
Social Login– Enable the social login feature to allow registration on your booking platform via third-party services.
Statistics – Provide hosts with daily, weekly, monthly insights about unique visitors and the number of listing views.
You can check the whole list of the available HivePress add-ons on the theme's website. Also, bear in mind that all extensions are fully compatible, which guarantees a smooth operation of your rental marketplace.
RentalHive Support
The theme is supported by its developers via community forum or directly through emails. The premium customer support is guaranteed for 12 months and includes fixing bugs and helping with general inquiries about RentalHive.
RentalHive Price
At the time of writing the theme costs $79 for a one-site license and 12 months of premium support. Also, it includes all the required premium extensions for getting the same functionality as on the demo site. If you decide to complement it with more premium extensions, the price varies between $29 and $39 per add-on.
Key Takeaways
| | |
| --- | --- |
| Price | $79 |
| Extensibility | ✔️ |
| Extensions Included | ✔️ 9 |
| Premium Support | 12 months |
#2 WP Rentals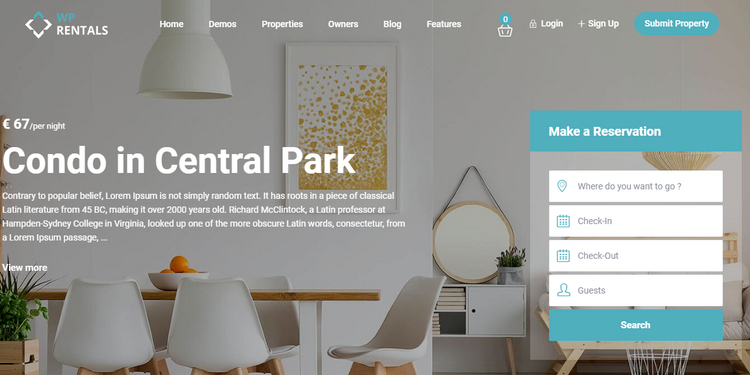 Next, we'd like to show you the WP Rentals theme. It's a professional Airbnb WordPress theme that may be an option if you want to create a booking platform like Airbnb or Booking.com with WordPress. It already comes with essential features like a built-in booking system, advanced search filters, messages, availability calendar, front-end submission and so on.
WP Rentals supports several monetization options, e.g., "Commissions" which allows you to charge a service fee for every confirmed booking deducted from the total value. Also, there's a "Paid Submission" option, which enables the possibility to pay per listing, and each user will have to pay a fee to list a property on your platform.
The theme offers you different customization options, starting from different header design options and ending with custom fields that can be tailored to your needs. Also, you can customize the layout of your rental marketplace and give it a unique look using popular page builders like Elementor and WPBakery.
WP Rentals already has 9 pre-made demos for your vacation rental marketplace, so you have a variety of options to choose from. Also, the theme can be integrated with external websites like Airbnb or HomeAway if you want to forward your users to third platforms.
WP Rentals Extensibility
Developers don't offer any add-ons specially designed for this Airbnb WordPress theme, so you won't be able to add some extra features to your booking platform without code changes. However, there are 3 premium plugins included with the theme license: WPBakery Builder, Ultimate Addons and Rev Slider.
WP Rentals Support
There's a support system available for 6 months for premium users. All registered customers can create support tickets if they have issues with WP Rentals, discover new bugs, or simply have a general inquiry.
WP Rentals Price
You can purchase this Airbnb clone WordPress theme on ThemeForest for $69 per license. The price includes future updates and 6 months of customer support.
Key Takeaways
| | |
| --- | --- |
| Price | $69 |
| Extensibility | ❌ |
| Extensions Included | ❌ |
| Premium Support | 6 months |
#3 Homey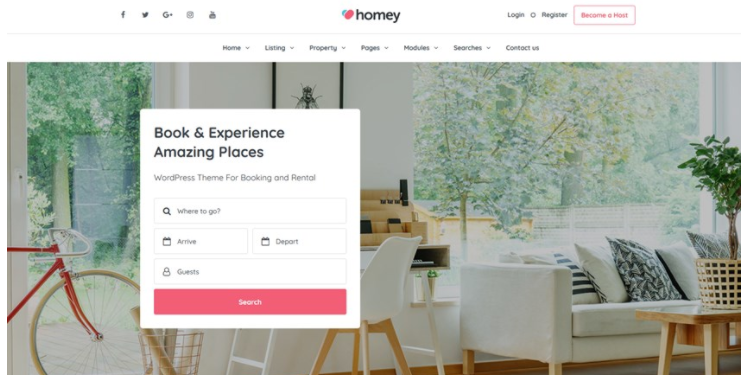 Homey is another Airbnb WordPress theme that may be a good starting point if you are about to launch a vacation rental marketplace with WordPress. It's a feature-rich theme with a simple design that is specifically focused on accommodation rental services. Keep in mind that the functions of booking, payment, advanced search and booking management are already packed with the theme.
Similarly, as with previously mentioned Airbnb-like themes, you can make money by charging hosts with a percentage or a fixed price for using your booking marketplace. The theme is fully integrated with WooCommerce, so you can easily process payments using different payment gateways.
The customization process of your vacation rental marketplace can be handled through popular page builders like Elementor and WPBakery. Additionally, developers offer various pre-made header options and different list page templates (e.g., list views, grid views, card views).
Homey comes with many useful features like Long-Term Prices (set a different price for long-term accommodations), Security Deposit (require a security deposit), Custom Taxes (set up tax fees that are applied in your country), etc. Also, thanks to iCal, you can synchronize your calendar dates with other calendars. It's helpful if you also list your properties on other booking platforms.
Homey Extensibility
Although, it's stated that the theme is filled with every tool you'd need to create and maintain a website like Airbnb with WordPress. You should bear in mind that there are no official Homey's add-ons that can help you extend your booking marketplace's functionality. So you should take a close look at the available features before purchasing the theme since you won't be able to add anything extra later on.
Homey Support
There's a support team that is always ready to solve any problems that customers may face when using Homey during 6 months of the support period. Additionally, there's a detailed knowledge base intended to help users set up the theme on their own.
Homey Price
Homey costs $69, and for your money, you'll get a theme itself with 6 months of customer support. You can purchase it on ThemeForest.
Key Takeaways
| | |
| --- | --- |
| Price | $69 |
| Extensibility | ❌ |
| Extensions Included | ❌ |
| Premium Support | 6 months |
#4 RealHomes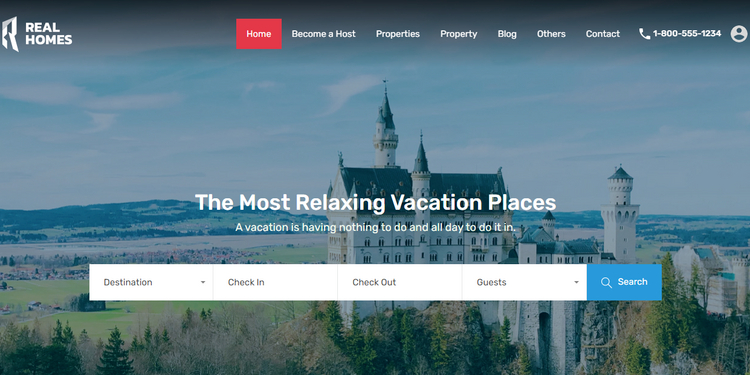 RealHomes is one more Airbnb WordPress theme on our list. It is a top-ranking theme on ThemeForest in the real estate niche. This theme brings most of the tools and options you might need to build a property rental marketplace with WordPress. Some of the features include a front-end submission, booking functionality, favorites, comparison tool, user dashboards, and so on.
The RealHomes theme is integrated with the Elementor page builder, so you can use the drag and drop interface provided by Elementor to easily make changes to your website pages. Additionally, it includes various real estate widgets built for Elementor, like Google Maps, grid listings, location widgets, and more.
If you don't want to start from scratch, RealHomes comes with a variety of demos for both agencies that want to have multiple listings and those that want to focus on promoting a single property. And of course, thanks to the booking functionality, it is also suitable for building a vacation rental marketplace like Airbnb.
If paired up with WooCommerce, the RealHomes theme allows you to make money in several different ways. By setting up commissions on your rental platform, by charging hosts for adding new property listings and by marking those properties as featured for an extra price.
RealHomes Extensibility
If you are considering this Airbnb clone WordPress theme for your booking marketplace, be ready that no add-ons are available, so you'll have to mess with code on your own if you need some extra features for your rental platform. Alternatively, there's an option to request customization if you are ready to pay a top dollar.
RealHomes Support
Given that this is a theme from ThemeForest, there are, as usual, 6 months of support which includes assistance with reported bugs and issues and help with included third-party plugins. The support is provided on the official website, and you need to create a new ticket if you have some issues. Additionally, there's a thorough knowledge base with answers to the most common issues.
RealHomes Price
RealHomes is available on ThemeForest for $59 and includes free updates and premium support for 6 months. If you want to extend support to 12 months, you'll have to pay an additional $17.
Key Takeaways
| | |
| --- | --- |
| Price | $59 |
| Extensibility | ❌ |
| Extensions Included | ❌ |
| Premium Support | 6 months |
#5 Listify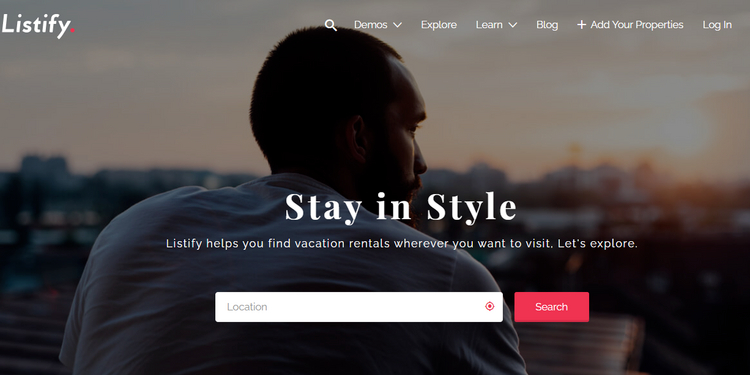 The last theme on our list is Listify, a multipurpose WordPress directory theme. Thanks to its versatile functionality, it may be a good option to create an Airbnb clone website with WordPress. It has different demos, and one is specially dedicated to multi-vendor booking platforms, so you'll be able to use this theme for your rental website. It's already packed with advanced search filters, Google Maps, a reservation system, payments, reviews, etc.
The theme provides you with various ways to monetize your multi-vendor booking platform. You can charge hosts for listing properties or use a subscription model to charge a monthly fee. Additionally, there's an option to charge users each time they book a property on your rental platform.
Listify is fully integrated with WooCommerce, so you can be sure that all the payments on your booking platform will be secure and fast. Also, the theme is compatible with Elementor, which means that you can forget about shortcodes and build stunning layouts with blocks.
Please note that some of the monetization models are available only if paired up with premium add-ons.
Listify Extensibility
Listify is crafted by a well-known Astoundify team, which makes all their themes extensible by design, and Listify is not an exception. It can be easily enhanced with some of the handy extensions, such as:
Listing Payments – Charge for property listing;
Modalify – Create popups for your website visitors;
Favorites – Create a shortlist of favorite properties.
Keep in mind that most of the Listify add-ons are premium. However, there are also free ones, so we recommend visiting the theme's website and checking everything by yourself.
Listify Support
If you purchase the theme, you'll get 6 months of technical support directly from the developers. Also, comprehensive documentation comes with the theme and covers all aspects of the installation, customization, and advanced functionalities.
Listify Price
A regular license for Listify comes in at $69. As usual, the license includes the theme itself, automatic updates and 6 months of support. But if you pay an extra $21, the support period will be extended to 12 months.
Also, if you want to buy some of Listify's add-ons, the price varies from $15 to $39 per license.
Key Takeaways
| | |
| --- | --- |
| Price | $69 |
| Extensibility | ✔️ |
| Extensions Included | ✔️4 |
| Premium Support | 6 months |
Final Thoughts
That wraps up our overview of the best Airbnb WordPress themes. There are many Airbnb Clone WordPress themes out there, but only a few of them have all the necessary features for launching a decent Airbnb clone website. That's why we reviewed only 5 noteworthy themes, and we hope this article will help you to select the most suitable theme for your website.
However, if you are still doubting which theme to use for your property rental platform, we recommend checking out RentalHive one more time. It's an all-in-one solution if you want to create a website like Airbnb with WordPress since it already comes with the required functionality, so you can just plug and play. You can also read our detailed RentalHive overview to get a better idea of its available features.
Additionally, you may want to check our overview of the best vacation rental WordPress themes.
Related Articles
Check out the list of the most popular niches for a WordPress directory website.
Create a service marketplace similar to TaskRabbit or Thumbtack using WordPress.
Create a freelance platform like Upwork or Freelancer using one of these freelance marketplace themes.