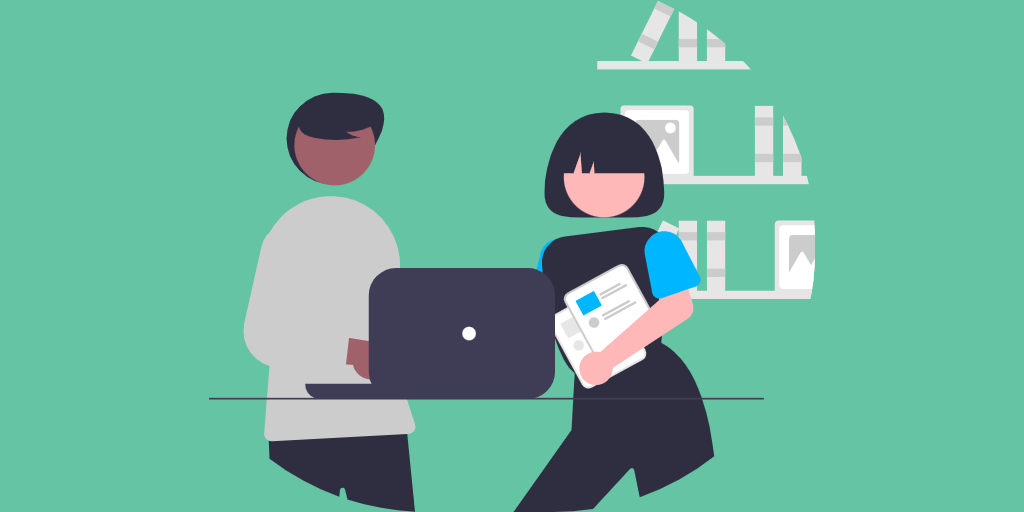 Nowadays, many people prefer to outsource their tasks to freelancers in order to devote more time to their own projects. Moreover, since the peer-to-peer economy is booming, it's the best time to start a freelance service marketplace to connect service providers with customers and make money on commissions.
If you decide to take advantage of the whole trend and launch a service platform, the easiest way to do it is by using WordPress. It's the most popular content management system with an intuitive interface, so even a rookie can handle it. However, you'll also need a WordPress theme with the necessary functionality for building a service marketplace.
In this quick overview, we'll compare some of the best service finder WordPress themes for building freelance marketplaces, such as TaskRabbit, Thumbtack or Airtasker. We handpicked only five options to make it easier for you to choose the best theme for your future website.
So, let's dive in and take a look at some of the best service finder WordPress themes!
ExpertHive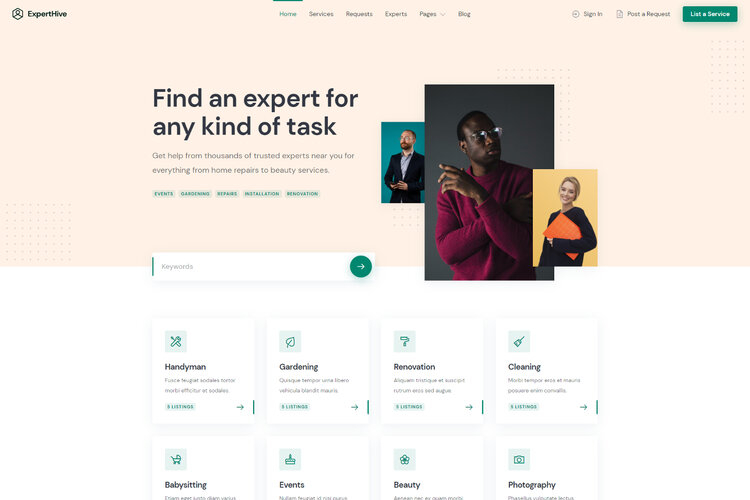 We'll start our list with ExpertHive. It's a multi-vendor service finder WordPress theme suitable for building any type of service marketplaces, like Thumbtack, TaskRabbit or Airtasker. It already includes all the essential features needed to start a service platform with WordPress, such as user dashboards, requests and offers, commissions and payouts, a built-in review system and so on.
ExpertHive is a highly customizable theme since it doesn't have any hardcoded listing fields, categories or search filters. This means that you can customize it the way you like and tailor it to any niche by adding your own custom fields and search filters without any code changes. Moreover, it's fully compatible with the native WordPress page builder Gutenberg, which allows you to build page layouts with the drag-and-drop interface.
Since any service platform is a two-way marketplace, ExpertHive supports at least two monetization models and allows you to make money by charging both customers and service providers. Firstly, you can set up commissions and take a cut from each transaction processed on your platform. Secondly, there's an option to create listing packages and charge taskers for listing their services on your website.
Also, keep in mind that ExpertHive is fully integrated with WooCommerce, which supports dozens of payment gateways worldwide and guarantees fast and safe payments.
ExpertHive Extensibility
Bear in mind that you are not limited to the ExpertHive core functionality. Since the theme is powered by HivePress, an open-source WordPress directory plugin, you can use any of the HivePress add-ons to enhance your service marketplace with some extra features. For example, there are 15+ add-ons fully compatible with ExpertHive and the following ones are already included with the theme:
Requests – Allows customers to post requests on your service platform and receive offers from professionals;
Marketplace – Allows service providers to list and sell their services;
Geolocation – Integrates your website with Google Maps and enables the location-based search of services;
Reviews – Enables the review system, allowing customers to leave reviews and rate services;
Tags – Let users create various tags;
Messages – Enables messages on your website, so users can communicate with each other and send attachments;
Favorites – Allows customers to keep a list of favorite services;
Paid Listings – Monetize your service marketplace by creating and selling various listing packages;
Claim Listings – Charge users for claiming listings.
We've mentioned only several add-ons that come with ExpertHive right out of the box. However, there are also other extensions that you can install and extend your website's core functionality. Keep in mind that all the extensions can be installed directly from the WordPress dashboard in just a few clicks.
Please note that you can combine ExpertHive with the HivePress Bookings extension and turn your website into a booking appointment platform in no time.
ExpertHive Support
ExpertHive goes with top-notch support from its developers. The premium support is guaranteed for 6 months and includes fixing bugs and guidance about the ExpertHive settings and features. If you need a hand with ExpertHive, you can visit the community forum and create a new topic or send an email directly to the developer team.
ExpertHive Pricing
The theme costs $79 for a lifetime license with unlimited updates and one year of premium support. Additionally, if you are interested in some premium add-ons, the price varies from $29 to $39 per extension. However, there's also a bundle option for $169 that allows you to purchase all the premium add-ons at half price.
ExpertHive Key Takeaways
| | |
| --- | --- |
| Price | $79 |
| Extensibility | ✔️ |
| Extensions Included | ✔️ 9 |
| Support Included | 6 months |
Craftory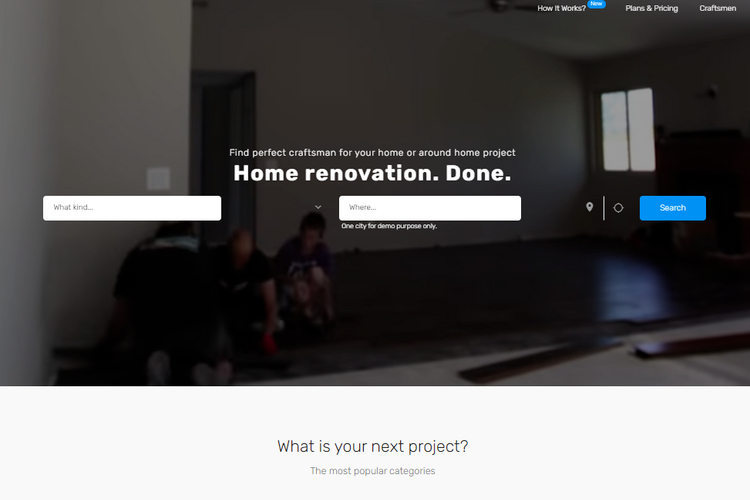 The next service finder WordPress theme is Craftory. The theme goes with minimalistic design and basic features for launching a service marketplace with WordPress. It may be a good option if you are about to start a website for handymen, tradespeople, craftsmen or contractors.
Craftory supports the membership monetization model, so you'll be able to create and sell membership packages of different levels. Also, several common forms of payment are integrated with the theme, like PayPal, Stripe, PayU India, or Bank Transfer, so it won't be an issue for users to make payments on your platform.
Please note that the theme is built with the Bootstrap & SASS preprocessor, so if you're familiar with the Bootstrap framework, you can try and customize this theme with some code tweaks. However, we couldn't find any info about integrations with WordPress page builders, so if you're not tech-savvy, it may be quite a tough deal to customize the page layouts.
Craftory Extensibility
Please note that Craftory is not extensible by design, so adding any extra features may require code changes or the usage of third-party plugins. That's why we recommend checking out all the theme's features to get a better understanding of whether it has the needed functionality for your project since it may be challenging to enable the extra functionality later.
Craftory Support
Craftory theme has extensive documentation and a dedicated support team. So if you have any questions about Craftory or have encountered some issues, you can contact the theme developers for help. The premium support is guaranteed for 6 months.
Craftory Pricing
This service finder theme is available on ThemeForest and goes for $39 per license. As usual, the price includes the theme and customer support for 6 months, which can be extended to 12 months for $10.
Craftory Key Takeaways
| | |
| --- | --- |
| Price | $39 |
| Extensibility | ❌ |
| Extensions Included | ❌ |
| Support Included | 6 months |
Listingo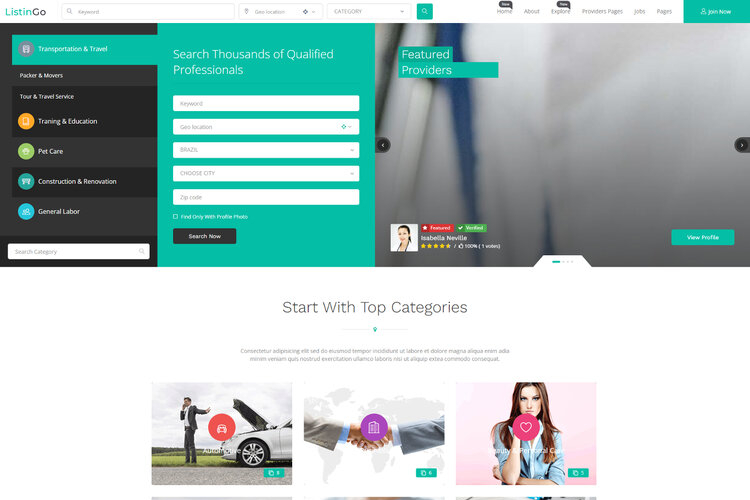 Listingo is a service finder WordPress theme that can be used for various niches. It allows you to launch websites like service provider directories, lawyer directories, handyman directories, and so on. The theme already goes with different search filters, user dashboards, reviews system, contact forms, payment, location search, and other necessary features for launching an on-demand service marketplace.
The theme already includes the commission system, so you can make money with your service marketplace without the need to install anything extra. For example, as an admin, you can set different commission rates for each service category. Also, Listingo supports PayPal and is fully integrated with WooCommerce, so all the payments on your website are going to be fast and secure.
Keep in mind that Listingo has 7 different pre-made demos, so you can choose the one that resonates with your business the best. Moreover, if you want to start from scratch or customize any demo page, you can easily do it with the WP Bakery page builder.
Listingo Extensibility
The theme itself doesn't offer any separate add-ons for extending your website functionality. However, there's an Android app specially created for this theme that may become an additional channel for acquiring new customers.
Listingo Support
The theme comes with an extensive knowledge base, allowing you to find most of the topics and solutions. Also, once you purchase Listingo, you'll get 6 months of premium support.
Listingo Pricing
This service finder WordPress theme goes for $79 per regular license, including future updates and 6 months of support (assistance with reported bugs & issues and help with included 3rd party assets).
Listingo Key Takeaways
| | |
| --- | --- |
| Price | $79 |
| Extensibility | ❌ |
| Extensions Included | ❌ |
| Support Included | 6 months |
Service Finder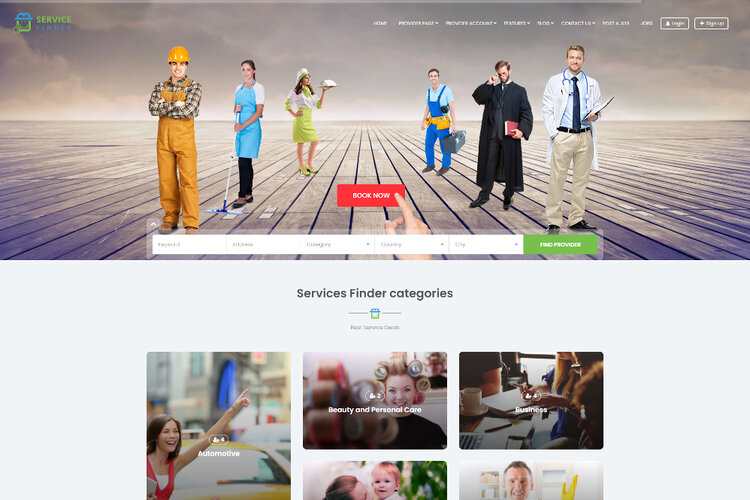 Now, we'd like to show you another popular service finder WordPress theme, called Service Finder. This theme is specially designed for building websites of on-demand services and already has many useful features required for such platforms. For example, there are features like profile management, timeslots management for booking, invoice generation and payment system, service areas and services, featured providers, review system, etc.
The Service Finder theme allows you to make money in various ways like commissions (you can define а fixed or percentage of commission), selling subscription packages and charging service providers for their promotion. Also, it's a nice touch that the theme is integrated with PayPal by default.
Keep in mind that if you are not an advanced WordPress user, it may be difficult to customize the Service Finder theme since developers didn't mention any integrations with popular page builders. Moreover, many of the listing fields are hardcoded, so you'll have to mess with coding to tailor this theme to your website niche.
Please note that the theme is integrated with the WP Job Manager plugin, which seems to be pretty outdated and is no longer a reliable solution.
Service Finder Extensibility
The theme is quite inflexible since there are no official add-ons that you use to enhance your freelance service marketplace. There are only WP Job Manager extensions that you may try using. However, before installing something, it's better to contact the theme's developers and clarify whether the theme supports any add-ons to avoid compatibility issues.
Service Finder Support
The Service Finder theme comes with 6 months of customer support. The theme developers provide support solely via emails, so you can drop a line to them if you have any issues with setting up the theme or just have a general inquiry.
Service Finder Pricing
You can purchase the Service Finder WordPress theme on ThemeForest for $59. The price includes the theme itself and 6 months of support.
Service Finder Key Takeaways
| | |
| --- | --- |
| Price | $59 |
| Extensibility | ❌ |
| Extensions Included | ❌ |
| Support Included | 6 months |
Wyzi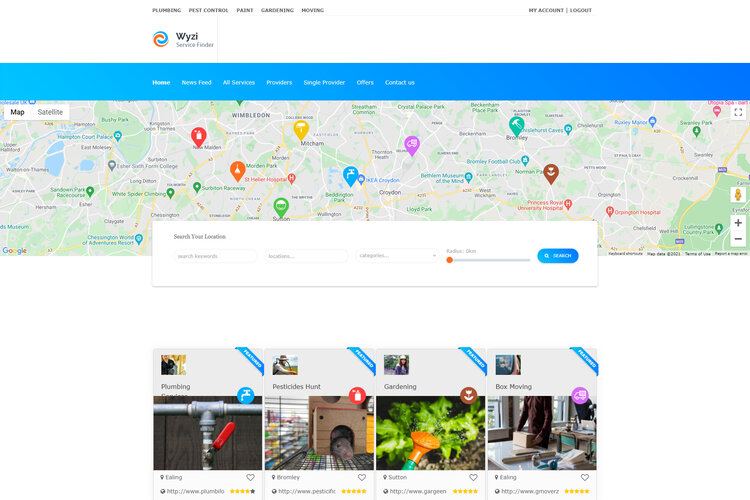 Finally, we got to the last service finder WordPress theme in our list, Wizy. It markets itself as a social directory theme that is suitable for many different niches, including freelance service marketplaces.
Wyzi is a quite customizable theme since you can add custom fields to your search filters, change the user sign-in form the way you like, set up different forms of subscriptions, etc. Also, it's compatible with the WP Bakery Page Builder, so you can customize your pages layouts using blocks.
The theme supports different monetization models. Firstly, there's an option to set up commissions on vendors' sales. Secondly, you can create several subscription levels and make money from memberships. Additionally, there's always an option to integrate your website with Google AdSense and sell advertising space on your marketplace.
Please note that similarly to the Service Finder WordPress theme listed above, Wizy is integrated with WP Job Manager, which makes some of its features a bit unreliable.
Wyzi Extensibility
The theme developers assure that Wyzi goes as a feature-rich solution, so no extensions are required to start and maintain your own freelance service platform with WordPress.
Wyzi Support
Like any other WordPress theme on ThemeForest, Wyzi comes with 6 months of user support that can be extended to 12 months for an extra fee.
Wyzi Pricing
You can purchase the theme for $59 per regular license and get unlimited updates and premium support as well.
Wyzi Key Takeaways
| | |
| --- | --- |
| Price | $59 |
| Extensibility | ❌ |
| Extensions Included | ❌ |
| Support Included | 6 months |
Wrapping Up
That's it! We've mentioned some of the best service finder WordPress themes that allow you to create an on-demand service marketplace, like Thumbtack, TaskRabbit or Airtasker with WordPress. Each of the mentioned themes has its own robust features and tools to help you launch a service platform.
We hope this review was helpful, and now you can easily choose the theme for your project. However, if you haven't decided yet, we recommend checking out ExpertHive. It's a crazy customizable theme that goes with tons of features, and no coding skills are required to set it up. Please feel free to check out the detailed ExpertHive overview to get a better idea of its functionality.
Also, feel free to check out the related overview of top-notch freelance marketplace WP Themes
Related Articles
Launch a booking marketplace similar to Airbnb with WordPress.
A side-by-side comparison of HivePress and Business Directory plugins.
A complete comparison of HivePress and GeoDirectory plugins.