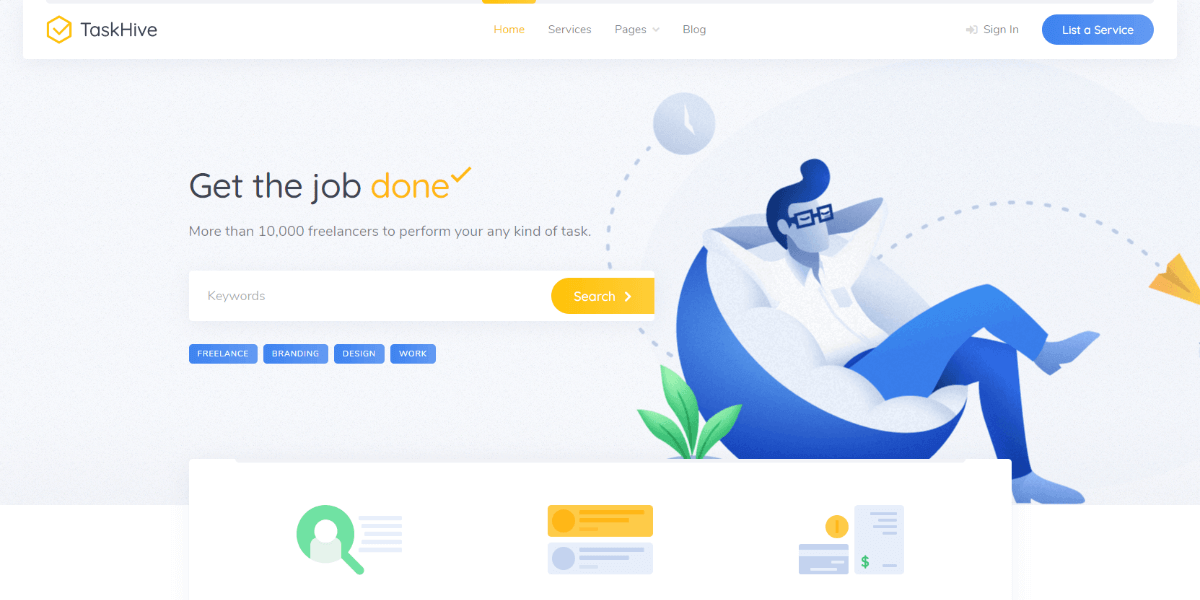 The era of the gig economy is here, and there is no going back. The gig economy brings a lot of benefits for both freelancers and clients. As freelancers are paid per project completed, clients can save money by paying for results, not hours. Similarly, freelancers are free to finish the job anywhere and anytime they want. Moreover, the gig economy has enabled people from various backgrounds, such as stay-at-home mothers and digital nomads, to be productive.
There are various services offered by freelancers, ranging from photography and design to complex computer programming. Freelancers usually use an online platform, such as Fiverr or UpWork, to sell their services to potential clients, while the platform charges a commission fee for each transaction.
If you are thinking about your own freelancing platform and you want to create a website like Fiverr, you might want to check out TaskHive, a lightweight yet functional WordPress theme that allows you to build a marketplace of services or digital downloads, such as Fiverr or Creative Market.
Installing TaskHive
TaskHive can be installed in the same way as any other premium WordPress theme. You can simply navigate to the Appearance > Themes section of your WordPress dashboard, then proceed by selecting "Add New" and "Upload Theme" options, and finally, select the theme ZIP file.
Once it's installed, you can proceed with the installation of the required plugins. TaskHive is based on HivePress, a multipurpose listing plugin that powers its marketplace features. Also, it relies on the WooCommerce plugin for billing and payment features.
Installing WooCommerce
After you activate WooCommerce, it will automatically launch the setup wizard that will guide you through the marketplace configuration. Please add your marketplace details, enable payment methods, and install optional WooCommerce extensions to complete the installation.
Importing Demo Content
This step is optional, but we highly recommend importing the TaskHive demo content to start with existing layouts and get a better understanding of how everything works. You can follow the screencast below to get the same layout as on the demo site.
Setting Things Up
Once you have installed TaskHive, HivePress, and the required extensions, you can start setting things up. We recommend going through all the HivePress settings in HivePress > Settings section to ensure your site works in the way you want.
Enabling Monetization
If you want to create a website like Fiverr you probably interested in making money with it as well. With TaskHive, you can monetize your service marketplace in two completely different ways. The monetization model you choose heavily depends on your niche and the type of freelancers and clients you are dealing with.
The most common monetization model is charging a commission fee for each transaction. If you choose this model, freelancers will be able to list their services for free, but they will have to pay a commission fee as soon as they get paid.
If your marketplace is unique enough, you can consider charging freelancers for listing services. In this case, freelancers will pay a flat fee for listing their services, but they will not have to share their revenue with the marketplace.
Both ways of monetization are available as HivePress extensions and included with TaskHive, so you can quickly implement the monetization model of your choice or even both of them at the same time.
Customizing Styles
You might also want to give your site a unique look and feel. To do so, please navigate to the Appearance > Customize section and go through the appearance settings, such as primary and secondary colors, heading and body fonts, logo, and background images, etc.
Getting Support
This theme is directly supported by its developers, so any issues are resolved in the fastest and the best way possible, by people who know their product inside and out. Since TaskHive is based on a multipurpose HivePress plugin, there's also an active community of 3,000+ website owners sharing their tips and suggestions on the HivePress support forum.
Related Articles
Build your own classified ads website without a single line of code.
Build your own job board website without any coding skills by using WordPress.
Create your own directory website with WordPress in a few simple steps.