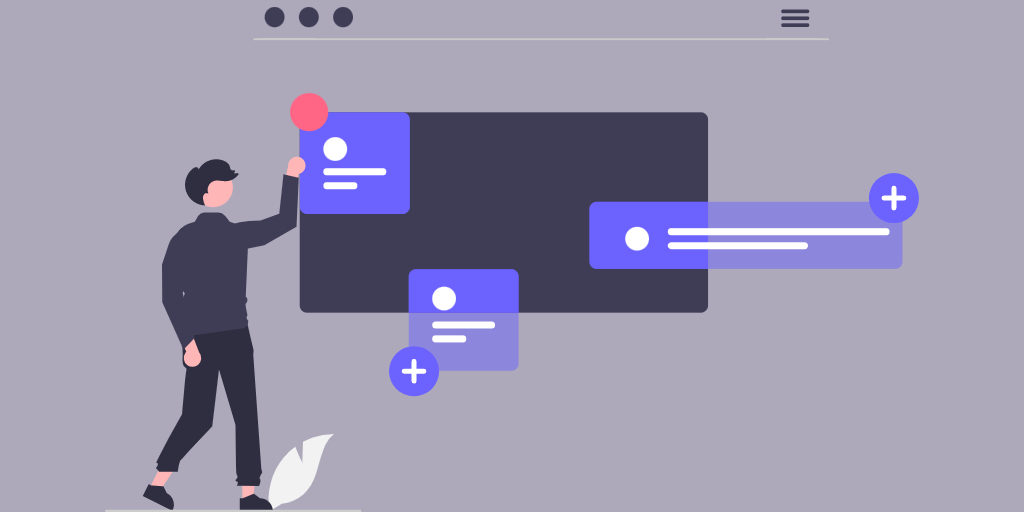 If you are about to create a classified ads website like Craigslist or OLX for free, where users can list properties, services, items for sale and whatnot, then the easiest way to do this is by using WordPress. It's the most widely-used content management system in the world that allows you to launch a classifieds website without any coding knowledge.
To launch a classified ads website, you'll also need a well-coded free classifieds WordPress theme that includes all the necessary features. We know that it may be quite hard to find a simple solution since there are many good premium themes and only a few free ones that have the required functionality. That's why we created this collection of the best free classifieds WordPress themes and hope it will help you to choose the best solution for your project.
In this article, we'll compare some of the most popular free classifieds WordPress themes suitable for building any type of classified ads website. Also, before diving in, feel free to check our step-by-step guide on how to create a classifieds website with WordPress for free.
The Most Popular Free Classified Ads WordPress Themes
ListingHive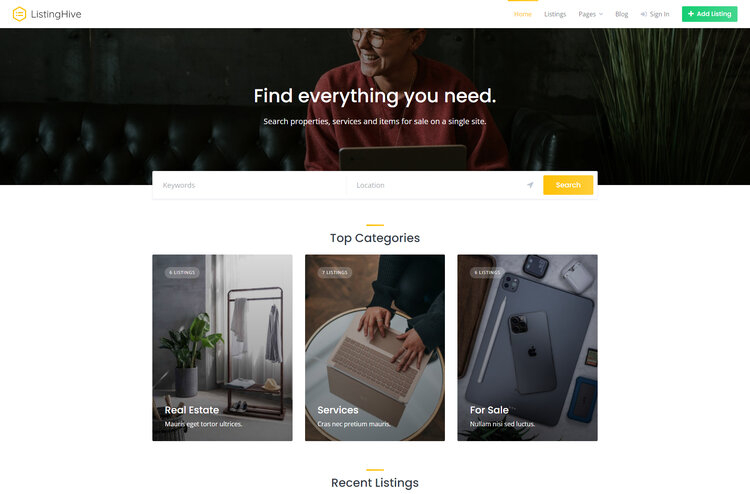 At the time of writing, ListingHive is the most popular free classifieds WordPress theme in the WordPress.org repository. It's a multipurpose theme that makes it possible to create whatever kind of classifieds and directory site you want to have. Whether you're planning to launch a website like Craigslist or OLX, a member directory, a real estate website or even a job board – ListingHive is a killer option.
It's a crazy customizable theme that allows you to create listing fields and categories as well as search filters on your own. Meaning that there's nothing hard-coded, and you can tailor ListingHive to your niche without any coding skills by setting up everything from your WordPress dashboard. Also, this classifieds theme is fully integrated with Gutenberg block editor, so it won't be an issue to create stunning layouts with the drag-and-drop feature.
Bear in mind that ListingHive shows its true potential when combined with HivePress, a free classifieds WordPress plugin. HivePress powers most of the theme's features and allows you to keep all the data even if you decide to switch the theme later.
This classified WordPress theme goes with several monetization models right out of the box. For example, you can create different listing packages (e.g., free, standard, premium), so users will have to purchase one of them if they want to post a new listing on your classifieds website. Also, you can allow users to claim listings for an extra fee.
Please note that ListingHive is also integrated with WooCommerce, the most popular e-commerce plugin, so all the payments on your website are going to be fast and secure.
ListingHive Extensibility
Since ListingHive is powered by the HivePress plugin, you can use any HivePress add-on on your classifieds website to extend its core functionality. For example, there are 15+ HivePress extensions and the following ones you can use for free:
Paid Listings – Charge users for adding, featuring or renewing listings;
Geolocation – Add an option to search listings based on location;
Favorites – Allow users to keep a list of favorite listings;
Claim Listings – Charge users for claiming listings;
Reviews – Allow users to rate and review listings;
Messages – Allow users to send private messages and attachments.
You can put your mind at rest knowing that ListingHive is fully compatible with HivePress and all its add-ons. Moreover, by combining various add-ons, you can create a classified website with unique functionality.
ListingHive Support
Bear in mind that the ListingHive support is provided by its developers, people who know all the nitty-gritty elements of their product, so any issue is resolved in the best way possible. Whether you find a bug or need a hand with settings, or simply have a general question about ListingHive, you can create a new topic on the community forum, and the developers' team will reply asap.
ListingHive Pricing
This classifieds WordPress theme is completely free, and you can install it in a few clicks from your WordPress dashboard. Also, there are free and premium extensions available. The price for a premium extension varies from $29 to $39 for a lifetime license.
ListingHive Key Takeaways
| | |
| --- | --- |
| Active Installations | 4000+ |
| Average Rating | 5 out of 5 stars |
| Extensibility | ✔️ |
Best Classifieds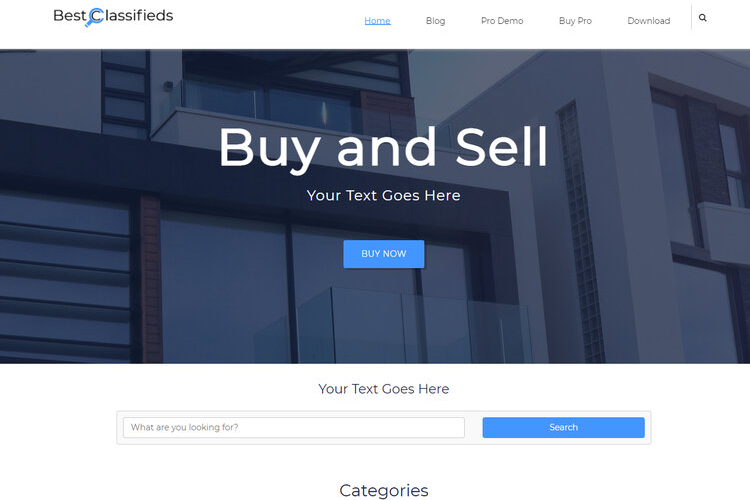 Best Classifieds is another free classifieds WordPress theme on our list. The theme goes with a pretty simple design and a bundle of basic features required for launching a classified ads website with WordPress. This classifieds theme already includes different pre-made fields and the most popular listing categories.
You can download the theme's demo content and start with existing layouts without the need to start from scratch. Also, you can easily customize the demo content using customizer settings within the WordPress admin panel.
Please note that the theme developers mentioned nothing about the available monetization options or integrations with any payment systems, so it may be challenging to make money with your classified ads website.
Best Classifieds Extensibility
Keep in mind that there are no Best Classifieds add-ons that you can install and add some extra features to your website. So if you want to extend your site's functionality, it may be a tough deal that requires a piece of coding knowledge.
However, the theme developers offer a pro version of Best Classifieds that you can purchase on their website. The pro version comes with a modern and eye-catchy design and better functionality than the free version. So we recommend checking out the pro version as well since it may suit your project the best.
Best Classifieds Support
If you have any issues with setting up the Best Classifieds theme, keep in mind that the free support is only available on WordPress.org. The support section on the official theme's website is accessible solely to users with a premium membership. So if you are using the free version, you have to be content with the support forum on WP.org.
Best Classifieds Pricing
You can download the free version of this classifieds WordPress theme on WordPress.org. However, if you lack functionality, you may consider purchasing the premium version for $39 per license.
Best Classifieds Key Takeaways
| | |
| --- | --- |
| Active Installations | 500+ |
| Average Rating | 1 out of 5 stars |
| Extensibility | ❌ |
TerraClassic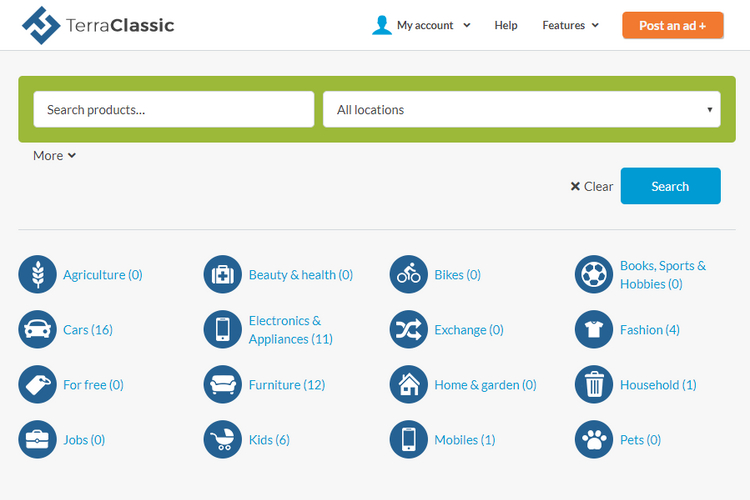 TerraClassic is a professional-looking free classifieds WordPress theme that allows you to create a classified ads website without a hitch. It's already packed with several useful features like location-based search, different search filters, contact forms, front-end submission, etc.
The theme is powered by the TerraClassifieds WordPress plugin, and at the moment of writing, there's only an alpha version of the theme, so it's not quite stable at the moment. However, with the existing version, you can create a pretty good classified website with most of the essential functions.
Also, TerraClassic supports different popular page builders, like Elementor, Visual Composer, Beaver Builder, so you'll be able to customize your website appearance using layout blocks.
Keep in mind that, in the current version, there are limited monetization options available, which means that you won't be able to charge users for adding new listings or set up membership plans on your site. The only way to make money with TerraClassic is by displaying ads.
TerraClassic Extensibility
Currently, developers do not offer any extra features for TerraClassic. However, you can combine it with the TerraClassifieds plugin to get some advanced functionality.
TerraClassic Support
There's no free support for TerraClassic, so you'll have to set it up on your own since the support ticket system is only available for users with a premium subscription. However, there's a documentation section that you can use if you have any issues with TerraClassic.
TerraClassic Pricing
This classifieds theme is not listed in the official WordPress repository, but you can download it for free from the theme's official website after registration.
TerraClassic Key Takeaways
| | |
| --- | --- |
| Active Installations | No Data |
| Average Rating | No Data |
| Extensibility | ❌ |
Classified Ads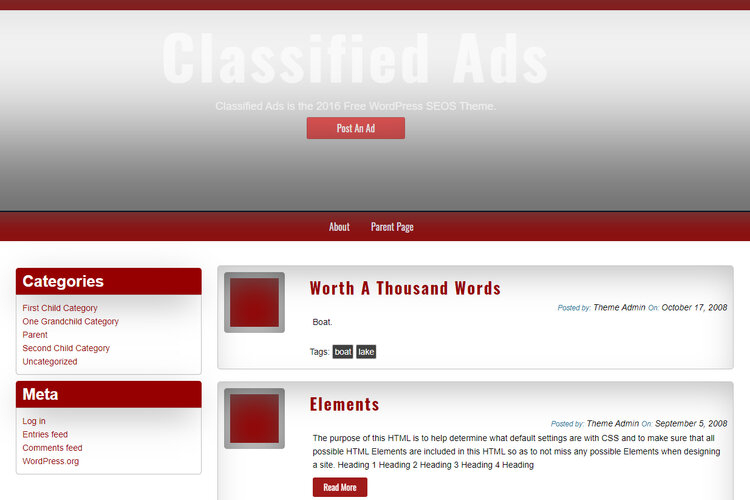 Finally, let's take a look at Classified Ads. It's a free classifieds WordPress theme with a minimalistic design and basic functionality. The free version of the theme is pretty limited since such essential features as the front-end ad submission, featured ads, payments, category images, and many others are available only in the pro version.
Also, this free classifieds theme doesn't support WooCommerce and is not integrated with any payment gateway, so you won't be able to accept and process payments on your website without additional code tweaks.
Keep in mind that most of the required features for launching a classifieds website will require additional customization if you are using the free version.
Classified Ads Extensibility
The theme doesn't support any add-ons, but there's a premium version of the Classified Ads theme that you may consider for your project. Compared to the free version, the pro one goes with a better design, many crucial features and several monetization options for your classifieds website.
Classified Ads Support
There's no support on the official website for the free Classified Ads theme, so the only way you can reach out to developers in case of any issues is by using the WordPress.org support forum.
Classified Ads Pricing
This free Classified Ads theme can be found in the official WordPress repository and installed directly from your WP dashboard. The premium version of the Classified Ads theme goes for $40 per one license.
Classified Ads Key Takeaways
| | |
| --- | --- |
| Active Installations | 400+ |
| Average Rating | 4 out of 5 stars |
| Extensibility | ❌ |
Final Words
That wraps up our collection of the best free classifieds WordPress themes. We hope that this article was useful to you and now you have a better understanding of the available options. Rather than building your site from scratch, you can choose one of the listed-above themes with the features you need and start creating your own classifieds website.
If you haven't decided which classified theme to use, we recommend checking out ListingHive one more time. It's a highly customizable classified ads WordPress theme with tons of features available right out of the box. Moreover, it's the most popular classifieds theme that is already trusted by 4000+ website owners around the globe, which speaks for itself.
Additionally, you may want to check our overviews of:
Related Articles
Create a freelancing platform like Fiverr or Upwork in a snap using WordPress.
Check out the list of the most popular niches for a WordPress directory website.
Most popular free WordPress listing themes to launch a directory website.