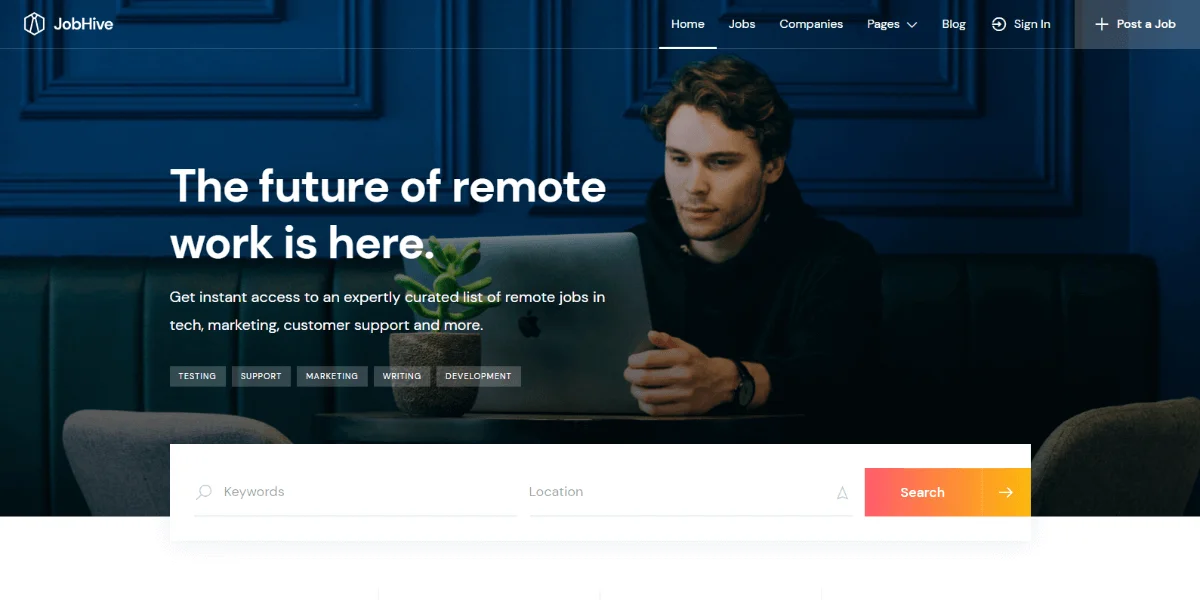 Hundreds of years ago, it was mainly done by word of mouth, then newspapers took its place. In 2022, paper editions got almost entirely substituted with online portals. We are talking about the job offers.
Online job postings have revolutionized the way people look for jobs and companies find recruits. Nowadays, employers advertise vacancies on job board websites, and job seekers use them to search for new professional opportunities.
Times are changing, but the job market remains as relevant as always. Therefore, online job portals aren't only the answer to the question of how to find a workplace or a perfect employee but also a great way to make money for such websites' owners.
One of the easiest ways to create a job board website is by using WordPress. To do so, it's crucial to choose the proper job listing WordPress theme and plugin. In this post, we'd like to introduce you to JobHive, a lightweight yet functional WordPress theme for building online job boards.
JobHive Key Features
JobHive is a modern and highly customizable job listing WordPress theme that allows you to create a job board website in next to no time. It's powered by HivePress, a free WordPress plugin that allows you to create any directory and listing websites.
Some of the main characteristics of this job listing WordPress theme include:
Front-end submission
User dashboards
Messages functionality
Reviews system
Bookmarking functionality
Geolocation feature
Monetization options
Easy customization
Let's have a more detailed look at JobHive's key features.
Front-end Submission
When creating a job search platform that connects employers with job seekers, you may consider different ways of managing listing creation. With the JobHive theme, you can choose between the following options:
Add listings yourself, which is the best decision if you have a small or niche website run by you only.
Enable front-end submission so that companies submit job openings themselves. As a website owner, you'll be able to moderate the entire process, namely to accept or reject listings and customize the front-end listing submission form.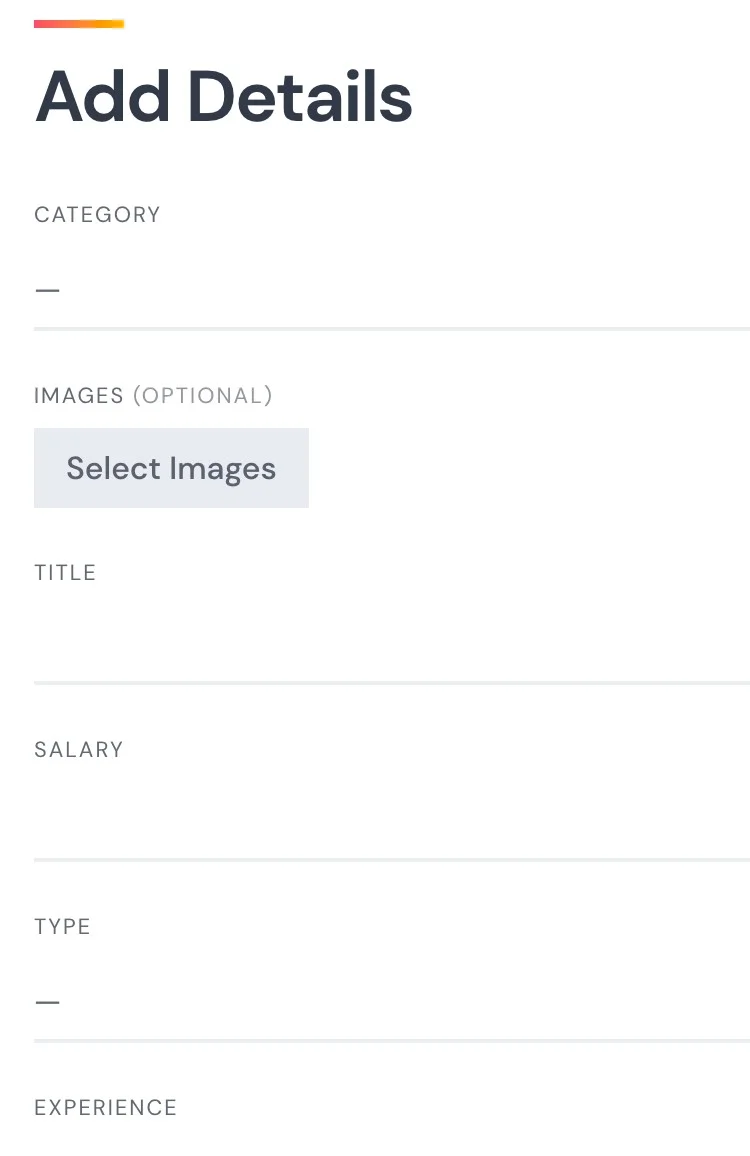 User Dashboards
All employers have personal dashboards where they can enter the company's logo, description, and contact info. Here they also get notified about the applications received from job seekers.
Once the job offers are posted, they appear in companies' dashboards, and employers can edit them by adding or canceling any details.

Job seekers, too, have their dashboards. They can access their saved listings, edit their profiles, and contact employers responding to the posted job offers.
Messages
Job seekers and companies can get in touch via Messages, a built-in feature that enables communication between users on the platform. If required, you can allow sending CVs as attachments to the texts.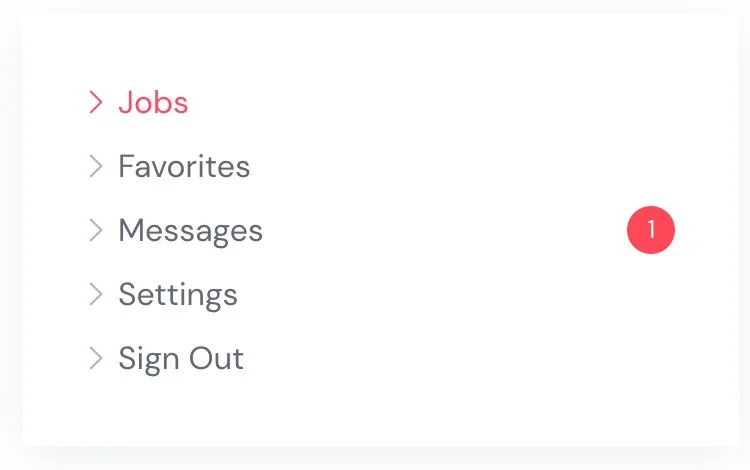 In addition, it enables you to:
Monitor the conversations' content.
Automatically block sending messages with specific keywords to prevent users from violating any rules on your website.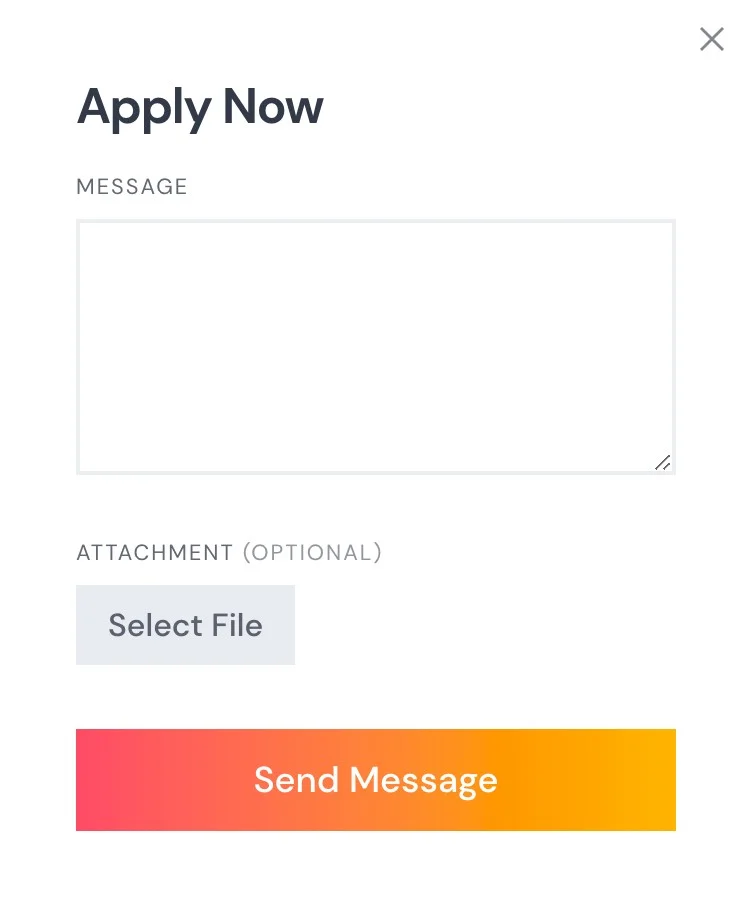 Favorites & Reviews
The Favorites function allows users never to miss interesting opportunities. Job seekers can add vacancies to their lists of Favorites and, thus, save them for later.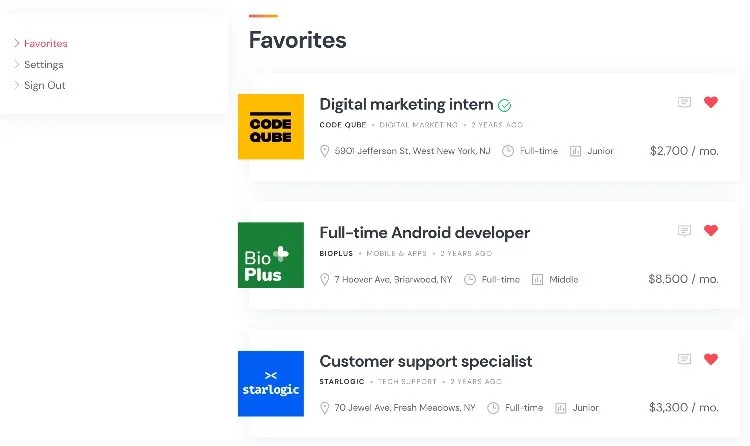 Also, they can leave reviews about job offers, and in this way, help other job seekers figure out the essential details about the potential cooperation with specific companies.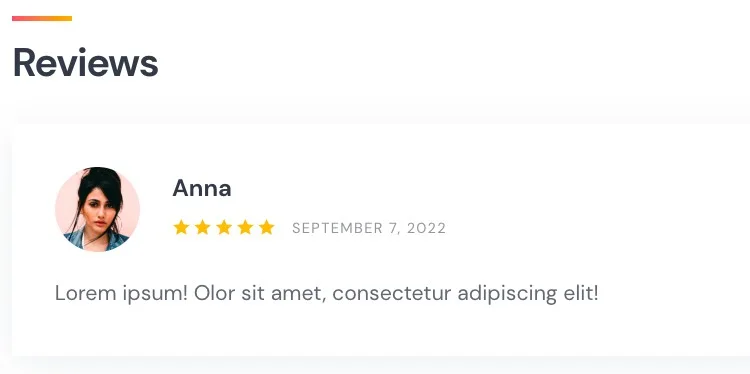 Geolocation
This job listing WordPress theme has the Geolocation functionality, which is especially important for the job listings linked to a specific area, i.e., all offline vacancies.
The Geolocation feature gives you access to customize the following options:
The unit of length, i.g., miles or kilometers – you can select the one to suit your needs.
Choose between Mapbox and Google Maps, the two Map providers supported by JobHive.
Set the maximum zoom level for maps on your website.
Enable search by regions, e.g., the EU territory only.
Restrict search results to specific regions.
Turn on radius-based searches to show all the listings within a selected distance from a particular location.
Optionally, you can hide the exact address details and display a circle area instead of the map marker.
Monetization Options
Unless it's a charity project with volunteering-only positions, you may want to use the monetization models to start getting income with your job search portal.
JobHive allows you to choose among the several most popular variants of earning money from your website:
Paid Listings
First and foremost, you can create different packages using the Paid Listings feature and offer companies to pay a specific price for submitting listings, e.g., Free, Standard, and Premium options that differ in the vacancy posting conditions.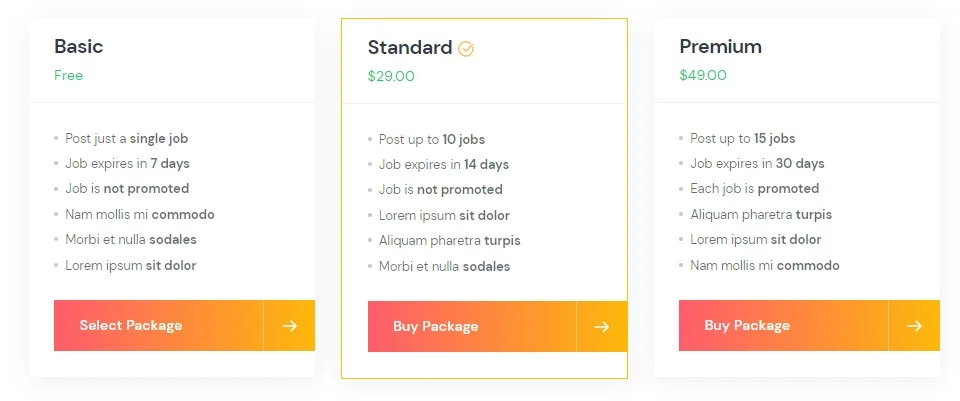 Featured Listings
Secondly, you can change employers for Featuring their job listings and advancing them in the search results. Displaying jobs at the top of the list will attract more views and allow companies to find the best candidates for their job openings.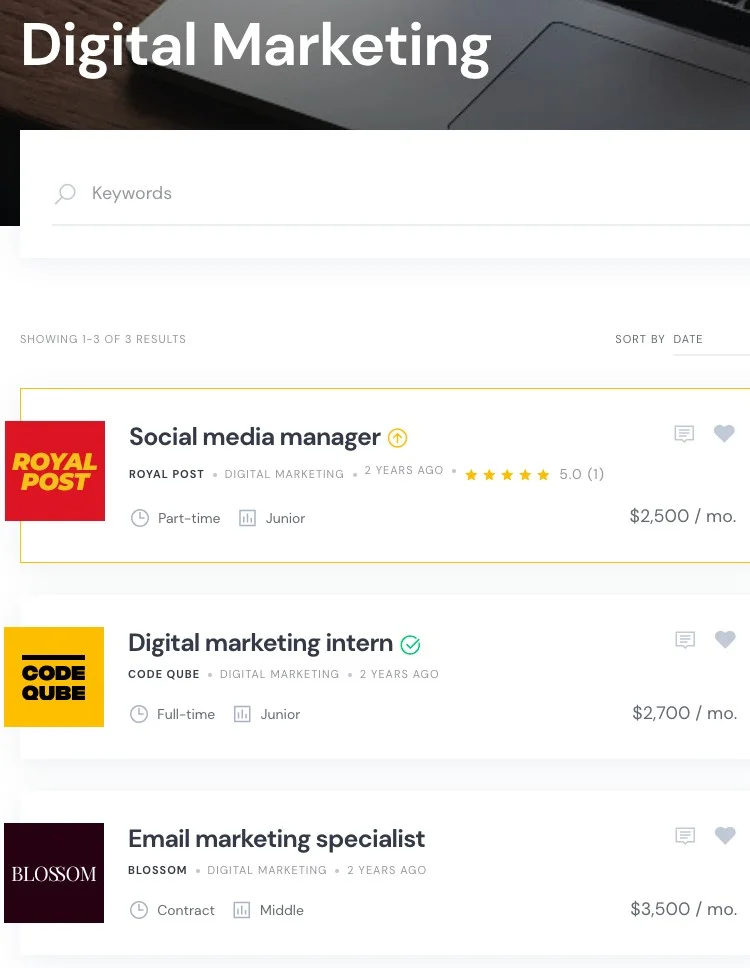 Membership Plans
Finally, the JobHive theme allows you to restrict access to all listings and pages, e.g., search and category pages, individual listings, or certain listing attributes. Additionally, you can limit access to certain features, such as sending messages or submitting feedback.
Thus, thanks to the included to JobHive's Memberships functionality, you can set a price for viewing listings or any information about employers. This way, you can make job seekers pay a fee to access the best offers or get companies' contacts.

Also, there's no need to worry about the payouts, as this job listing WordPress theme is integrated with WooCommerce, the world's most popular eCommerce plugin. It supports various payment gateways and allows you to set up secure money transfers on your online platform.
Extensibility
As JobHive is powered by the HivePress plugin, you can use any of its 15+ various extensions to enhance the functionality of your job listing website. For example, you can install:
Search Alerts – this extension lets users know when new job openings are posted;
Social Login – enables the users on your website to sign in via third-party services, such as Facebook or Google, and use existing social media accounts instead of remembering extra usernames and passwords;
Social Links – this functionality is helpful for both employers who want to provide more information about their companies and job seekers who may decide to include the links to their profiles to distinguish themselves from other candidates in the eyes of a potential job provider.
All extensions are fully compatible with the JobHive theme, so you don't have to worry about compatibility issues.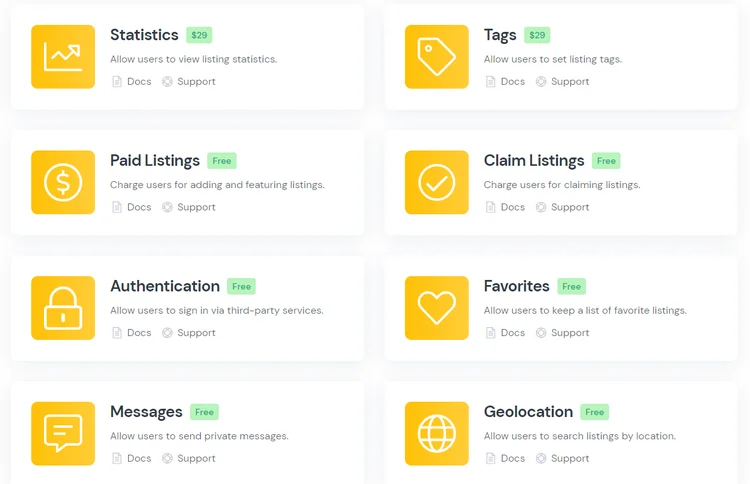 JobHive Customization
This job listing WordPress theme comes without any pre-made fields; that's why you're free to personalize every detail according to your needs. And most importantly, you won't need any technical or coding skills to do it.
By choosing JobHive, you'll be able to:
Add custom listing fields and search filters according to your website's niche;
Organize listings into an unlimited number of categories, making your platform easy to navigate;
Create custom vendor fields and search filters to simplify the search for the right company, etc.
You may opt for building your website from scratch or importing the JobHive demo content to make your website look exactly like the demo version within a few minutes.
Check out the video to learn how to import the demo content for JobHive:
JobHive supports the WordPress Customizer, that's why you can give your website a unique look and feel by changing every website's trait, such as logo, icon, primary and secondary colors, heading, and body fonts.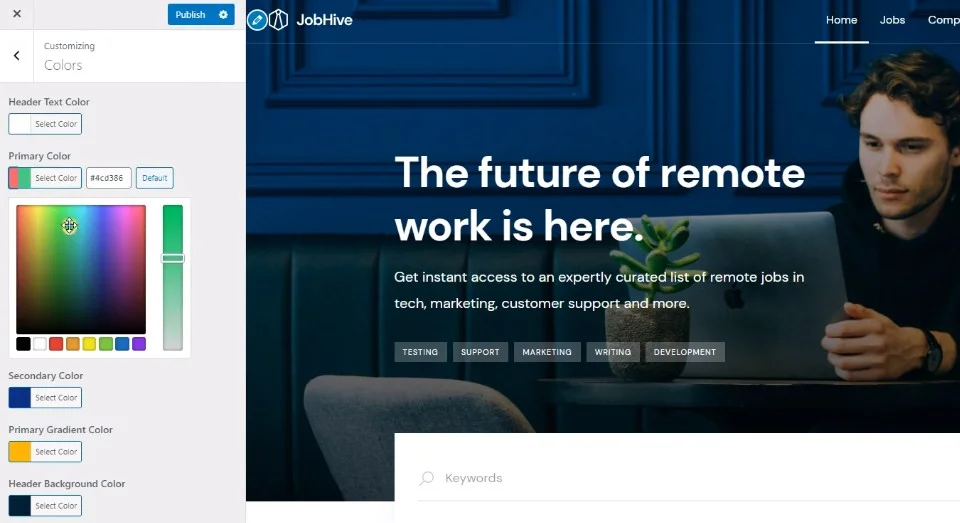 The theme is also integrated with Gutenberg, which helps you create a stunning layout without having anything to do with HTML or shortcodes. Just use a drag-and-drop feature of a native WordPress block editor instead.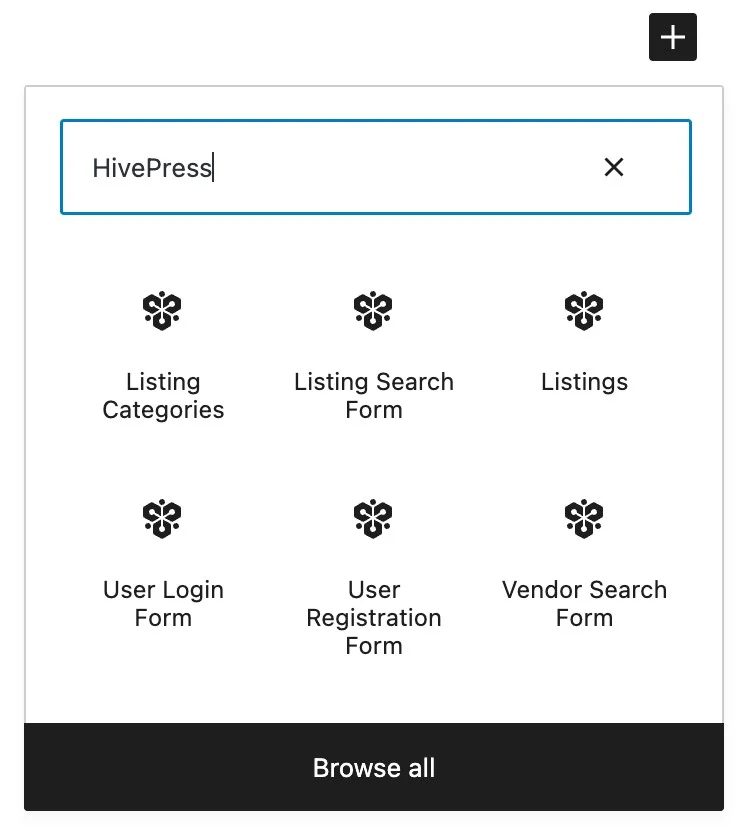 Furthermore, if you need to translate your website, you can do this directly via the WordPress dashboard using the Loco Translate plugin, perfectly combined with JobHive.
Support & Community
Using the JobHive theme, you will have access to comprehensive documentation, video tutorials & screencasts and be guaranteed 12-month premium support. JobHive is directly supported by its developers, who know the theme inside out; thus, during the whole year, we'll provide you with the best solutions to any arising problem in the fastest way possible.
All this and more! There're currently 10,000++ active websites built with the help of HivePress products, and the number is rapidly growing. Using the JobHive theme makes you a part of a large HivePress community of website owners who share valuable tips and suggestions on building a website. Feel free to join our community forum by following the link!
Final Thoughts
The job market's history has already passed through many stages, and even more new things await in the future. Creating an online job board is a great way to keep up with the times, and JobHive is a perfect tool to make building your website a pleasant and memorable experience. Check out our other article to learn more about monetizing your job board website.
Additionally, you can check our overview of the best job listing WordPress themes.
Related Articles
Check the collection of the most popular free classified ads WordPress themes.
A side-by-side comparison of HivePress and Business Directory plugins.
A handpicked list of the top Airbnb-like WordPress themes for building a multi-vendor booking platform.