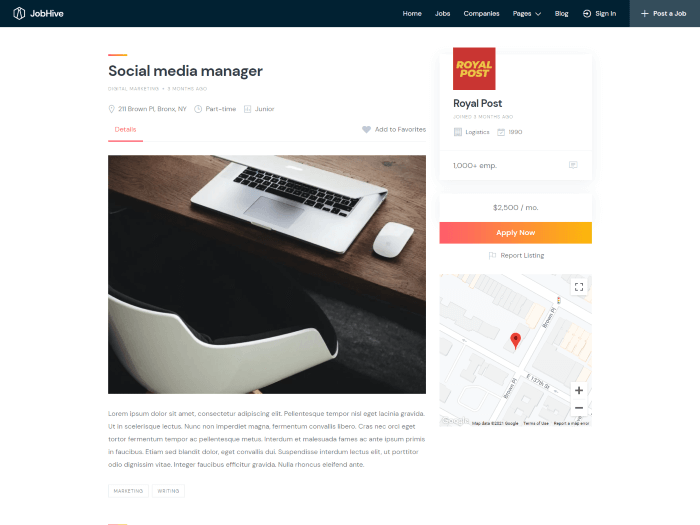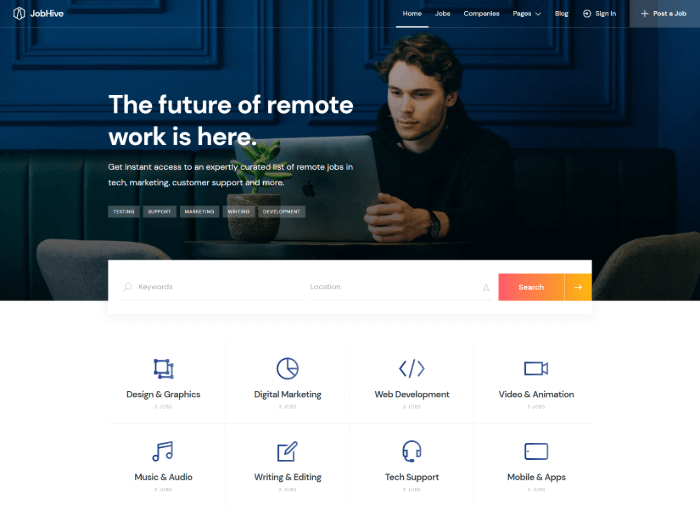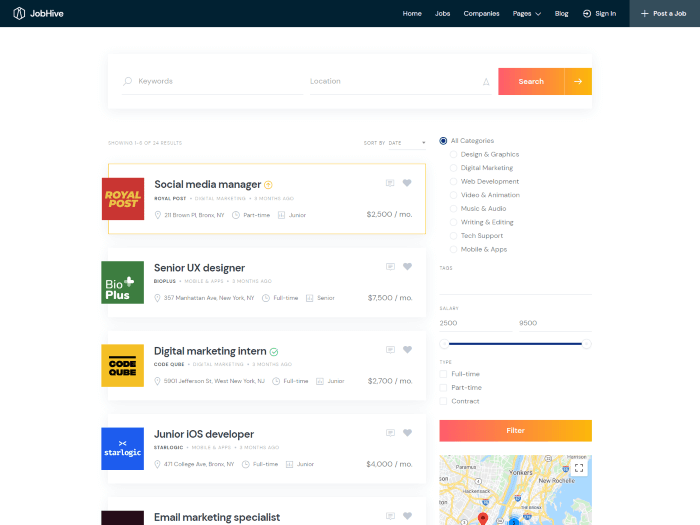 Easy to use & customize
Install JobHive with 1 click directly from your WordPress dashboard, add job categories and attributes, adjust settings and your website is ready to launch.
Truly multipurpose
There are no predefined company and job listing categories, attributes or search filters, so you can use JobHive to create a job board website for any niche.
Premium extensions included
The extensions below are included with the theme, you can also use any of the free extensions available for JobHive.
Extensible by design
There's a dozen of free and premium extensions that allow you to easily extend the core functionality with 1 click, directly from your WordPress dashboard.
Easily monetized
With JobHive and its extensions, there are at least 3 different ways to monetize your website and turn it into a profitable online business.
Trusted by 5,000+ websites
This theme is powered by HivePress, our multipurpose directory plugin already trusted by 5,000+ active websites.
Killer plugin
Do exactly what it says. Awesome plugin with lots of functionalities and especially the support provided by the author.
Happy I found it!
It seems new and very promising directory/classifieds plugin, easy to set up, clean, with all needed free features.
6 stars
5 stars is not enough for this plugin. Fantastic design. Congratulations to the dev.
Best directory plugin
HivePress is an exceptional plugin. Tons of customization options and very easy to use. Support is great too.
Amazing plugin!
Professional, structured feature, and open source at the same time. Truly amazing!
Built with developers in mind
A lightweight framework with powerful APIs.
Structured Code
We follow the MVC pattern and WP coding standards, so the codebase is well-structured and readable.
Easy Theming
Easily customize JobHive styles via the readable CSS classes or by overriding the HTML template parts.
Hooks API
A set of actions and filters that allows you to customize or extend the JobHive core functionality.
REST API
There's a REST API endpoint for every front-end action so you can manage JobHive via third-party apps.
Top-notch support
JobHive is directly supported by its developers, so any issues are resolved in the fastest and the best way possible, by people who know their product inside and out.
Friendly community
The plugin that powers JobHive is open-source, so there's a growing community of website owners helping each other and showcasing what they built.
Get started in minutes
Purchase JobHive now and start building your website.
FAQ
How to download the purchased items?
After the successful payment, you will receive an email with the download links, along with the license key required for getting support and automatic updates. If you didn't receive the email, please contact us at support@hivepress.io and we'll resend it.
How to enable automatic updates?
Once you install the purchased items, please enter your license key in HivePress > Settings > Integrations > HivePress Store section.
Where can I get support?
Please create an account on the support forum, using the same email address as you used for the purchase. You can also contact us via email at support@hivepress.io
What is your refund policy?
We offer 30-day money-back guarantee, which means that if you change your mind within 30 days of the initial purchase date, you can request a refund of your payment.