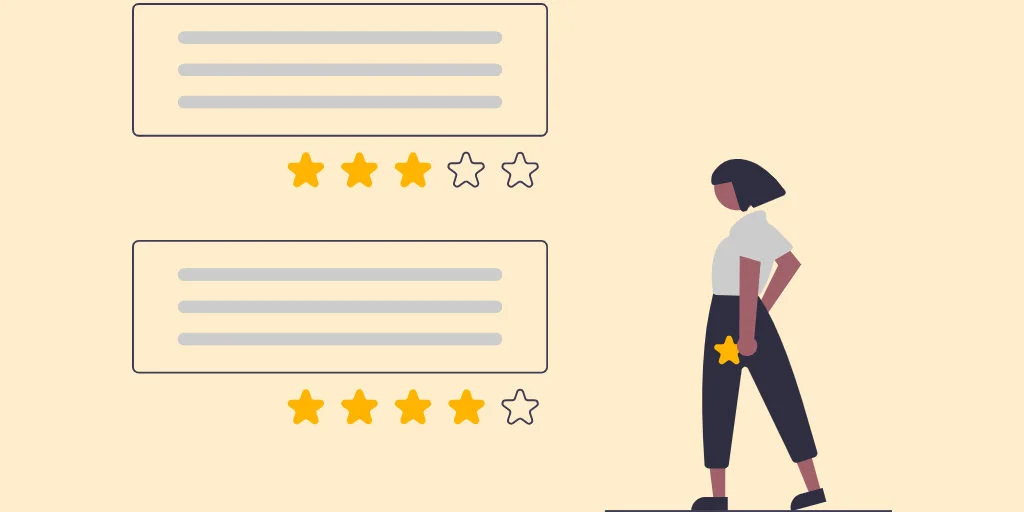 With easy access to the web, people have significantly changed the way they shop today. Customers are constantly reading online reviews to decide if they should buy a product, hire a specialist, visit a destination, or eat at a restaurant. These days reviews not only influence clients' decisions but may also strengthen a company's credibility.
It's rare to blindly make a purchase decision without reading through several online reviews. So it's really important to allow website visitors to share their opinions about the products or services they bought on your website. That's why, in this short tutorial, we'll show you how to install and set up the HivePress Reviews extension that allows users to rate and review listings.
Please note that in this tutorial, we'll use HivePress, a free WordPress directory plugin. If you use another directory solution or marketplace theme please consider using the review functionality compatible with the theme or plugin you have.
For a better understanding of how to install and set up the Reviews extension on your website, we've built a listing website using the free WordPress directory theme, ListingHive and imported its demo content.
Let's move to the first step!
Installing the Reviews Add-on
Your starting point is to install the Reviews extension. It's a free extension, so you can do it directly from your WordPress dashboard by going to the HivePress > Extensions section. Then you need to find it among other HivePress extensions and click on the Install button. When the installation is finished, click on the Activate button.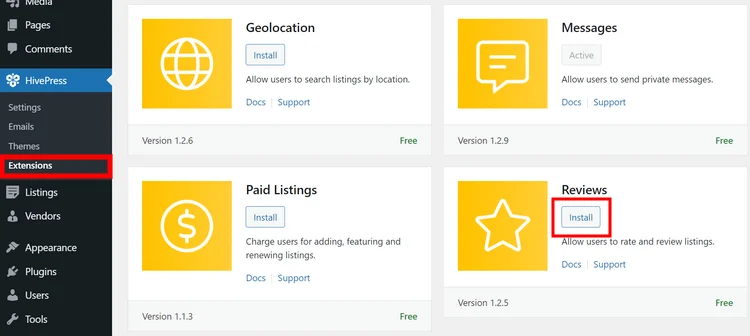 In the same way, you can install the other HivePress extensions if you want to enhance your website with some extra features (e.g., Geolocation, Favorites, Messages and so on).
Once you install and activate the extension, it's necessary to set it up in the WP Dashboard > HivePress > Settings > Reviews section.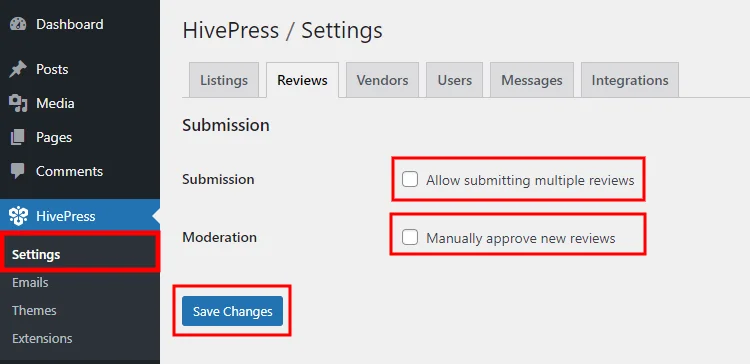 There are only two options that you can customize. Firstly, you can enable the "Submission" function to allow users to submit multiple reviews about one listing. However, beware of this feature since certain website visitors may start leaving dozens of spam reviews. Secondly, you can enable the moderation feature if you, as an admin, want to approve each listing review manually.
After you enable or disable any option, don't forget to save changes.
Testing the Reviews Functionality
Alright, since we already have the necessary prerequisites to allow users to rate and review listings, let's check how everything works. In this tutorial, we're using the ListingHive theme with its demo content imported as an example, so we'll register a new user account and try to leave a review about one of the pre-made listings. To do that, we need to log out from the admin account and proceed by registering a new user account.
Once signed in as a regular user, let's choose a random listing and click on the Write a Review button.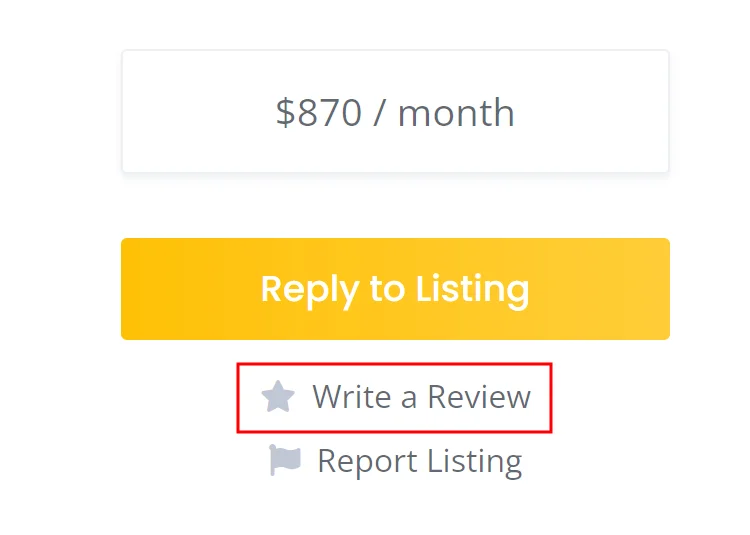 As you can see on the screenshot below, there will be a window where a user can leave a review as well as rate a listing. When finished, simply click on the Submit Review button.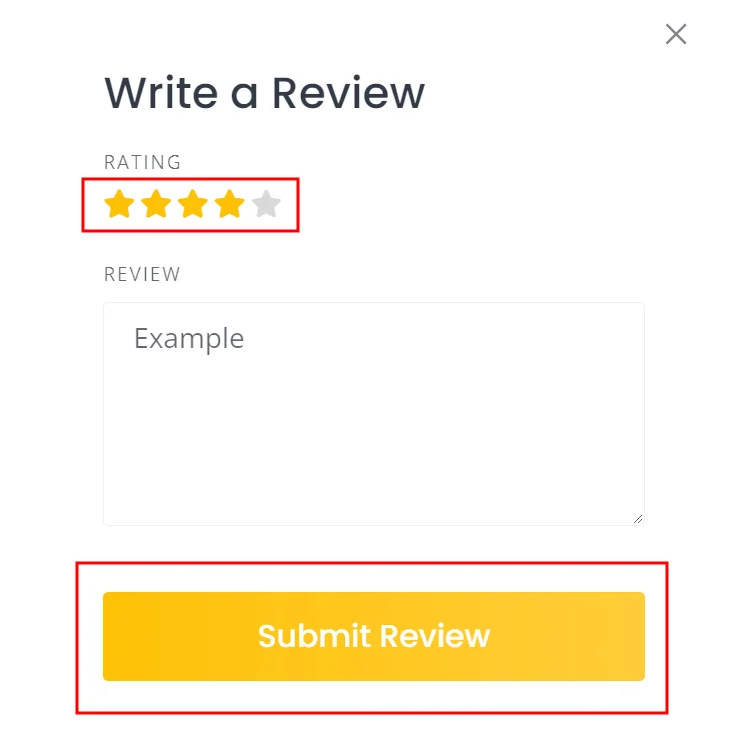 If moderation is enabled, each review should be approved by the website admin before it appears on the front-end. You, as an admin, can approve, edit or delete new reviews in the WP Dashboard > Comments section.

Once you click on the Approve button, the review will appear on the listing page (as shown in the screenshot below).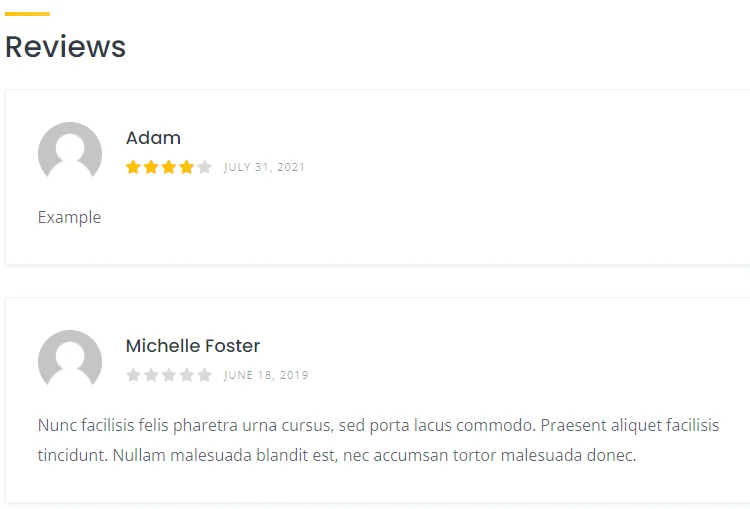 Summary
That's all! As you probably noticed, it's not a big deal to install and set up reviews on your HivePress-powered marketplace or directory website. However, even such a minor feature as reviews improves UX on your website a lot. For example, for such websites as travel directories, restaurant directories, or Airbnb-like websites, the ability to rate and review listings is essential.
We also recommend you to take a look at other HivePress extensions since you can create a website with unique functionality by simply combining different add-ons. Moreover, all the extensions are powered by the same plugin, so no technical roadblocks or compatibility troubles should occur.
Additionally, you may check our review of the best listing WordPress themes and an overview of the most common mistakes that people make when building a WordPress directory website.
Related Articles
A complete tutorial on how to add location search in WordPress.
Build your own classified ads website without a single line of code.
A short explanation on how to set up the HivePress Messages extension.