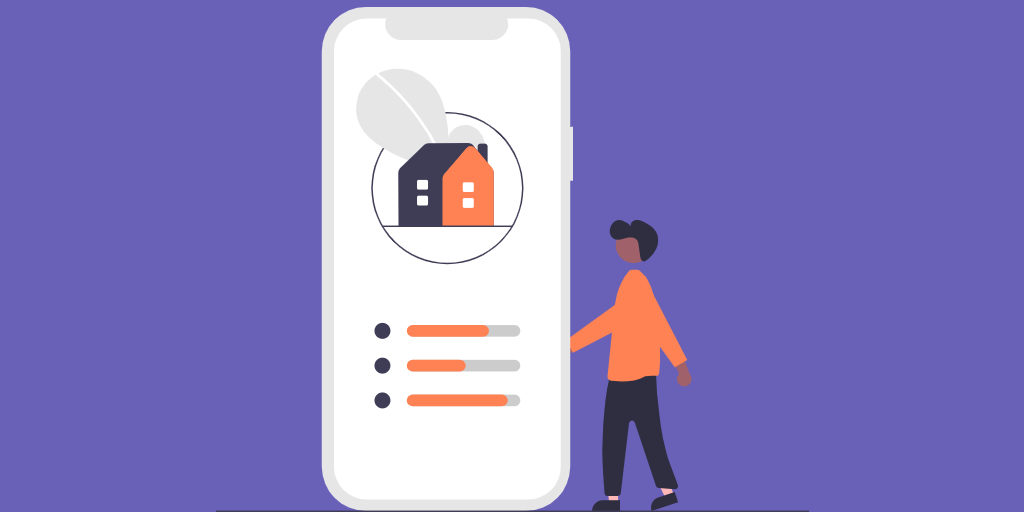 When Airbnb first arrived on the scene, it was a game-changer. Such marketplaces connect people who want to rent out their properties with those who are looking for places to rent in some specific area.
Building your own peer-to-peer lodging service similar to Airbnb is not a tough deal anymore, and it can become a great source of revenue since any booking platform can be easily monetized in several ways.
In this tutorial, we'll show you how to create a booking website like Airbnb with WordPress without any coding skills. We'll walk you step-by-step through the whole process of setting up your website and briefly explain the most popular monetization models for your booking platform.
However, in order to build a website like Airbnb, you need to use a theme and a plugin that are tailored for this use. In this guide, we'll use a free marketplace plugin – HivePress and its default ListingHive theme that has everything you need already coded and ready to go, so you don't have to mess with code. Also, we'll use the Bookings extension to set up bookings functionality on your website.
Okay, let's move to the first step!
Installing a WordPress Theme
If you want to build a website, your first step should be installing a WordPress theme. In this tutorial, we'll use a free ListingHive theme that you can install directly from your WordPress dashboard by going to the Appearance > Themes page. Then you need to click on the Add New button and find ListingHive via the search bar. Finally, install and activate it.
Once you activate ListingHive, there will be a recommendation to install HivePress. It's a plugin that will power most of the marketplace features on your booking platform, so it's necessary to install and activate it by following the suggested link.
To keep things simple, we'll also import the ListingHive demo content to show you how everything works with pre-made listings. You can download the demo content for free from our website, and if you have any issues with importing it, there's a step-by-step screencast that you can follow.
Now let's move to the next step and install some add-ons.
Installing Add-ons
First of all, you need to install the Bookings extension in order to enable the booking functionality on your website. To do that, navigate to the Plugins > Add New section, then click on the Upload Plugin button. Next, you need to upload the extension ZIP file and proceed by installing and activating it.
Besides bookings, you can enhance your website with several more features. For example, you can install the Geolocation extension in order to integrate your website with Google Maps and allow users to search properties by location. It's a crucial feature since location is the most important factor for travelers when they are looking for a place to stay.
Also, you can install Reviews and Favorites extensions, so users will be able to leave a review about a property after the end of the trip or add it to a list of favorite listings to easily find it the next time they need a place to rent.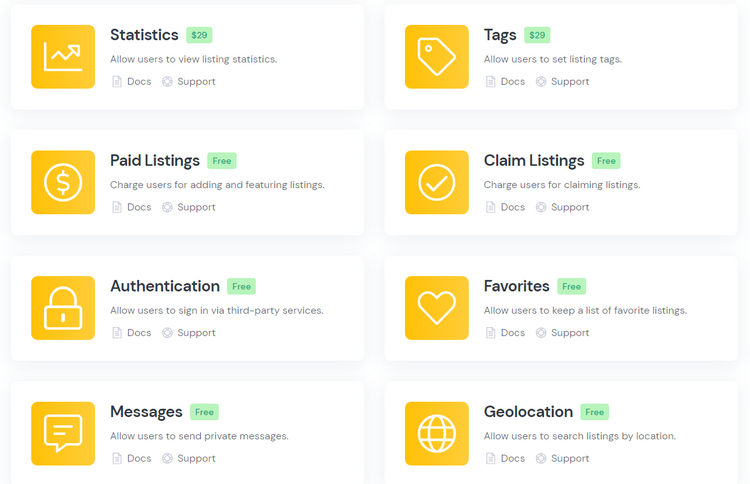 Feel free to check the whole bunch of HivePress add-ons in order to enrich your property booking website with additional features. You can find a list of the available extensions in the HivePress > Extensions section.
Once you install all the necessary add-ons, you can move to the next step.
Adding Booking Attributes
Alright, now you can start setting up your booking marketplace. Since each website is unique, it may require different booking details depending on the site niche and requirements. In the case at hand, we are building a website similar to Airbnb, so let's add some custom fields specific to property bookings. You can add custom fields in the Bookings > Attributes section.
For example, let's add a "Check-in" attribute so users will be able to ask for early check-in when they book a property on your website. Simply set the attribute name, allow its front-end editing, and select the attribute type. It's better to select the "Checkbox" type for this one. When finished, click on the Publish button.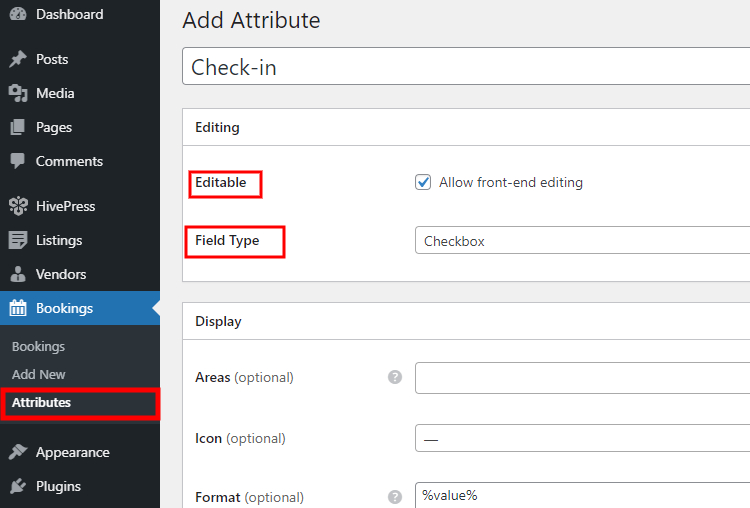 Once you publish the attribute, you can customize it to your liking. For example, you can add a caption for your custom field (e.g., "I'd like to request early check-in"), and then you can set a display format in order to define how the field value will be displayed on the booking page. When finished, click on the Update button.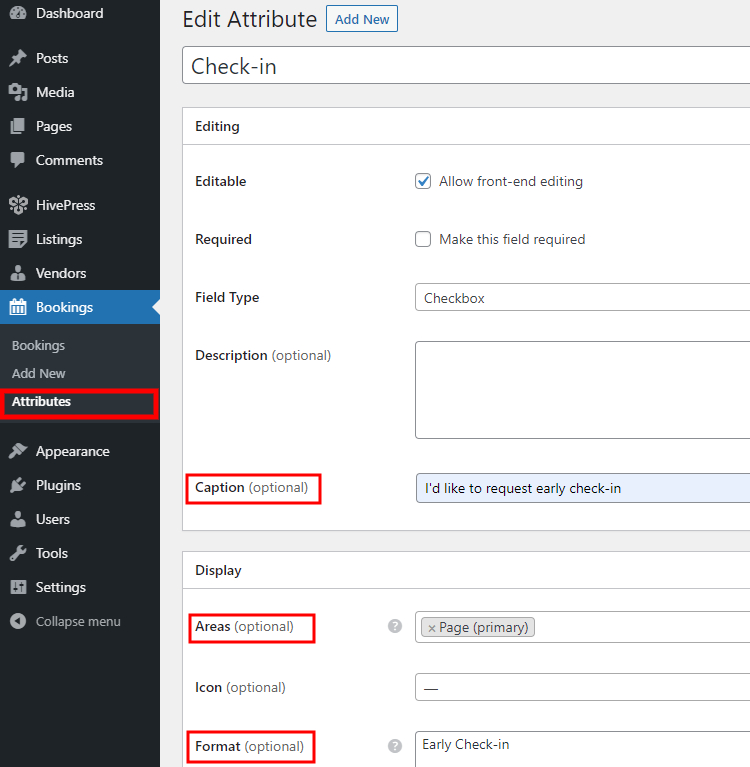 That's it! In the same way, you can add more custom attributes, depending on your website niche and requirements. Okay, now let's try to add the first property listing.
Adding a Listing
Since we imported the ListingHive demo content, we'll add a new listing to one of the pre-made categories, e.g., let's add a new listing to the "Apartments" category. To get a better sense of how it works for users, we'll do it from the front-end. To do this, go to your website, click on the Add Listing button, and select the "Apartments" category.
First of all, you'll have to fill in all the necessary details about your apartment, like square footage, location, price, description and so on. Next, you can customize the booking settings. You'll notice that there are a few fields related to the booking restrictions.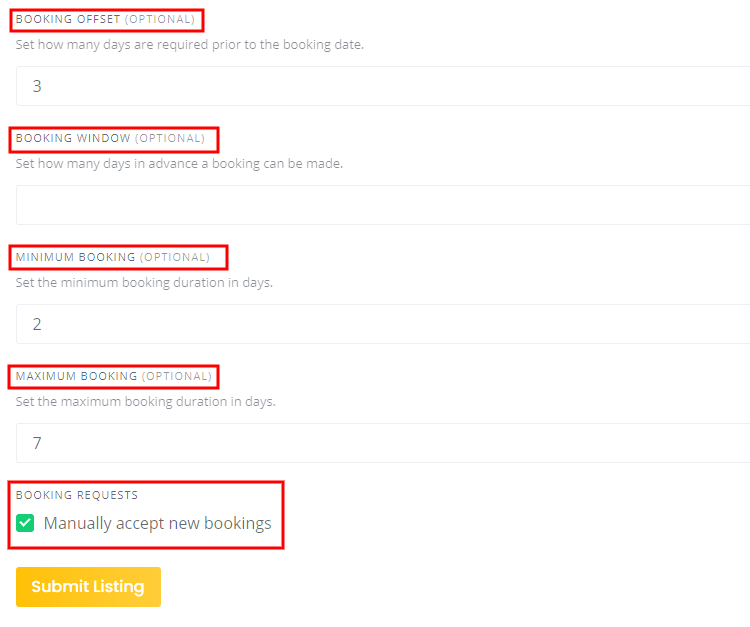 For example, you can set how many days are required prior to the booking date, then specify the booking window that defines how many days in advance a booking can be made. Also, you can set the minimum and the maximum booking duration to avoid single-day or long-term bookings. Finally, you can enable the "booking requests" option to accept each booking request manually.
When you complete the listing form, click on the Submit Listing button.
Booking a Property
Now let's sign out and register a new account in order to check the whole process of booking an apartment by a regular user. Simply log out of the admin account, click on the Register button and complete the registration.
Once you are done with the registration, go to the "Apartments" category and locate your previously added listing. Now let's try to book it. If you have set some booking restrictions, users will be limited to a certain extent.
For example, in the case at hand, users cannot book this apartment for more than 7 days and cannot check in earlier than 3 days from today (take a look at the screenshot below). That's because we have set several booking restrictions in the previous step.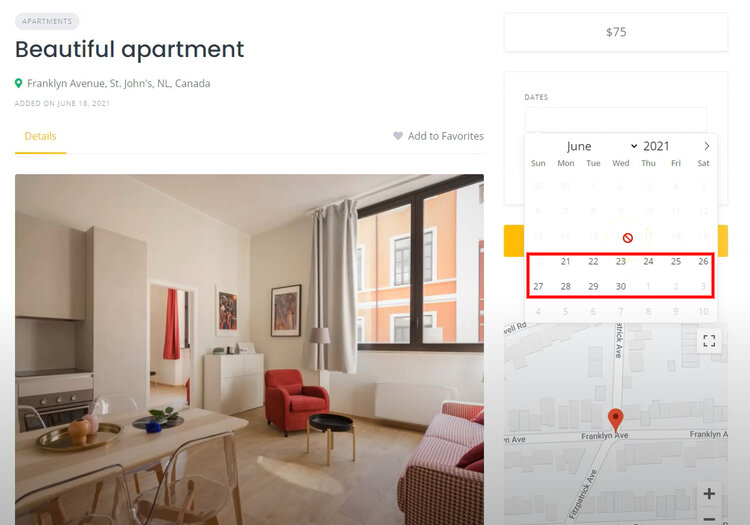 Now let's book our recently added apartment. Simply pick the dates and click on the Request to Book button.
There will be a redirect to the confirmation page, where users can verify all the details before sending a request, as well as add some notes and request an early check-in via the custom field that we previously added. After you check all the details, click on the Send Request button.
Once you book an apartment as a user, you can manage the booking request in the My Account > Bookings section.
Okay, now, let's switch back to the admin account and accept the booking request. Navigate to the My Account > Bookings section, and you'll see a pending request for booking. As a host, you can accept or decline it. Let's accept this one by clicking on the Accept button.

That's it! Once the booking is accepted, users receive a booking confirmation via email so they can start packing their suitcases.
Also, keep in mind that there's a calendar feature that allows hosts to block or unblock specific dates to make them available or unavailable for new bookings. Moreover, the booking calendar helps hosts to see the whole picture of the month, like upcoming bookings, available and unavailable dates, and so on.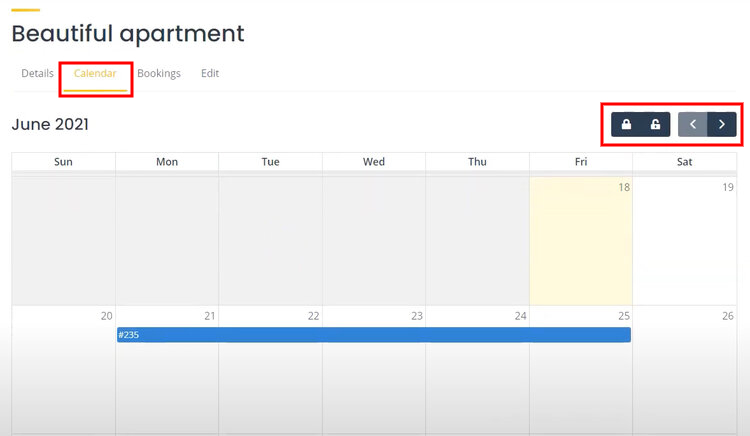 Monetizing a Booking Platform
Finally, we'd like to mention several monetization models that you can use in order to make money with your booking website.
Firstly, you can charge hosts a one-time fee for listing their properties on your website. It's a widespread way of making money that is used by thousands of marketplaces. You can easily create and sell listing packages with the Paid Listings extension, which is available in the HivePress > Extensions section.
However, websites like Airbnb use another monetization model. These booking websites make money from the commissions and transaction fees that they take for each booking. For example, Airbnb takes a flat 10% commission on each booking from the hosts and also charges travelers 3% of the booking amount as a transaction fee. If you want to use this monetization model, you can set up commissions on your website in no time with the help of the Marketplace extension.
You can choose any of the above-mentioned monetization models or take advantage of both of them. Additionally, if you get decent traffic, you always have an option to place banners on your website or use Google AdSense in order to make an extra profit.
Wrapping Up
That's all for today! Hopefully, this article has given you an idea about the tools you can use to build your own booking platform similar to Airbnb in no time. Like with any online platform, gaining the first users may take some time and marketing efforts, but once you get decent traffic, your website may become a profitable business.
So, if you want to create a booking website like Airbnb or Vrbo with WordPress, bear in mind that you can easily build it with the HivePress plugin and its Bookings extension. They are both lightweight, easy-to-use, and highly customizable.
Related Articles
Create and monetize a real estate directory website in 7 steps.
Create a сar listing or dealership website with WordPress in a snap.
Build your own classified ads website without a single line of code.