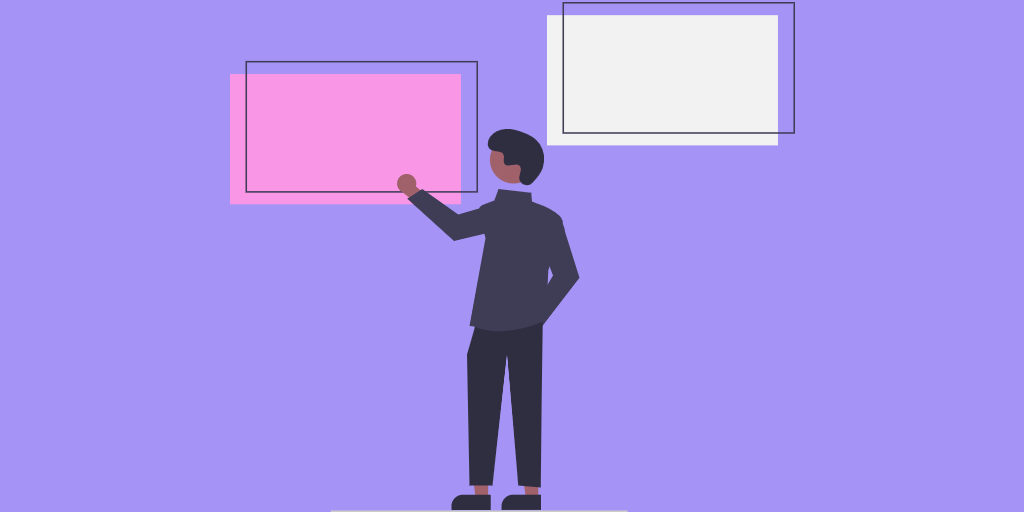 Starting an online business involves making important decisions, one of which is a choice of niche.
When launching a niche micro-job website, there are a lot of factors to consider, and in this article, we'll give you a few tips on how to choose a niche for a micro-jobs platform.
Let's start without any further ado!
Niche Websites vs Unspecialized Platforms
To begin with, let us explain why the choice of a niche is so important.
Some people mistakenly think that the more comprehensive and all-encompassing platform will attract more customers and thus bring more money to a website owner. However, this approach is nothing than erroneous.
"Less is more" is a core idea of contemporary design influenced by the minimalist movement. The same approach is valid for creating a website. Let's compare the key characteristics of niche and unspecialized websites and see why opting for a specific sphere is a far better choice.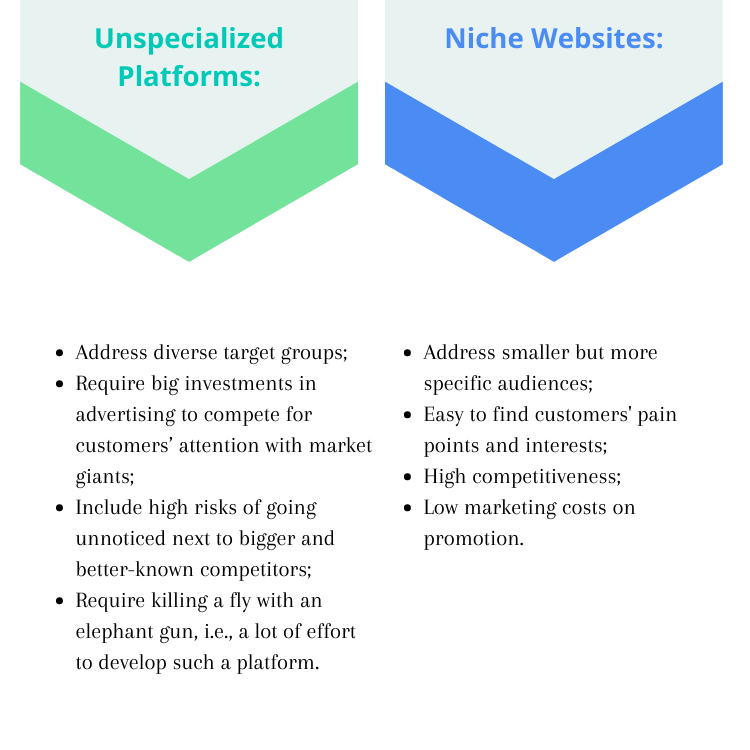 That's why we highly recommend avoiding reinventing the wheel and instead focusing on finding your niche.
Let's see how to do it in the next section.
What to Consider When Choosing a Niche?
So we've agreed that being a Jack of all trades isn't the best business strategy when launching a freelance platform. If you want your micro-jobs website to succeed, here are several crucial moments to take into account.
Do Your Research
Don't just sit there and wait for some great ideas to come to your mind; instead, go online and search for all the available data on people's interests, current trends, and top queries. Knowing what people are looking for will help you to define the market needs.
Here are some tools that you can use for your research:
Google Keyword Planner – this instrument shows how often Internet users search for certain keywords;
AnswerThePublic – it gives you a list of the most frequently asked questions about specific keywords people are interested in;
Google related searches – although sometimes overlooked, it's probably the simplest way to get to know what people are looking for on the internet.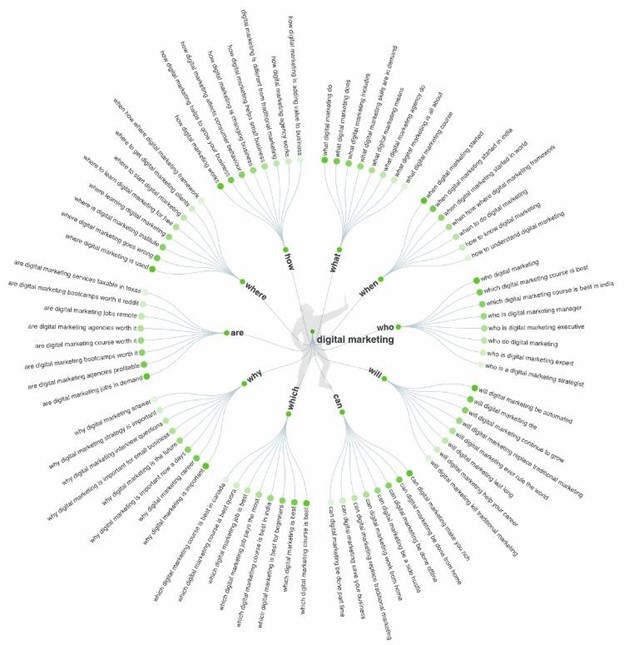 Using these instruments may give you a hint of what direction to take when developing your micro-jobs platform.
By studying figures, you can check if there's demand for a certain sphere. Then you can continue to search for all the valuable data to deepen your understanding of the topic. Sticking to a specific field will allow you to conduct extensive research and learn all the nuances of a particular niche.
Once you have accumulated enough information, you can identify what's in high demand in the market and create a micro-jobs website to close this gap.
Learn From Dogs, Top Dogs
Learn from those who've already made it in the micro-jobs market: study business strategies, marketing techniques, successes and failures of all the most influential existing niche platforms.
Spare no effort to define the unique characteristics of these websites:
What do they do differently compared to other micro-jobs websites?
What helped them survive the competition and become the best in their spheres?
How do they attract clients?
How do they make money?
What do they lack?
Finding the answers to these questions will help you figure out the winning strategies of different successful micro-jobs platforms. Use them as inspiration for building your own website. Analyze their strengths and think about how you can avoid similar weaknesses on your micro-jobs platform.
All this work will eventually enable you to come up with a bunch of great ideas for your niche website.
Create a Unique Approach
The next essential point is the uniqueness of your website.
As we mentioned above, one of the biggest threats when starting a new micro-jobs website is getting lost among the established key players in the market. Investing huge sums of money in advertising will not lead to significant results unless you can also offer your potential clients some more competitive services compared to other platforms.
You should make your micro-jobs website distinguishable in the market to gain the necessary visibility. Think of ways of providing extra value or adding unique features. For example, you may offer your customers lower service fees, focus on some extraordinary fields, guarantee top-quality services provided by exclusively experienced freelancers who have passed the platform's selection process (like Toptal), etc.
Suppose you want to develop a micro-jobs website for voice-over actors. What can be your key characteristics? Maybe, you'll offer the freelancers a fee-free first order or a discount for repeated projects with the same specialist for the customers. The choice is yours but do your best to find your highlight.
Put Yourself in Your Potential Customers' Shoes
Think about the people who'll use your services.
Remember that your website visitors fall into two categories:
Take into consideration their unique and different needs when building your website.
Find the answer to what their main pain points are.
Check out what people share on niche forums and in any communities specialized in your sphere of interest. If possible, ask them about their experiences and expectations:
What do freelancers say about service charges on other platforms? Are they satisfied with the conditions, or do they consider fees too high?
Are there enough payment methods available on other websites?
Do customers find them trustworthy? How enjoyable is their overall experience of using the micro-jobs platform to find service providers? Do they lack any features, such as specific search filters?
Don't hesitate to interview people you know about their needs and preferences. You may also ask people:
What catches their attention and convinces them to use a particular platform?
What features do they find the most helpful?
What commission would they agree to pay?
These are just a few questions you can ask your family, colleagues, and friends. Get creative and try to cover all the essential aspects in your survey.
Think About Monetization Beforehand
Having followed the previous steps, you'll know your potential clients' requests and will be able to foresee what they'll be willing to pay for. It's better to think about all possible business models for your freelance marketplace before even launching a website.
Here are some of the most common monetization models for micro-jobs platforms:
Charging commission fee – it means that the website gets a percentage as a service fee from every transaction made on the platform;
Featured listings – this method is based on the natural desire of freelancers to improve their visibility in search by highlighting their profiles in the list for a fee;
Hosting ads – once you reach a necessary level of traffic, you can sell advertising space using any available tools, such as Google AdSense.
Check out our other article to learn more about the most popular ways to monetize a service marketplace website.
Conclusion
Making decisions isn't easy. It requires courage, knowledge, and luck. We hope this article gave you a few ideas on how to decide on a niche for your future micro-jobs website and now you have a better idea of what to do next.

If you haven't chosen a theme for your micro jobs platform yet, you may consider TaskHive, it's a versatile WordPress theme with tons of features right out of the box. You can check its overview to get a better idea of all the features.
You might also be interested to read about:
Related Articles
Tips on how to pick a niche for your influencer marketing platform.
Learn 3 ways of how to make money with your classified ads website.
A quick guide on how to make money with your WordPress peer-to-peer marketplace.