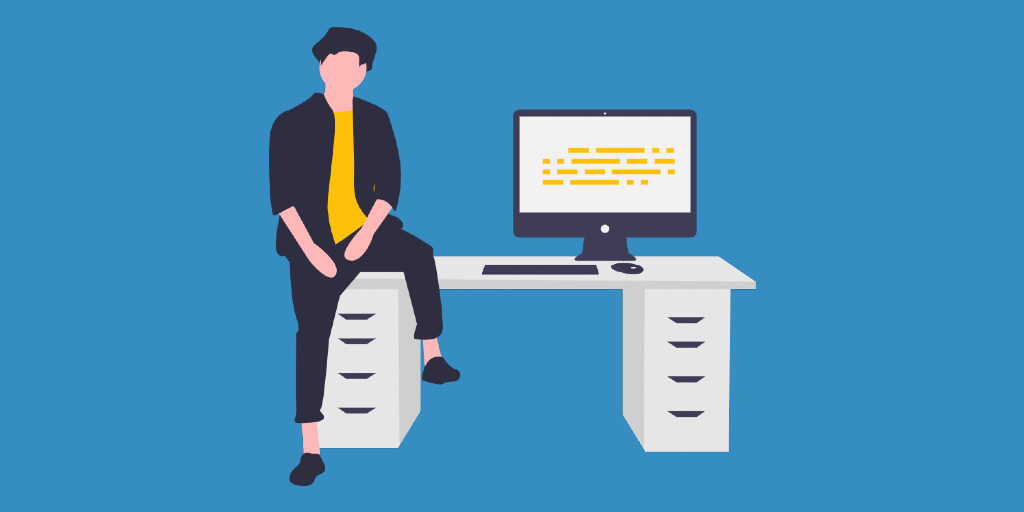 The widespread use of the internet has changed many things. The workplaces and job market are no exception.
Nowadays, more and more people turn to the web to find their next full-time employment or remote one with help of the online job portals, mutually beneficial places where both applicants and employers can help each other. With such an increasing demand many people build their own job board websites and monetize them.
If you want to create a job portal website, then WordPress is your best option. It is the most widely-used content management system on the web and it has a vibrant community of developers that constantly improves it and creates useful plugins and themes.
In this quick tutorial, you will learn how to build a job board website with great functionality in next to no time using WordPress. Before we start, please, make sure that there's a clean WordPress installation. Many hosting providers offer 1-click WordPress installation, but if you are a more advanced user, you might prefer to install it manually.
In this guide, we're going to use JobHive, a lightweight yet functional job board WordPress theme. It's based on HivePress, a free WordPress directory plugin that allows you to build any type of directory and listing websites.
Are you ready to create a job portal website? Let's start then!
Installing JobHive
First, you need to install JobHive. To do it you can simply navigate to the Appearance > Themes section of your WordPress dashboard, then proceed by selecting "Add New" and "Upload Theme" options, and finally, select the theme ZIP file. Wait for the installation to complete, then click "Activate". Once activated there will be a suggestion to install the recommended plugins. We advise you to install and activate all of them in order to enable the full functionality of your job board.
After you finish the installation, please add your license key in HivePress > Settings > Integrations > HivePress Store section to enable automatic updates.
You can also follow the screencast below to install JobHive and the required plugins directly from the WordPress dashboard.
Importing Demo Content
This step is optional. If you are an experienced WordPress user you can skip this step, but if you want to get a better understanding of how everything works you can import the JobHive demo content to start with existing layouts.
Please follow the screencast to import the demo content.
Customizing Styles
Your next step is to stand out your job board website from the crowd. In order to give your site a unique look and feel – navigate to the Appearance > Customize section and go through the appearance settings, such as primary and secondary colors, heading and body fonts, logo, and background images, etc.
If you find it difficult, you can check the following screencast.
Editing Pages
Next, you can edit any page of the imported demo content from your WP dashboard. You simply can go to the Pages section and select "All Pages". Then you need to choose the page you want to edit and click the "Edit" button. Also, it is possible to do it directly from the page you want to modify – you just need to click the "Edit page" button at the top of the page as shown in the screenshot below: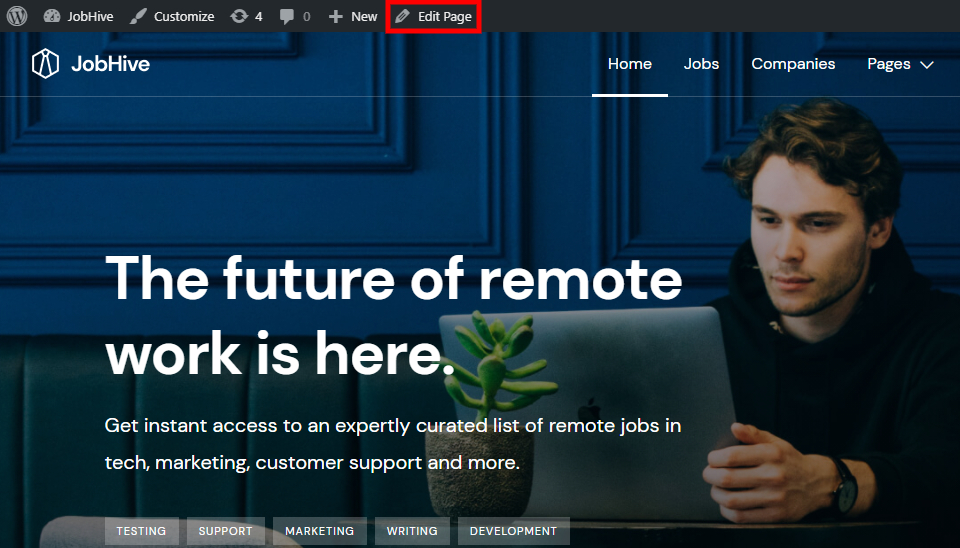 There are two different ways to edit pages, depending on the version of your WordPress. If you have WordPress version 5.0 or later you can do it with "Blocks" that are available in the default WP editor.
You can check the following screencast that shows how to add blocks.
Also, you might need to use shortcodes instead of blocks if you have an old version of WordPress, still use the Classic Editor or some third-party page builder.
You may have a look at the screencast below to add shortcodes.
Configuring Settings
The next step is to get familiar with the general settings of HivePress to set up your job board. Please head over to HivePress > Settings.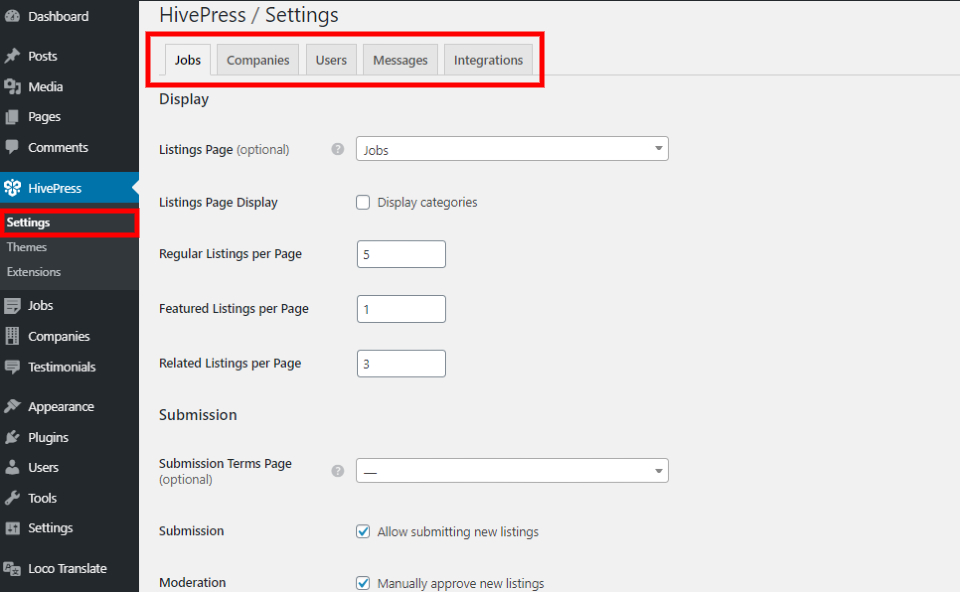 We recommend you to go through all sections so you can understand how everything works. In each section there are many different options, for example, you can:
Choose a number of job listings displayed per page;
Set an expiration and storage period for job listings;
Allow new users to register and submit new listings;
Turn on the manual approval of each new listing and so on.
So, you can explore this section and find more useful functions available. But you don't have to limit yourself to the default functionality. You can easily add some additional features to your website. Let's proceed to the next step to find out how.
Extending the Functionality
At this stage, when you have a functional job board website, it's time to improve it and make it great instead of just good. You may want to consider adding more features to provide your users with even more functionality. There is a bunch of free and premium extensions that you can use for your website. For example, you can install the Favorites extension to allow users to keep a list of favorite listings or Geolocation to let users search for job listings by location, and so on. Also, there are Memberships and Paid Listings extensions that are essential if you want to monetize your job board website. To check all of them go to HivePress > Extensions.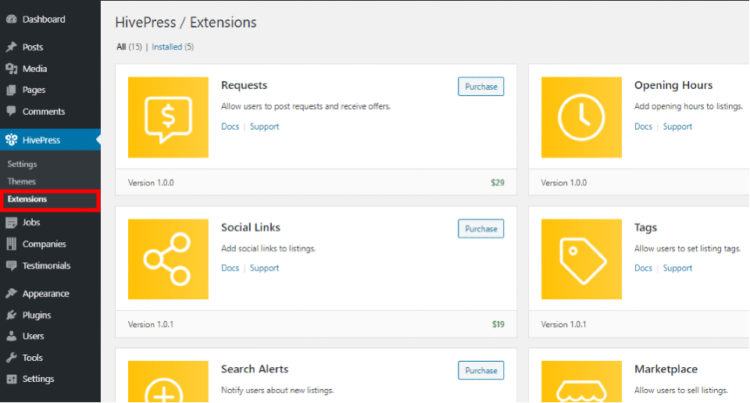 Wrapping Up
That's all. You've just learned how to create a job portal website with WordPress without coding skills.
Once you launch it, you can start promoting and monetizing your job board to turn it into a profitable business. On your website, you can charge companies for adding job listings or charge users for viewing the company details, and so on. Also, in order to get a better understanding of how you can make money from your job portal, you can take a look at our article on how to monetize a job board website.
So, if you want to quickly create a job portal website and launch it without spending thousands on custom development, JobHive is a perfect solution.
Related Articles
A quick guide on how to make money with your peer-to-peer marketplace.
Just a few simple steps to create your own event directory.
Build your own business directory website with WordPress in a blink of an eye.