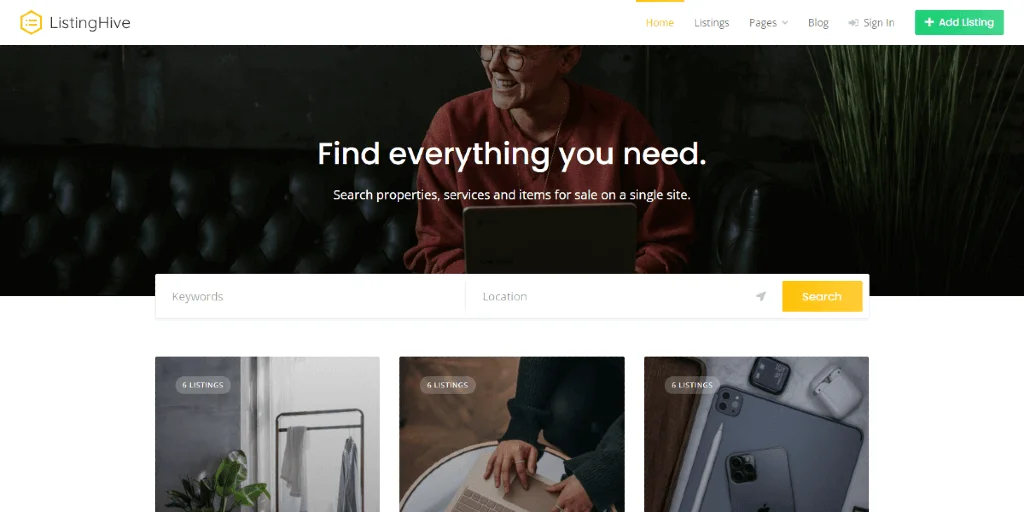 Directory websites help people find various services in different niches and industries. They also serve as an extra marketing channel for businesses and help them reach new customers. Last but not least, a well-functioning and popular directory website can be a great source of income for its owner. 
So if you are looking to create a directory website for any niche (e.g., restaurants, events, cars), you can easily do it with WordPress and a fully-featured directory plugin along with a clean theme.
In this article, we'd like to show you ListingHive, a free WordPress directory theme that combines the simplicity of use and functionality.
ListingHive Overview
ListingHive is a free WordPress directory theme that allows you to build whatever kind of listing and directory site you want. At the time of writing, it's one of the most popular free directory themes on WordPress.org, with 8000+ active installations.
It's powered by HivePress, a free WordPress plugin for creating any type of directory and listing websites in the next to no time. Since HivePress and ListingHive have been designed for each other, you won't have to look for additional plugins or worry about compatibility issues. Instead, focus on building your website with the lightweight and clean ListingHive theme, an all-in-one solution for building listing websites.
Key Features
The main features of the ListingHive theme include:
Front-end Submission
User Dashboards
Geolocation
Messages
Reviews & Favorites
Let's see in detail what ListingHive can offer you.
Front-end Submission
With ListingHive, you can create a perfect personal listing website (e.g., a product catalog) or you can build a multivendor platform where your customers will be able to add listings using front-end listing submission form.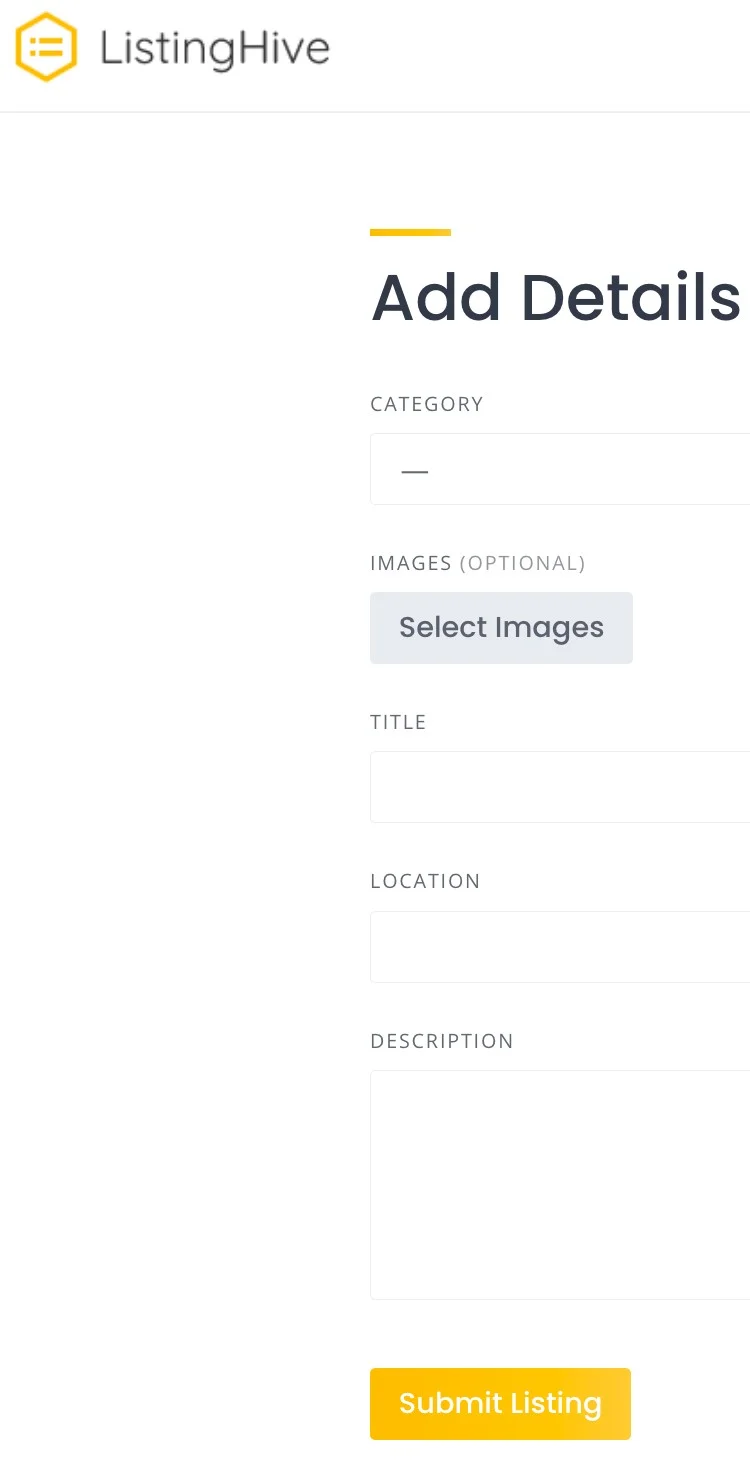 User Dashboards
You can allow the registration option, and the users will be able to register and have their dashboards. It'll give them access to a variety of features on your platform, such as sending messages, bookmarking listings, leaving reviews, etc.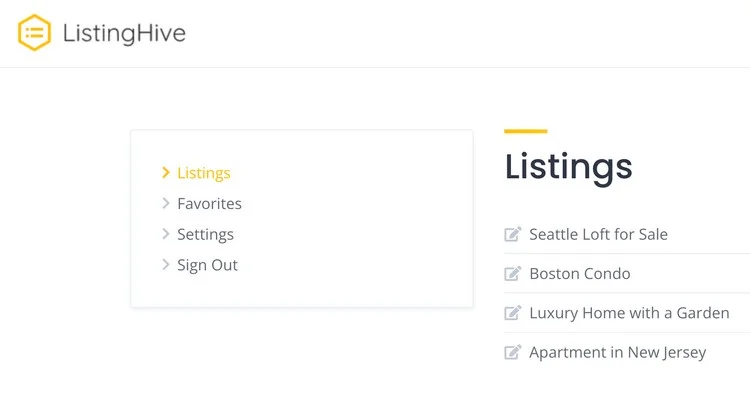 Geolocation
Since LightingHive comes with a geolocation functionality, you can enable the search for listings and vendors based on location. In addition, you'll be able to:
Choose between the supported by ListingHive Map providers that best suit your needs (currently, the theme supports Mapbox and Google Maps).
Set the maximum zoom level for maps.
Select the preferred unit of length among the available variants: miles & kilometers.
Restrict search results to certain areas, e.g., the California territory only.
Enable search by regions such as countries or states.
Turn on radius-based searches to allow users to see all the listings within a specified distance from a selected location.
Hide the exact address details, and show a circle area instead of the map marker.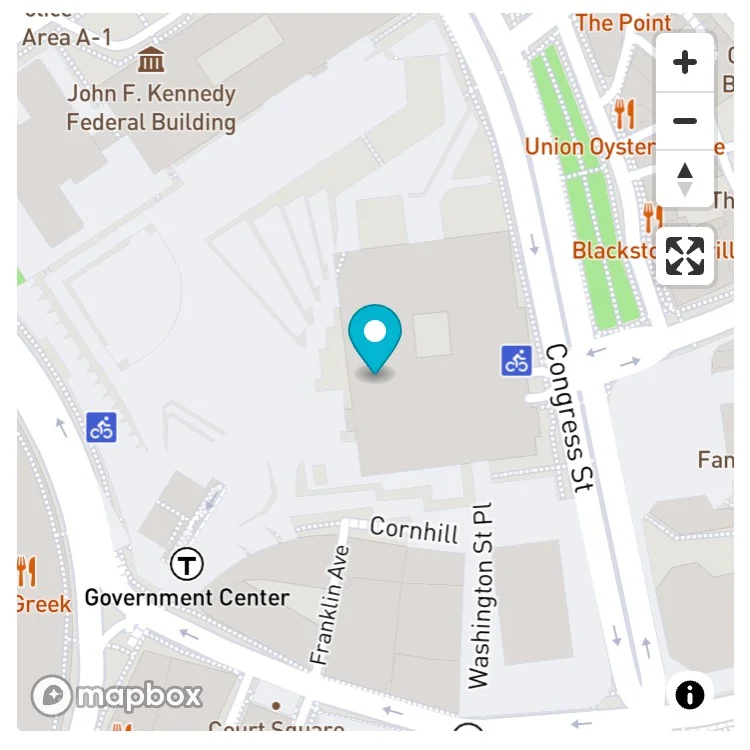 Messages
To make communication on your website possible, ListingHive offers you the Messages option:
The users will be able to contact each other; if required, you can also enable attachments to the texts.
In addition, ListingHive allows you to monitor the content of the conversations to prevent any possible violations of the rules on your platform.
Alternatively, you may opt for automatic censuring by blocking sending messages with the keywords pre-specified by the admin in the settings.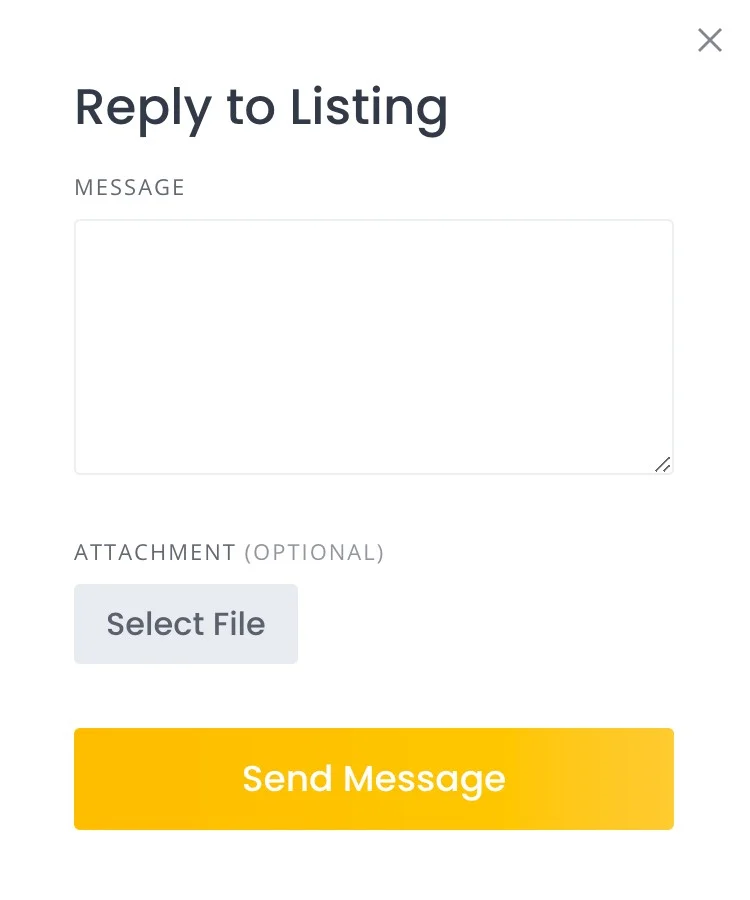 Reviews & Favorites
Thanks to the enabled Reviews, users can rate listings and leave comments, and vendors can respond to the reviews. To gain full control over the publications on your platform, you can turn on the admin's manual reviews approval. The possibility of multiple reviews submission is also included in this free WordPress directory theme.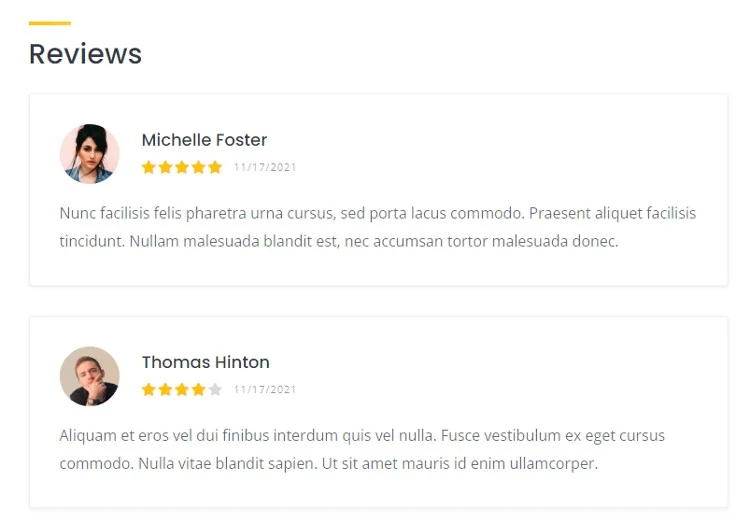 In addition, with the Favorites feature, users can easily bookmark interesting listings to return to them later. These listings will appear in the Favorites section in their dashboards.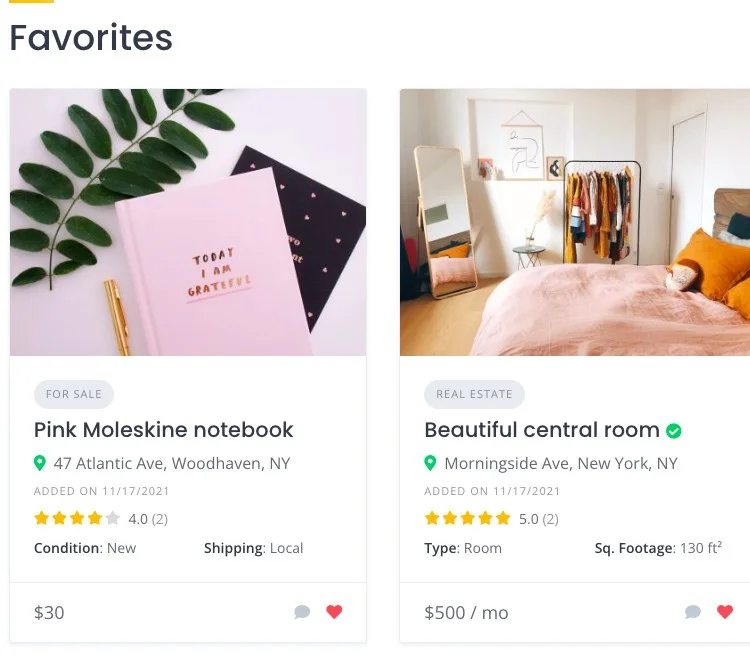 ListingHive Monetization
With ListingHive, you can not only create a great directory website but turn it into a profitable online business.
There are at least three monetization models available for your platform:
Charging a listing fee
Charging for listings featuring
Charging for claiming listings
Let's have a closer look at each of them.
Charging a Listing Fee
You can charge users for adding new listings. In this model, you can create various listing packages (e.g., Premium, Standard, Free) with different restrictions and allow your website users to choose between posting some listings free of charge or paying for a preferred package.
Charging for Listings Featuring
In addition to charging a listing fee, you can set a price for listings promotion and charge users for advancing their listings in the search.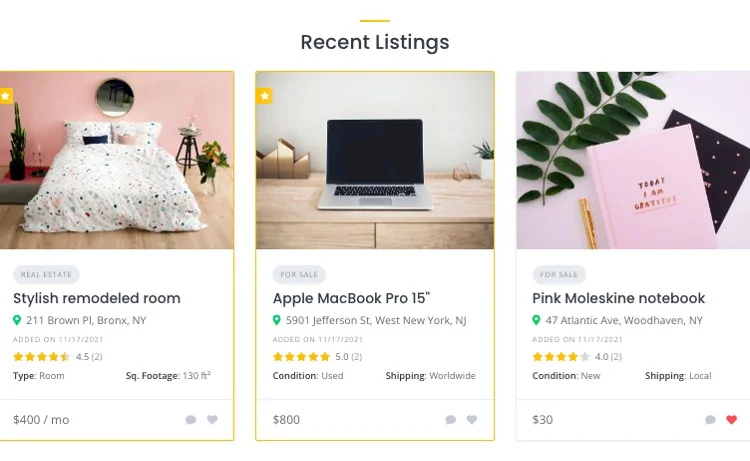 Charging for Claiming Listings
It's another monetization model that you can adopt. It'll enable business owners to claim listings and customize the displayed information for a set price.
This option is beneficial for both the platform and business owners. For the company, this will give access to editing claimed listings and communicate with customers in response to their feedback. And for you, this cooperation will give up-to-date and, thus, valuable content for your website users.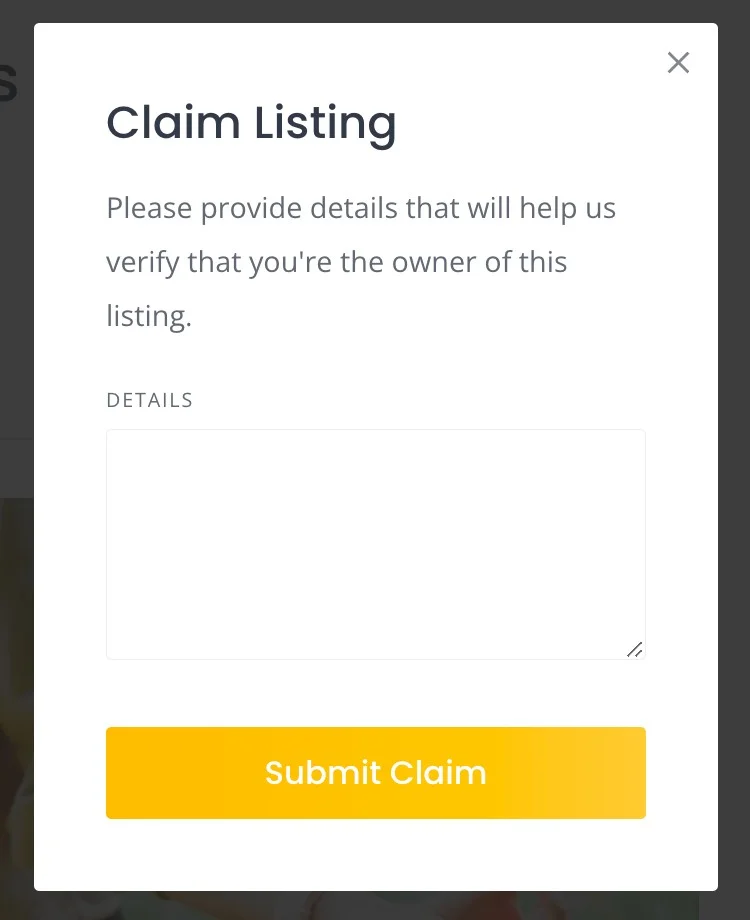 Moreover, ListingHive is fully compatible with WooCommerce, the most popular eCommerce plugin, that will provide secure money transfer services to your platform.
To learn more about monetization models, check out the article on 7 proven monetization strategies for WordPress directory websites.
ListingHive Extensibility
Since ListingHive is powered by HivePress, you're free to use all its available extensions. Currently, they are more than 15, and all are compatible with the ListingHive theme.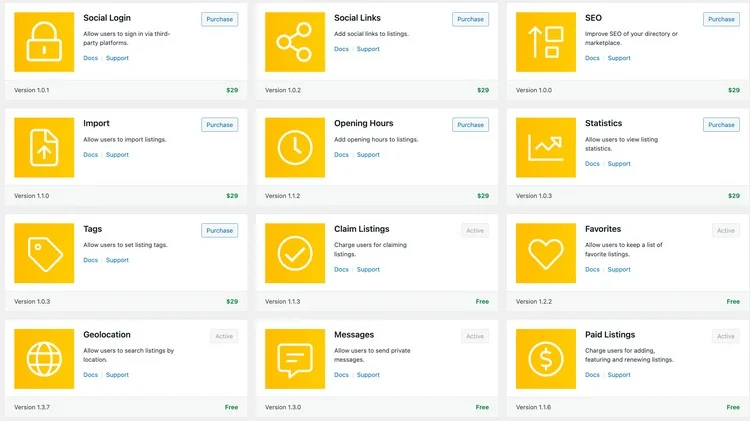 For example, you may check the following extensions:
Social Login – you can set up the sign-in form via third-party platforms;
Memberships – it'll allow you to charge users for viewing listings;
Bookings – this extension is needed to make booking listings possible.
A great variety of features to enhance your website are just the click of a button away!
ListingHive Customization
The ListingHive theme puts you in the driver's seat of creating a website. It comes with a wide range of clear and intuitive options to personalize your platform. At the same time, it has no hardcoded fields, which means you'll be able to add various custom listing fields, create search filters of your choice, and many more without any coding skills.
You can use it to build a listing website for any niche. If you need to develop a business directory, job board, real estate, classifieds, or basically any listing website, opting for ListingHive is a great choice!
Moreover, you'll be able to customize your website's layout using blocks, as ListingHive is fully compatible with the Gutenberg page builder. No more clichés, but unique design and arrangement!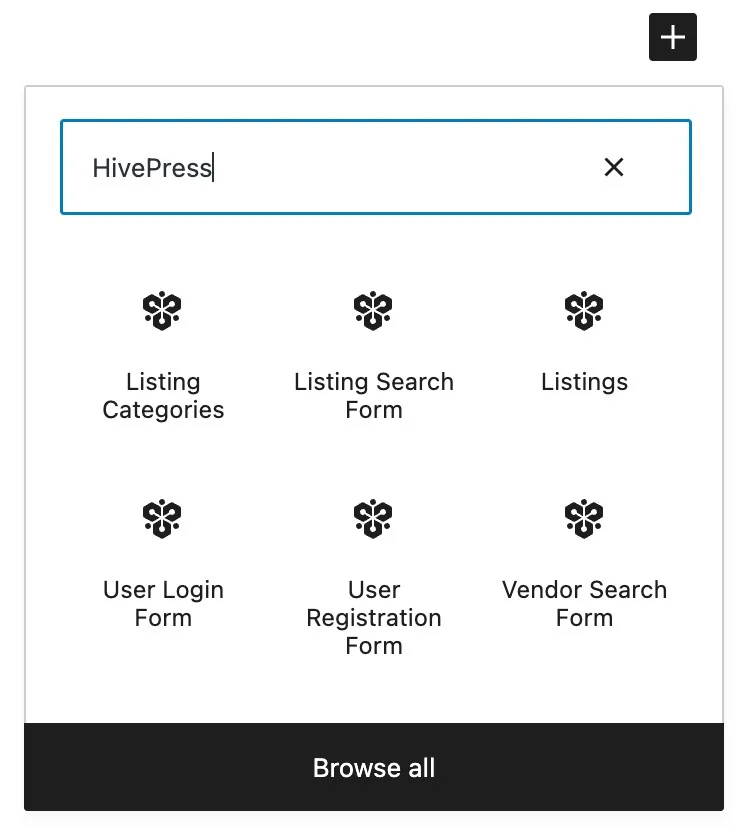 The theme is also integrated with the WordPress Customizer, which allows you to change the website's logo, colors, homepage settings, and many other characteristics to make your website truly remarkable.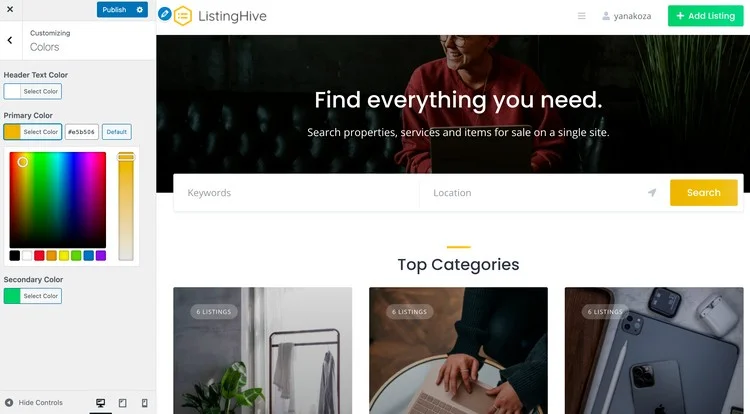 Moreover, you'll have access to extensive documentation, a knowledge base, and a code snippets collection available for everyone to simplify the website customization process.
You can start from scratch or import the ListingHive demo content to build your platform. To learn how to do it, please check out the screencast below:
Supported by Developers
Despite the ease of use, we are all human, and each experience of creating a website is unique. The ListingHive developers provide free support to every client and guarantee a 24 hours turnaround time. When reporting a bug, or asking for a piece of advice, be sure that the suggestions given will be the most suitable for the ListingHive theme.
Backed by the Community
Unlike some proprietary software, the ListingHive theme is completely free to use and licensed under GPL. It means that it doesn't depend on a single developer, and anyone can contribute to its development. You can study, share and modify the theme and thus keep it up-to-date and supported. As a result, it'll never get abandoned until there's an active HivePress community.
We're proud to say that at the moment, the number of websites created with the help of our products exceeds 10000! It means that you'll have a chance to become a part of a huge community of like-minded people eager to provide support to each other and share their experiences using HivePress, and the ListingHive theme in particular. Feel free to join our community forum to share your suggestions and help us become better every day!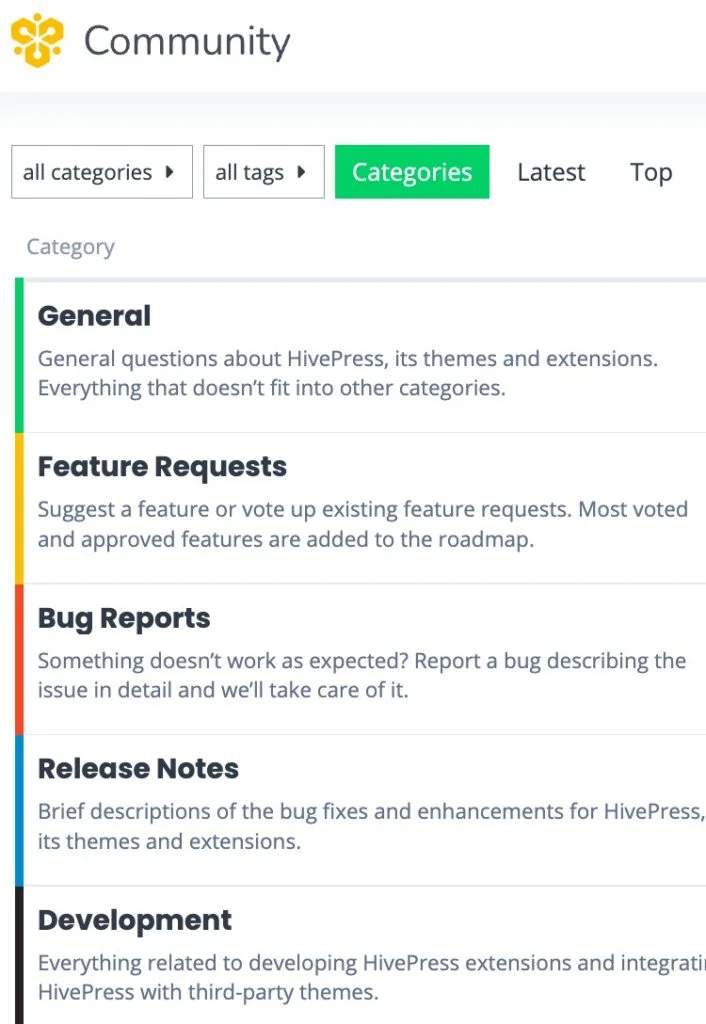 Wrapping Up
That's it! If you are looking to create a business directory, classifieds website or any other type of listing site, you can give ListingHive a shot. It's a free WordPress directory theme that has a clean design and comes with all the necessary features right out of the box.
As you continue your journey in building a successful online directory, we also recommend you check out our other articles:
List of the top business directory WordPress plugins – it's a hand-picked comparison article of the WordPress plugins for building business directories.
Overview of the popular free WordPress directory themes – discover a wide range of free WordPress directory themes in this detailed overview. We'll walk you through some of the most popular options available, highlighting their key features and customization possibilities.
Comparison of the best free classifieds WordPress plugins: If you're specifically interested in creating a classified website, our comparison guide may be useful to you. We've gathered the best free classifieds plugins for WordPress and evaluated their features, ease of use, and overall performance.
Related Articles
Most popular free WordPress listing themes to launch a directory website.
Check out the list of the most popular niches for a WordPress directory website.
A detailed overview of the most popular job portal WordPress themes.