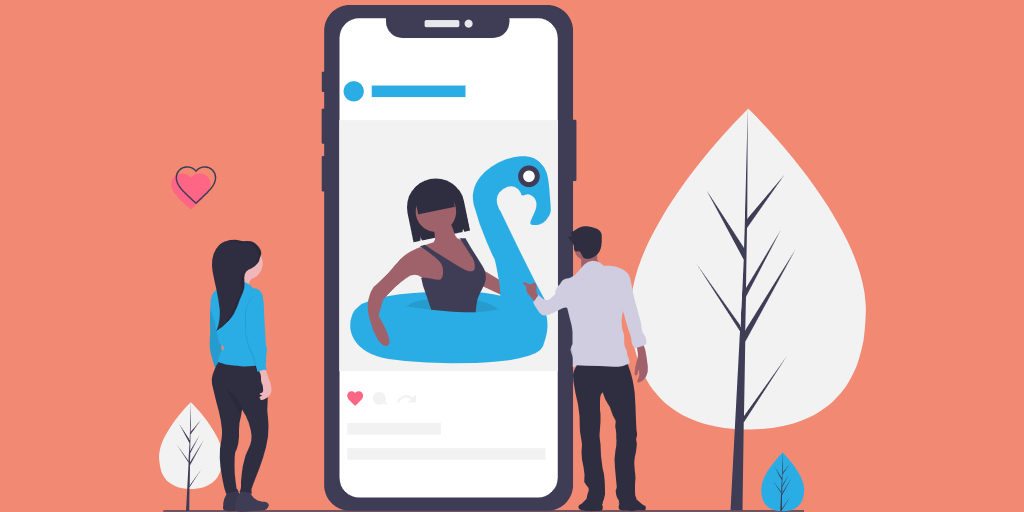 Marketing is essential for businesses because it allows them to maintain long-lasting and ever-present relationships with their audience. Nowadays, many companies invest in influencer marketing since it can be an extremely effective strategy for building brand awareness, generating sales, and even promoting consumer trust.
That's why many brands are seeking perfect influencers to promote their products. They are using special websites for that purpose – influencer marketing platforms. In a nutshell, it's a service that bridges the gap between content creators and brands. However, at the same time, such a platform can be a profitable business for its owner since it can be easily monetized in several ways.
Within this short walkthrough, we'll show you how to create an influencer marketing platform using WordPress. We'll explain to you step-by-step how to launch your website, set it up and successfully monetize it later.
In this tutorial, we'll also use HivePress, a free WordPress plugin suitable for building any type of directory and listing websites, along with ExpertHive, a lightweight and modern WordPress service marketplace theme. They are both highly customizable and include many killer features that are necessary for building an influencer marketing directory.
Installing WordPress Theme
First of all, you need to install the ExpertHive theme by going to the Appearance > Themes page and clicking Add new. Then click on the Upload Theme button, select the theme ZIP file to upload and proceed by installing and activating ExpertHive.
Once you activate the theme, you'll get a recommendation to install several plugins, including HivePress, a plugin that powers core marketplace features for ExpertHive. You need to follow the suggested link and install plugins. When they are installed, don't forget to activate them.
If you face any issues during ExpertHive installation, please follow the step-by-step screencast below.
Installing WooCommerce
Your next step is to install the WooCommerce plugin to enable payments on your influencer marketing platform. It's the most widely used e-commerce plugin that turns any WordPress-built website into a fully functional e-commerce platform with just a few clicks. WooCommerce goes with hundreds of payment gateways trusted by millions of website owners around the globe, so you can rest assured that payments on your website will be accepted and processed in the best way possible.
In order to install WooCommerce, navigate to the Plugins > Add New section and find it via the search bar. Then install the plugin and proceed by activating it.
Immediately after activating the plugin, you'll be redirected to the Setup Wizard. There you'll be able to provide the most important details about your platform, like where it is based, its industry of operation, what kind of products you'll sell, etc. You should go through all the steps to configure payments for your influencer directory, and if you find it difficult, you can follow the official WooCommerce instructions.
Once you are done with setting up payments on your website, it's time to start adding some content, and we recommend adding categories first.
Adding Categories
Let's add several categories to your website depending on the niche and content that influencers create to make it easier for brands to navigate your platform and find content creators that fit their marketing strategies. For example, let's create "Beauty," "Travel," and "Fitness" categories.
In order to add a new category, go to the Listings > Categories section. Firstly, name the category, let it be "Beauty," then fill in the description if you want to give a few words about each category. Also, if you want to create a hierarchy, you can turn any category into a subcategory by setting a parent category for it. Finally, you can select the category icon from the drop-down list.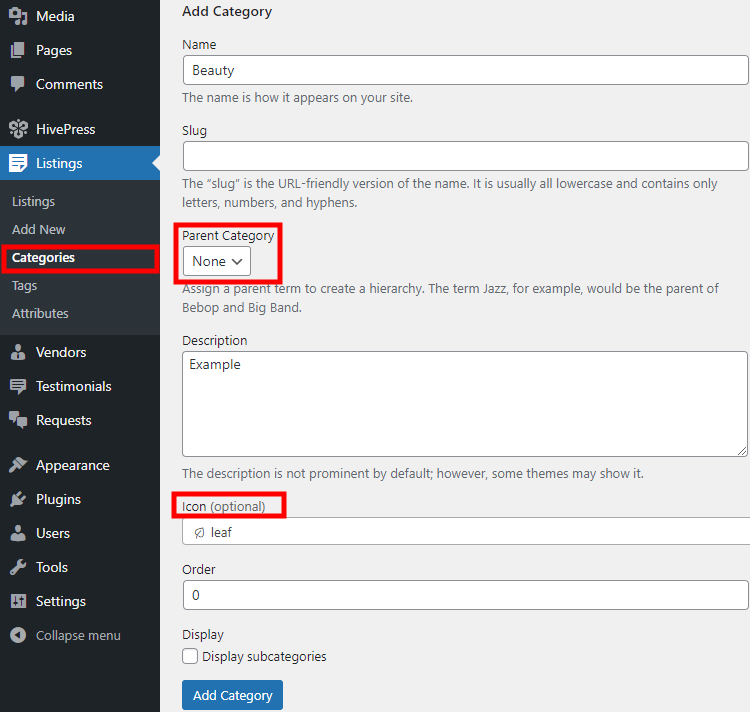 Bear in mind that similarly, you can add as many categories as needed for your influencer marketing platform.
Adding Custom Attributes
Once you are finished with categories, it's time to add some fields specific to the services offered on such platforms. You can add custom listing fields and search filters in the Listings > Attributes section. For example, let's add the "Followers" attribute so users will be able to filter influencers and their services by the number of followers.
You can set up your attribute in 3 different contexts, so let's go through each of them to get a better understanding of those settings:
Editing. In this section, you can set up the main functionality of your attribute. Firstly, you need to select the field type for the "Followers" attribute. It's better to set the "Number" type. Then you can mark your attribute as editable to allow influencers to edit it when they submit a new service, and you can also enable moderation to approve any changes manually.
Search. Within this section, you can set up the search features of your attribute. For example, if you mark it as sortable, users will be able to sort services by the number of followers. If you mark it as filterable – the attribute will be used as a search filter. Also, you can select the search field type – we recommend setting the "Number Range" field type to allow filtering influencers by the followers' number range instead of some specific number.
Display. Finally, you can choose how the attribute looks on the front-end by assigning it to certain template areas and setting a custom display format if necessary.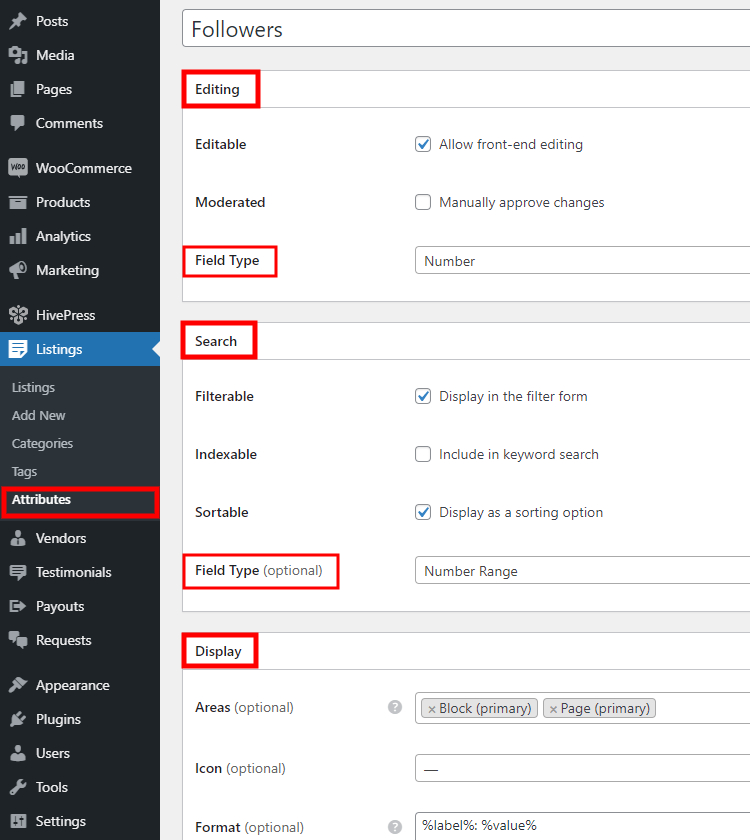 When finished customizing the attribute, simply click on the Publish button. Keep in mind that you can create an unlimited number of different custom fields and search filters required for your website. For example, you can also add a "Platform" attribute so influencers can indicate what social media platform they want to monetize.
Customizing the Homepage
Now it's time to set up the front page for your influencer marketing platform. It's not rocket science to customize new layouts with ExpertHive, since it's integrated with Gutenberg and Elementor block editors, so you don't have to mess with shortcodes.
To add a new page, go to the Pages section and click on the Add New button. Firstly, fill in the page title, then let's try adding some layout blocks. For example, let's start with the listing search form. Simply click on the ➕ icon and select a block you want to add. Let's also add the "Categories" block to display the previously added categories on your front page.
Once you finish setting up the page content, simply click on the Publish button.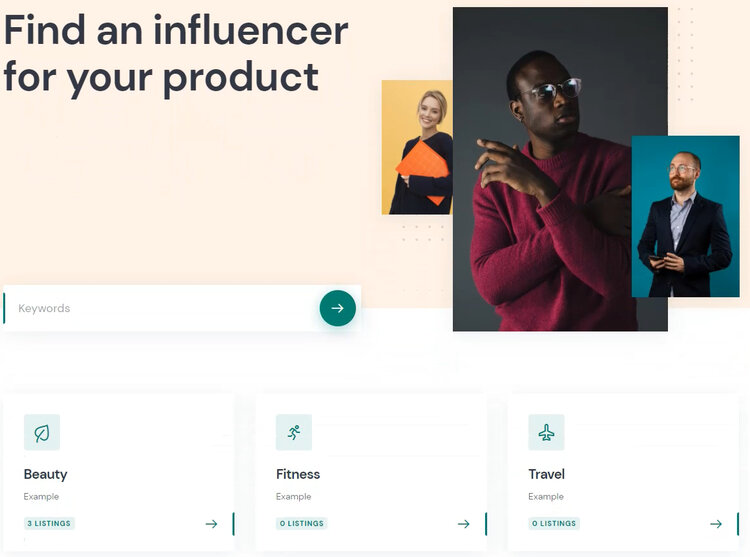 The next step is to set this page as a front page for your influencer directory. To do that, navigate to the Settings > Reading section and select this page from the drop-down list, then save changes. Additionally, we recommend checking all the customization options in the Appearance > Customize section in order to set up your website look and feel in the way you like.
Now, let's move to the next step and try to list a service as an influencer.
Listing a Service
It's time to test how your influencer marketing directory is going to work for users. Firstly, let's try to register as an influencer and list a service. To do this, go to your website and sign out of the admin account. Then click on the Sign in button and register an influencer account by filling in the required details.
Next, let's try to add a new service by clicking on the List a Service button and selecting one of the categories. For example, let's add a new service to the "Beauty" category. In order to list a new service, you need to complete the submission form. Simply fill in all the required fields (including our recently added attribute) and click on the Submit Listing button.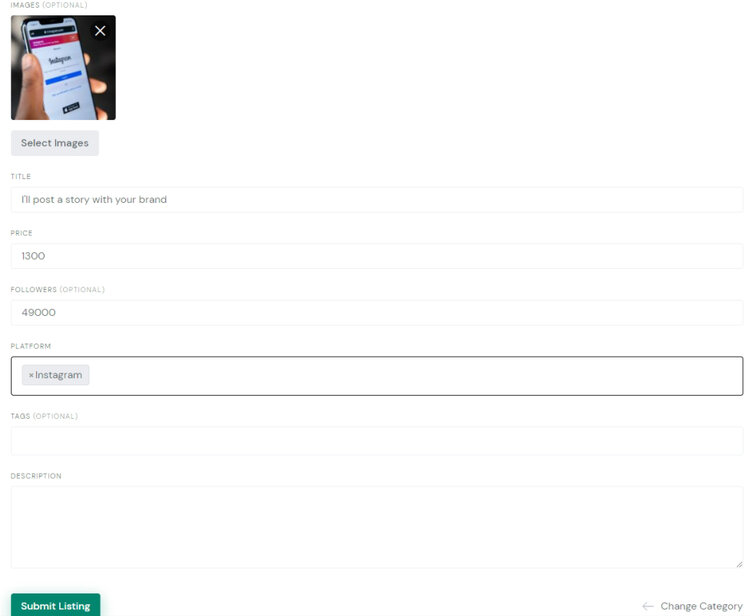 After listing a service as an influencer, let's switch back to the admin account and try to buy a service to check how it's gonna work for brands.
Once you signed in as an admin, navigate to the "Beauty" category, choose the service we previously added, and click on the Buy Now button. There will be a redirect to the checkout page where you can provide the billing details and make a payment.
That's how it works! Once the payment is completed, brands and influencers can communicate via the order page or private messages, and once the order is delivered, brands can mark it as completed. Also, if there's something wrong with the order, brands can raise a dispute to notify the platform administrators about any issues.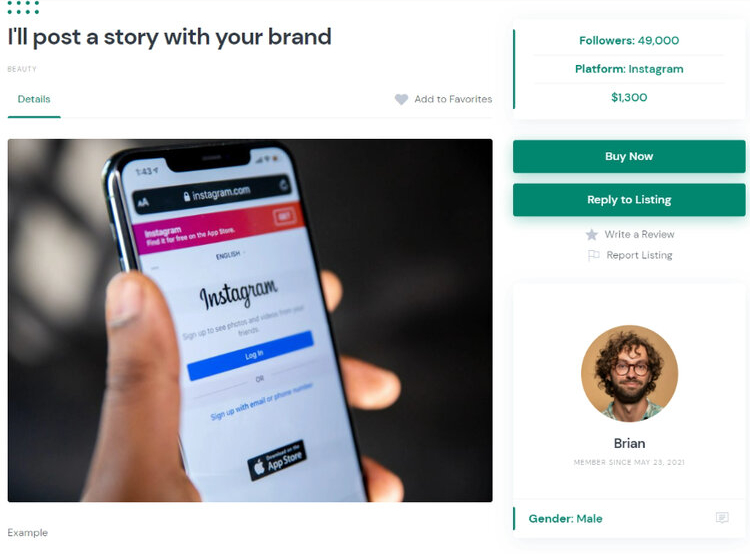 Also, since it's a two-way marketplace, brands can also post custom requests, and interested influencers can signal a wish to participate in the brand's marketing campaigns. Potential influencers can make offers by placing a bid and describing why they believe they are a good fit for the brand marketing strategy.
Monetizing the Influencer Marketing Platform
Finally, let's talk about your website monetization. You can make money with your platform in several different ways, and they are available in ExpertHive right out of the box. Let's briefly walk through each of them:
Charge Influencers for Listings Services
The first monetization model is to charge influencers for listing their services on your platform. You can charge creators every time they list a new service, or you can create and sell several listing packages with different options. It's a common monetization model for many service marketplaces, and an influencer marketing directory is not an exception.
Charge a Commission on Sales
Another way of making money with your influencer marketing platform is by charging a commission for each transaction made between brands and influencers. For example, you can set a percentage fee and take a share of the revenue from each sale made through your platform. It's the most popular monetization model for service marketplaces, like Fiverr, Thumbtack, etc., and you can apply it to your platform as well.
You are not limited to the mentioned monetization models. For example, you can also turn your platform into a members-only website and charge brands for viewing certain creators' details (e.g., influencers' contact information). Additionally, there's always an option to sell advertising space on your website or integrate it with Google AdSense if you get decent traffic.
Summary
That's it! By following the steps included here, you can easily build an influencer marketing platform using WordPress. Once you launch your website, you have to work on promoting it to get some influencers involved. It's not an easy task and requires a lot of time and effort, but when your platform becomes popular among brands and creators, you can monetize it and start reaping the benefits.
If you are thinking about building your own influencer marketing platform using WordPress, you can do it in no time with ExpertHive. It's not just a theme but a bundle of premium extensions that has the essential features for building an influencer marketing platform right out of the box, such as influencer profiles, private messages, commissions and payouts, etc. So you can create a website with the necessary functionality without any tech knowledge.
Related Articles
A step-by-step tutorial on how to build your own Tripadvisor using WordPress.
Get your marketplace of digital assets up and running with WordPress.
Create your own directory website with WordPress in a few simple steps.